There are so many benefits of milk either you consume it or use it topically on your Skin or hair. According to experts it contains 9 essential nutrients which are essential for a healthy you. Being a rich source of calcium, protein, potassium. phosphorous, Vitamin D, Vitamin B 12, Vitamin A, Riboflavin and Niacin, it can boost your overall health and stamina. You can enhance milk benefits by adding turmeric, honey and dates with it.
Also Read
Benefits of drinking milk
Milk makes our bones and teeth healthy.
It is a rich source of energy which repair broken tissues and helps in building muscles.
It is very helpful in maintaining healthy blood pressure.
Makes immune system stronger.
Very beneficial for eye health.
It metabolize fat and sugar inside body.
You can take milk without aiding any extra ingredient with it, It is very healthy or you can add ingredients like turmeric, honey and dates with milk to enhance its health benefits. When you do that these drinks become very healthy for you. So check here amazing benefits of turmeric milk, honey milk and milk with dates.
Haldi or Turmeric Milk benefits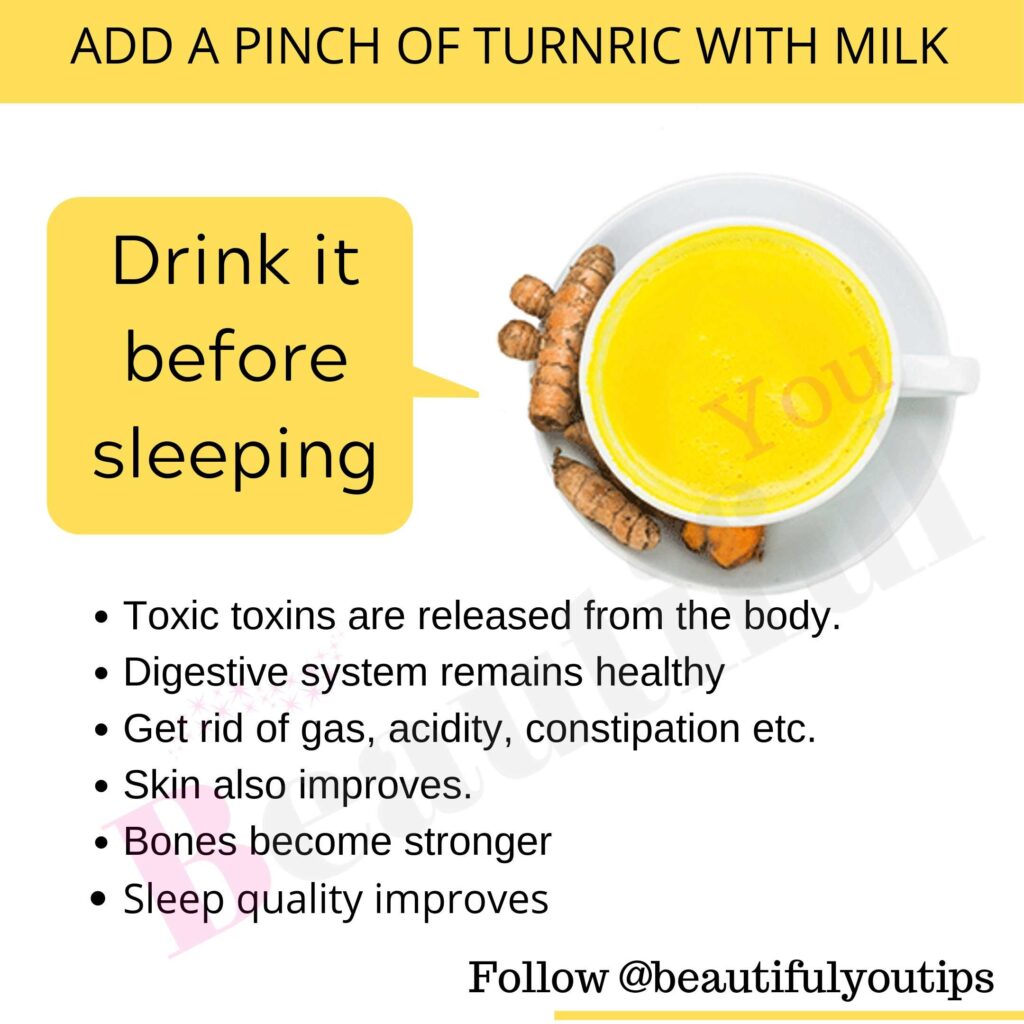 Turmeric milk is all time famous drink which is getting popular not in India but in western countries also. It also known as a golden milk. It is one of the most powerful drink which you can have at home to boost your immunity. You can make it at home simply by aiding 1/2 tsp of turmeric or haldi in one glass of milk. Read here amazing benefits of turmeric milk for your overall health.
It is a rich source of antioxidants which repair damaged skin cells.
Keeps infection and illness at bay.
Turmeric milk has amazing anti inflammatory properties so it relives joint pain and reduce inflammation.
Boosts memories and improves brain functions.
As it has cur-cumin on of its main ingredient hence it keeps depression and tension away so improves your overall mood.
It may improves heart health.
Lowers blood sugar level.
Fights against cancer.
Regular consumption of turmeric milk may improves digestion also.
Benefits of honey with milk
As we have added turmeric in milk we can also add honey in milk. When you add honey in milk and drink it, you will notice a boost in your overall stamina. Just 1 tsp of honey in a glass of milk and drink it daily.
You can use honey and milk on your skin topically it adds shine and glow on your skin.
When you drink honey milk, it strengthens your digestive system and reduces the symptoms of constipation, cramps and bolting.
Improves bone health.
All time famous remedy for insomnia and sleeplessness.
Keeps you young and youthful as it is a famous anti aging drink to have at home.
Benefits of dates with milk
Dates are very nutritious and high in fiber. It has amazing health benefits. But when you add dates with milk, its benefits increased and now it becomes very healthy drink to have at home. Just read here the benefits of dates with milk.
Lowers cholesterol level.
Increases energy level of your body.
Very beneficial for bone health.
It is a rich source of calcium, magnesium and phosphorous so it cures and prevents cancer.
Boosts immunity and draws out toxins out of body.
Reduces the chances of having diabetes.
Best to relive tension and stress.
Milk Nutrition Values
The nutritional composition of milk is very complex. It contains almost all the nutrient that our body needs. That is the reason milk is also known as complete food. It is necessary to consume at least one glass of milk every day to ensure that your body gets its supply of proteins and minerals on regular basis. One regular sized cup of whole cow's milk contains 149 calories which constitutes of the following.
88 percent of water
7.7 grams of Protein
11.7 grams of Carbohydrates
12.3 grams of Sugar
0 grams of Fiber
8 grams of Fat
Benefits of Milk for Skin
Milk is enriched with many vital nutrients and vitamins which makes it a healthy food for our body as well as for skin too. In olden days queens and princesses used to take milk bath in order to enhance their beauty. Doing so keeps the skin soft, supple and radiant. These days although it is not possible for us to take milk baths every day, but we can use milk in small quantity in different types of packs and masks to beautify ourselves. With the use of milk as a beauty product we can easily minimize the usage of expensive chemical based products.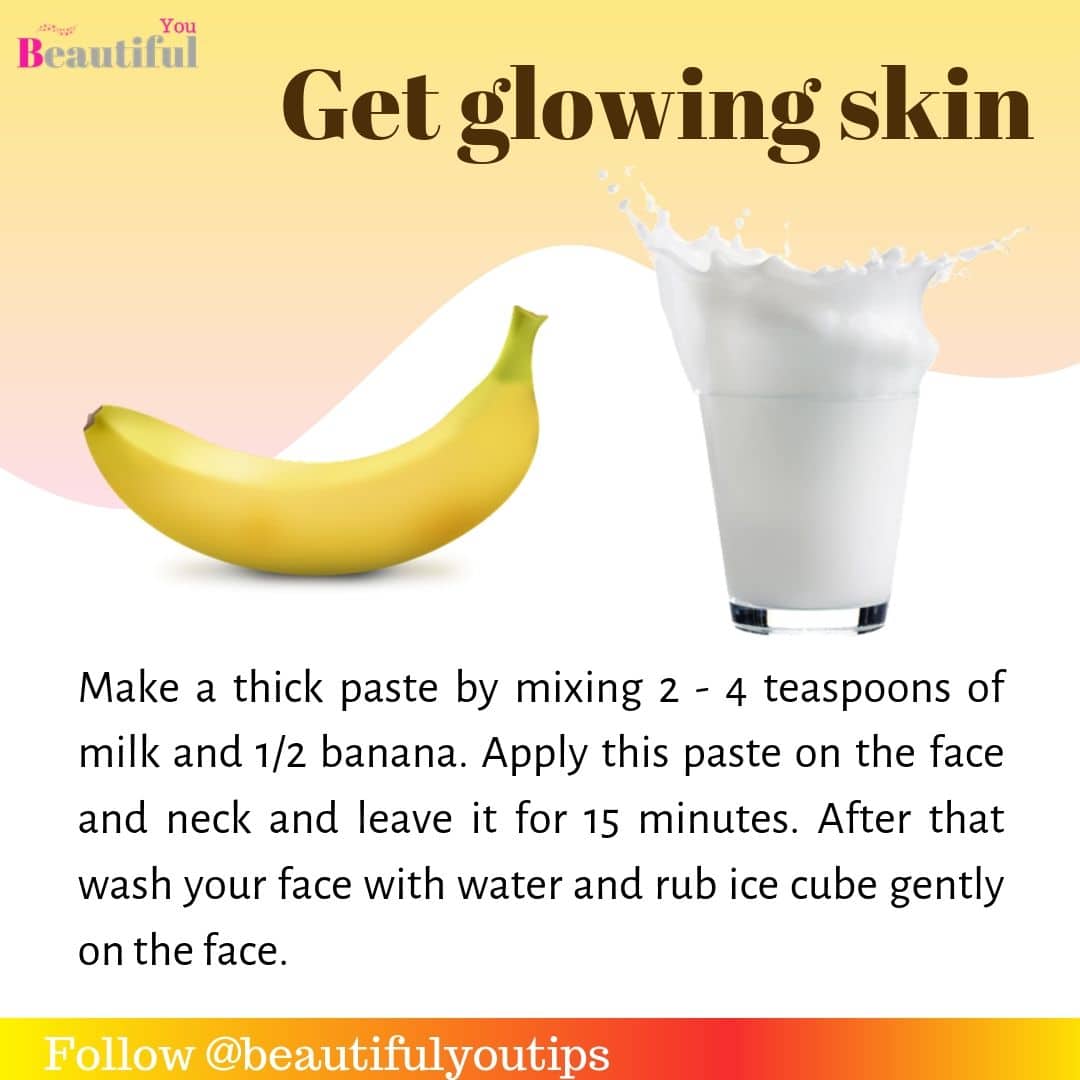 1. Milk as a Face Cleanser
Use milk as a natural cleansing agent for removing dirt and dust from your face and neck rather using any other product. Take a cotton ball dipped in milk and gently clean up your face and neck. After half an hour wash your face with luke warm water. Follow this regime everyday and experience the glow on your face.
2. Milk as a Face Moisturizer
Milk is a perfect natural moisturizer. Every night before going to bed apply full cream milk all over your face and neck instead of applying moisturizer and lotion. Take a sound and comfortable sleep. Rinse the face early morning from luke warm water. It will perfectly moisturize your face without causing any side effect.
3. Milk as a Face Scrub
Milk behaves as a good scrub also. Rubbing the face with milk and a small amount of sugar crystal using a cotton ball will help in getting rid from face heads. Milk is naturally rich with AHA (alpha hydroxyl acid) component. Gently massage your skin with this scrub every next day and get glowing skin naturally. It also helps in removing the dead skin cells.
Benefits of Milk for Hair
Milk is loaded with all sorts of healthy stuff and nutrients. Milk has Calcium, Protein, Omega Fatty Acids, and essential Vitamins such as Vitamin A and Vitamin D. Applying milk to your hair is no doubt a very good remedy which can help hair by hydrating, moisturizing and nourishing it as well as helping the scalp by supplying important nutrients.
1. Milk as a natural conditioner
Milk can give unique benefits when applied it to our hair as well. Like taking milk bath for increasing the beauty of overall body the same way milk is a good choice if you wash your hair with milk. Use Milk for rinsing your hair. This treatment will provide softness to your hair. It also helps in healing from dead and dry skin.
2. Milk as a Hair Moisturizer
Milk is full of Vitamins, Minerals and other nutrients which can easily provide the entire necessary factor to the hair. Milk is far better than any other expensive deep conditioner. It works as an excellent source of moisturizer which helps in soften down the curls and naturally straighten the hair cuticle.
3. Milk as an Anti Dandruff
Whole milk or full cream milk is a brilliant source of anti dandruff element. Milk contains all the essential elements including natural fat which gently removes the dead and dry scalp. Regular use of whole milk will help in getting rid from dandruff and fungal infection as milk is antibacterial and anti-fungal.
4. Milk as a Hair Growth Simulator
As milk is fully loaded with Vitamins, Minerals and other important nutrients hence when it is used regularly as a hair rinse it will promotes hair growth. It also delays the early graying of hair follicles by providing all the lacking resources to the hair.
Some important questions on benefits of milk
1. Question: Is it good to drink milk everyday?
Answer: It is a highly nutritious drink and you can take it daily before bed or after you get up. It gives you awesome energy also.
2. Question: Is milk good for your health?
Answer: It has 9 essential nutrition which makes it a perfect drink for your health. Being a rich source of Calcium, Protein, Vitamin A , Vitamin D Magnesium, zink and themine, it is very good for your health.
3. Question: What are the disadvantages of milk?
Answer: Although it is very beneficial for your health but some people might have allergies with milk. Although mammals milk or cow milk is very beneficial but milk products contains saturated fats so it may increase cholesterol  level.
4. Question: Does milk make you gain weight?
Answer: Yes, it may be the reason of weight gain as it increases calorie in your body, if these calories are not consumed you may gain weight.
5. Question: How many glasses of milk should you drink a day?
To have maximum benefits for this really healthy drink, it is recommended by experts that you should not consume milk more that one glass a day.
Hope you like this amazing and great article on benefits of milk for health, skin and hair. If you know more or have more ideas on milk benefits, please share them with me you are most welcome. Please check my YouTube channel Beautiful You also for more beauty and health tips
Share this article to your friends and family, Thank you.