Using rice water for hair can be the most amazing thing to do for your hair. This is not a new treatment although it has been used for centuries in hair care. Women from Japan and China used to have hair length up to 6 feet and they also don't have problems like greying hair. It is a well-known fact that woman from china and Japan use rice water for hair wash and for bathing also. It is not beneficial for your hair but it also makes your skin glowing and soft naturally.
Read also
HOW TO REMOVE DANDRUFF: 5 DANDRUFF HOME REMEDIES
FLAX SEEDS GEL FOR HAIR: GET HEALTHY, STRONG AND LUSTROUS HAIR
ALOE VERA FOR HAIR RELATED PROBLEMS
HOMEMADE COCONUT MILK BENEFITS FOR SKIN AND HAIR
The history behind the uses of rice water
The biggest example of rice water benefits for hair is available to us in the form of Women of the Red Yao tribe in Huangluo village of China. These women used to wash their hair with rice water and most of them have hair longer up-to 6 feet. It is even registered in the geneses book of world record.
How rice water is beneficial for hair
It is a rich source of mineral and vitamins. It has so many benefits for hair. It contains Inositol which is a carbohydrate, repairs damaged hair effectively. Being a rich source of amino acids it makes hair root stronger finally it adds volume and lustre to your hair. Even after rinse, It gets locked to your hair and it protects hair from harmful UV rays.  It is not a common remedy, it is backed by science. When used on the hair it reduces friction between the hair shaft and increases the elasticity of hair. 
Benefits of rice water for hair
It detangles hair naturally
Get rid of frizzy hair
It makes your hair smoother and softer
Make your hair shinier
It makes hair stronger by increasing the elasticity
Rice water makes your hair grow faster
It works as a natural hair cleanser
Protects hair from getting damaged from harmful UV Rays
The best remedy for dandruff and flaky scalp
How to use rice water for hair
It is simple and easy to use. So just read these simple tips to know "how to use rice water" to get maximum benefits from it.
First, use a suitable shampoo onto your hair
Now rinse it completely with water
Now take rice water and pour it onto your hair
Massage your hair and scalp with this properly
Leave it for 20 min
Again wash your hair with normal water
Or You can use it overnight on your hair
Before sleeping pour rice water on your hair properly
Leave it to dry
Cover your hair and leave it
In the morning wash your hair with normal water
How to make rice water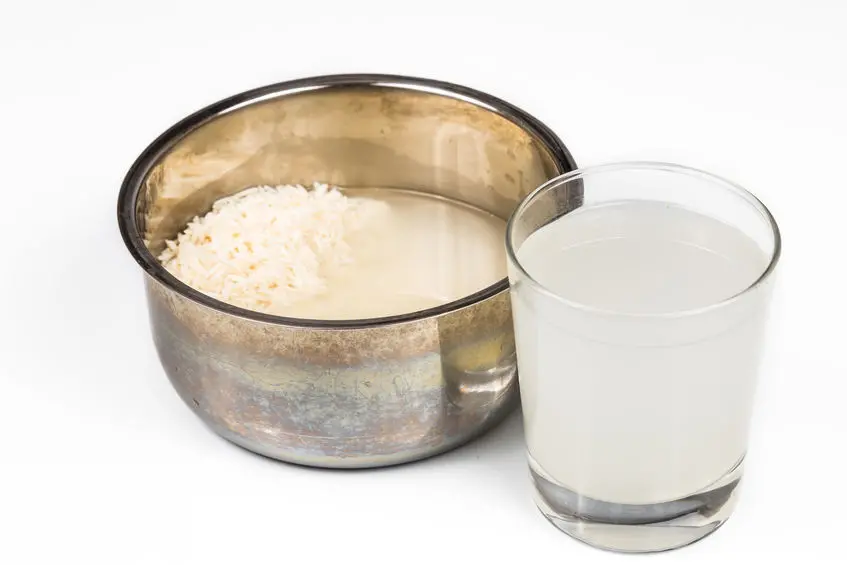 There is three type of rice water which you can use for your hair. All are good for healthy hair. But some people say that fermented rice water is a better option.
1. Simple rice water
Take 2 – 3 cup of plain rice
Rinse it with fresh water
Now soak it with 5 -6 cup of water in a bowl
Leave it for 30 min
Now strain it
2. Fermented rice water
Some hair care experts recommend fermented rice water for hair. As it is considered that fermentation makes rice water more beneficial because it will have a higher amount of antioxidants now.
To make fermented rice water, you just leave soaked rice for 2-3 days. Now strain it and use this water.
3. Boiled rice water
You can make rice water by boiling rice with water. For that take 2 -3 cup of plain rice and boil it with water. Leave it to cool and strain it.
Hope you like this easy and effective remedy for your hair. if you know more on the uses of rice water, please share it with me. Check my YouTube channel Beautiful You also for more useful beauty tips. For any query or suggestion please write to me in the comment box.