Our skin is the largest organs in the human body, so mostly we need to take care of it like other important organs but, alas we usually take our skin for granted every time. Our conscious works when any mishap occurs to our precious and beautiful skin. Skin colour and texture is a birth heredity which we get from our parents genes. It may be in different colour such as fair, wheatish, dusky, dark etc. It may also of different texture such as dry, normal, oily, mix etc. So, whatever is our skin colour or texture we should admire it and also we should feel pride of it. Hence, to become fairer than the naturally inherited skin tone is merely a myth.
Rather we can do one thing that we should follow appropriate beauty regime and formulas to get a naturally glowing skin tone and texture. Read this post till end to get the answer of a very famous question "How to make your skin glow?
FACIAL MASSAGE BENEFITS: GET GLOWING SKIN NATURALLY
HOMEMADE FACE SCRUBS FOR GLOWING SKIN NATURALLY
SUMMER SPECIAL: 7 CURD FACE PACKS FOR HEALTHY SKIN
SUMMER SKIN CARE: 7 TIPS TO GET HEALTHY AND GLOWING SKIN
Importance of glowing skin
Naturally glowing skin is considered as a sign of health and vitality. Dull or dry skin, on the other hand, can make you feel bad and embarrass. These days' people are very much aware and conscious about their beauty and outlook. Everyone is having obsession for a naturally glowing skin so, they mostly show interest in natural and skin friendly products rather using artificial and chemical infused products.  Not only women but men have also become careful and considerable about their skin health. This is the reason there are numerous men products available in the market. Although it's every woman first and foremost dream to be beautiful and young forever.  The thought of achieving skin with a healthy sheen is overwhelming and fabulous at the same time. So, in order to achieve this target we all keep trying different products and variety of remedies to gain the natural glow.
Reasons for dull and dry skin info-graphics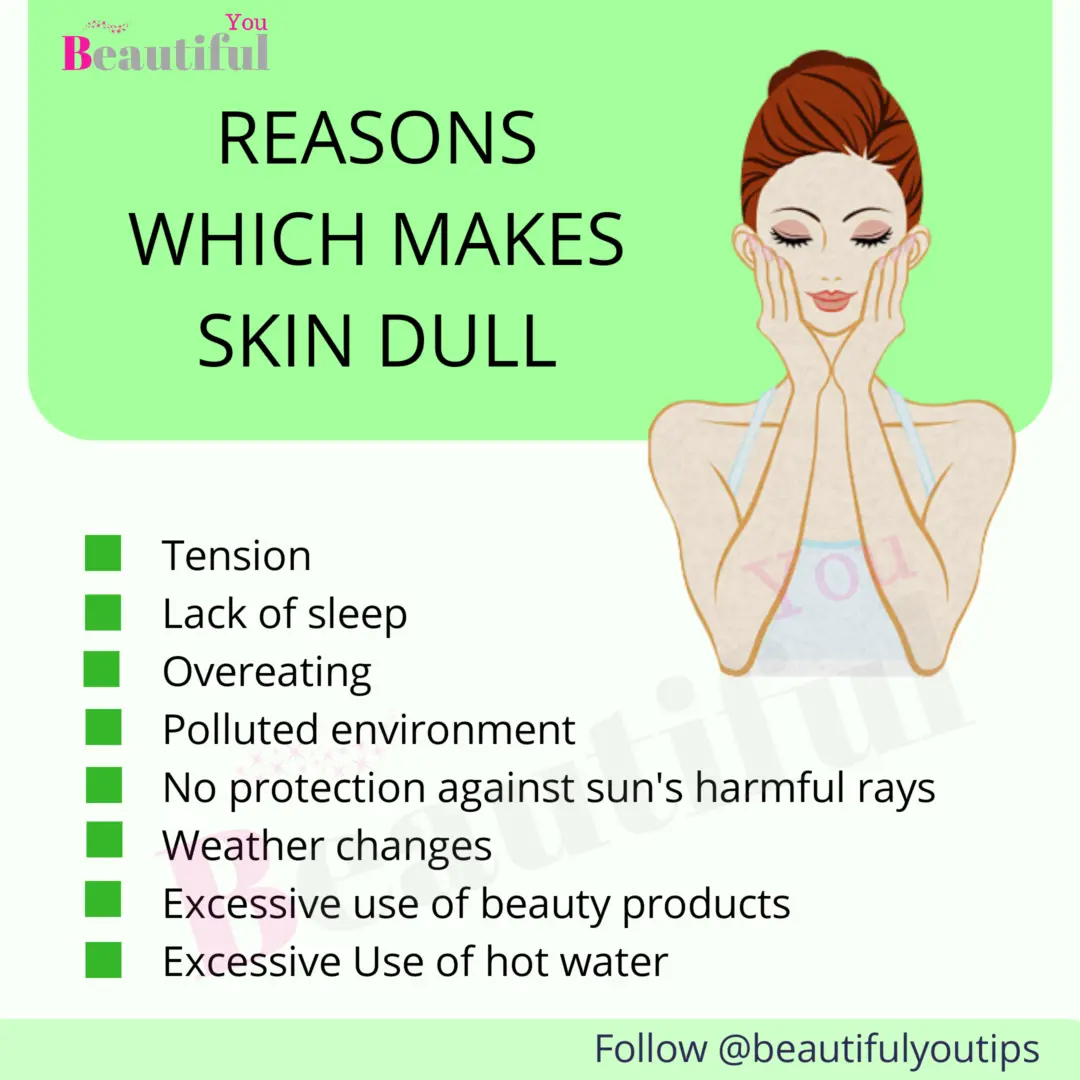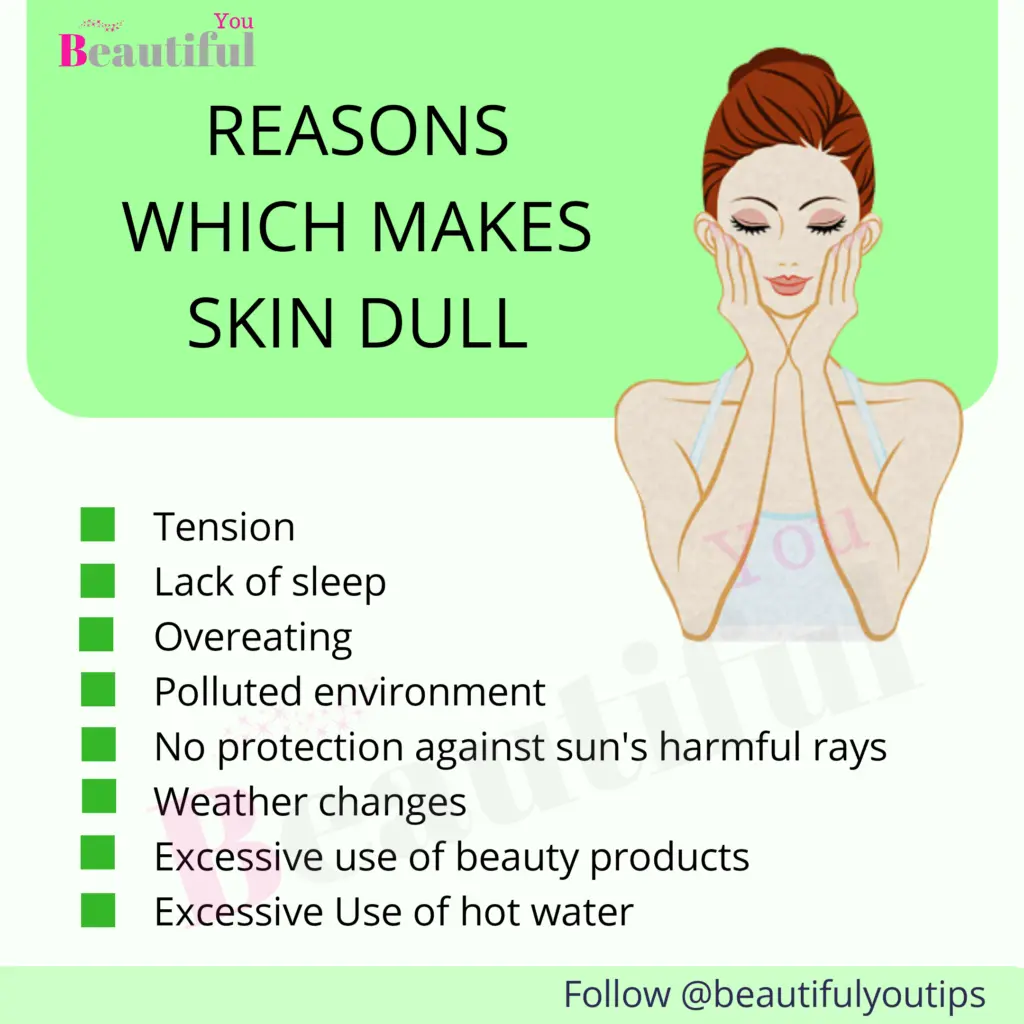 How to get glowing skin at home
We always want our skin to glow and shine, no matter how much busy, overworked and stressed we are. Our faces are exposed to every day challenges and difficult targets. Due to the stressful life style, the most common problem that our skin has to face is DULLNESS, which comes as a cause of exposure of skin to the unhygienic and dirty environment, chemically treated products, pollution etc. These are the core reason of a very big dullness on our faces. When our skin comes in contact with all these external things it loses its natural moisture and lusture. So, we need to fulfill the lost moisture of our skin by using skin friendly regime (as per the skin type). We can overcome these issues if we follow few simple home remedies which serve as a health tonic to our skin. There are many natural face packs, scrubs and face wash which can be easily made by using our kitchen or kitchen garden natural things.
4 DIY face mask for glowing skin
These 4 diy face masks are very effective and useful in making skin glow naturally. You don't need much effort and expertise to make these diy face masks. Just some kitchen ingredients as I will tell you below and that's it.
1. Curry leaves and flex seed oil face mask
Flex oil is a rich source of essential oils which not only gives you freedom from dullness and dryness but also helpful in healing wrinkles and fine lines. Curry leaves are enriched with minerals which is beneficial for healing from the dead skin problem.
Ingredients
Freshly plucked curry leaves – handful
Flex oil – 1 tablespoon
How to make and apply
Grind the curry leaves in a fine paste by adding flex oil to it.
Mix it well to get a smooth paste.
Apply it over the face and neck.
Leave it for half an hour or till it dries.
Rinse it with luke warm water.
2. Gram flour ( Besan ) and turmeric powder face mask
It is very effective and traditional face mask which can be used by all skin type and texture. It always give you an awesome glowing and flawless skin with no time.
Ingredients
Besan – 1 tablespoon
Turmeric powder – 1 teaspoon
Milk – 1 teaspoon
How to make and apply
Mix the besan and turmeric powder together by using milk.
Turn it into fine and smooth paste.
Rub it all over your face and neck gently.
Use it every time in place of your regular face wash or soap.
It will give you glowing skin after every wash.
It also scrubs out the dirt and dead skin very mildly.
3. Cinnamon and glycerin face mask
Cinnamon contains anti fungal and anti bacterial qualities which help in healing acne, pigmentation and dark spots. Beside glycerin is a rich source of moisture which provides the necessary fat to the skin.
Ingredients
Cinnamon powder – 2 tablespoon
Glycerin – 1 tablespoon
How to make and apply
Mix the cinnamon powder and glycerin together.
Turn it into fine and thick paste.
Apply it over your face and neck.
Leave it for half an hour or till it dries.
Rinse it with luke warm water.
4. Gold and aloe vera face mask
Gold is the most expensive and natural source of minerals which has been used from centuries by the people in order to intact their beauty and natural glow. Aloe vera is having a cooling and soothing effect which when combines with gold decreases its heat ( as gold is considered as a hot mineral ).
Ingredients
Real gold leaf – 2
Real aloe vera gel – 2 tablespoon
How to make and apply
Scoop out the aloe vera gel from its stem by using spoon.
Mash it finely.
Add the gold leaves and mix it well so the gold turns to tiny particles.
Apply it over your face and neck.
Leave it for half an hour or till it dries.
Rinse it with luke warm water.
Vitamins for glowing skin
Your skin quality or health is also depend on, what you eat? In order to make skin glow naturally you need to have all essential nutrition in your diet. Vitamins like Vitamin A, Vitamin C, Vitamin E, Vitamin k, Vitamin B, choline and folic acid all are important for a glowing skin. But most important Vitamin among them is Vitamin C. To have vitamin C you need to include citrus fruits, bell peppers, broccoli, strawberries, tomatoes, Brussels sprouts, and many other greens in your diet. This is very important vitamin as it helps in collagen production which interns helps in new skin cells generation. It keeps skin elastic and also saves skin from damage due to free radicles.
Some important tips for glowing skin
Drink plenty of water to keep skin hydrated
Exfoliate your skin to remove dead skin cells once in a week
Remove make up before sleeping
Use sunscreen when you comes out of house in the sun
Avoid junk foods
Do regular exercise
Get sufficient sleep
Wash your face 3 – 4 time in a day with cold water
Hope you like this informative article on how to get glowing skin naturally. If you have more ideas and tips please share them with me. Check my YouTube channel "Beautiful You" also for more beauty tips and diy face masks. For any query or suggestion please write me in the comment box.