Black is always a trendy color. This statement of color speaks for itself. The bold look of this color can be paired with any sort of design and laces. The contrast used for dupattas and bottoms makes the dresses look more elegant. Black Punjabi dresses are always on the go and can be worn for any sort of function and for the festive season too. Today we came up with different Punjabi outfit designs that can be carried in both casual and formal ways. So just be beautiful with these elegant Black Punjabi suit designs with laces.
1. Glaze Cotton Punjabi Dress with Broad Lace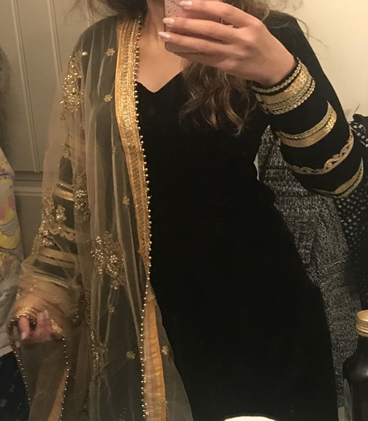 This Black Punjabi Suit Design Ideas with Laces dress is made of glaze cotton material which is quite comfortable when worn enough. As seen in the pic, this dress has detail for different laces. Both broad and short laces are used which helped to enhance the overall look of this Punjabi dress. The lace patterns are zig-zag along with a golden design in itself. Lace detailing is seen on the elegant sleeves while the other part of the dress is plain enough.
2. Velvet short Punjabi suit with thick golden lace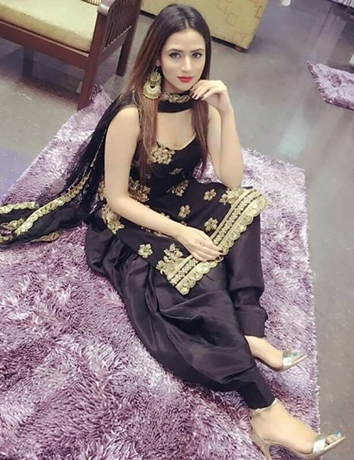 This velvet, Black Punjabi suit design with laces is an overall dress that speaks for itself. As seen through pic along with the use of lace, design is even provided on the top which made it look much more attractive. The lace patterns which are used are cut work along with a straight border which gave a party wear dress look to this velvety dress. This heavy top is paired with heavy Patiala which made it look like a true Punjabi worn.
3. Soft velvet black simple party dress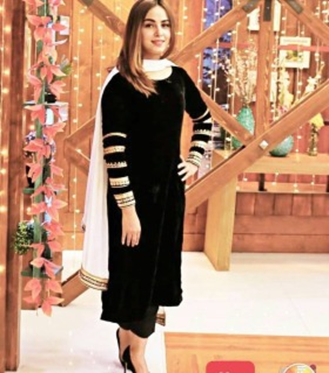 This soft velvet dress design has different patterns of laces that are used on sleeves. Different laces seen through pic are simple gota along with broad work lace, and many others. This simple lace top is paired with tight pants which gives a simple party look to this elegant dress. It's long enough and paired with a contrasting dupatta through which the overall is not messed up.
4. Gorget Punjabi Patiala with golden piping and heavy lace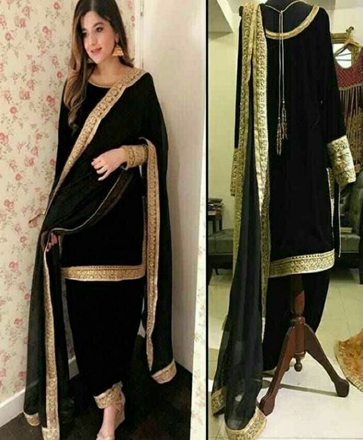 The lace pattern of this Black Punjabi Suit Design Ideas with Laces is not only on the front side but covers the back part too. The neck is defined with a simple dori piping through which the neckline is quite visible. Not much work is there on this Punjabi dress except for laces which carry the entire look of the dress. The sleeve pattern is enhanced with the use of three different laces which make it look much more attractive. The material used here is gorget which makes it light to wear.
5. Round collar black Punjabi dress with Gota lace and mirror work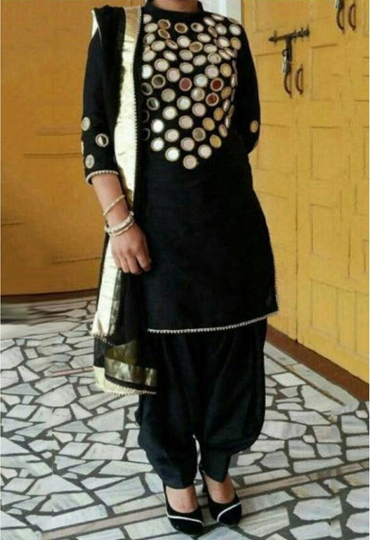 This short Punjabi dress has a round collar to it which have a simple detailing of gota lace. On the collar side, there is mirror work which carries the entire look of this dress. The top is paired with a Patiala shalwar which makes it look like a true Punjabi dress. There are three fourth sleeves on this dress on which also there is gota and mirror work.
6. Stylish Black Punjabi dress with Katan lace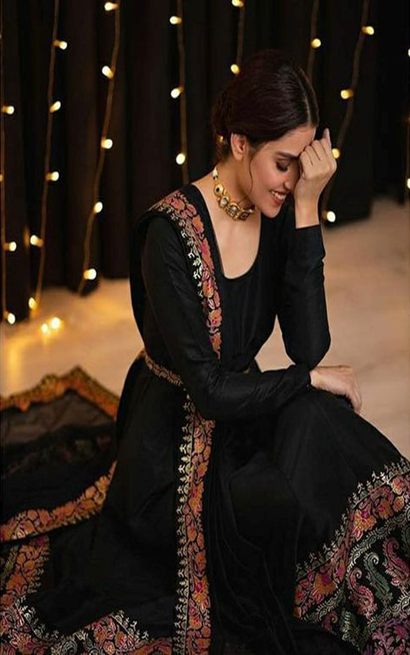 This simple stylish dress is ready to be party worn as the Katan border on it completes the look of this dress. This dress has a deep u neck along with full sleeves which make it look even more attractive. Not only the top, the dupatta even has a Katan border on it which can be paired with a dress. This dress can be carried in both casual and formal ways as its lightweight and gives an overall look.
7. Net Punjabi suit design with Sequence lace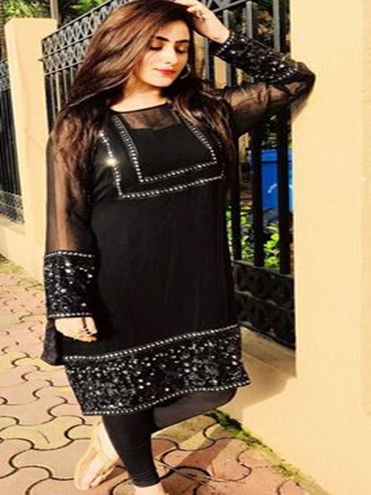 This net fabric Black Punjabi Suit Design Ideas with Laces has the use of both work and sequence laces which makes it look complete. On the neck, a pattern is made with sequence lace with two different lines. The sleeve pattern of this dress has the detailing of both mirror laces and embroidered work of sequence. It's an overall heavy look that can be worn at simple parties.
8. Satin silk long Punjabi dress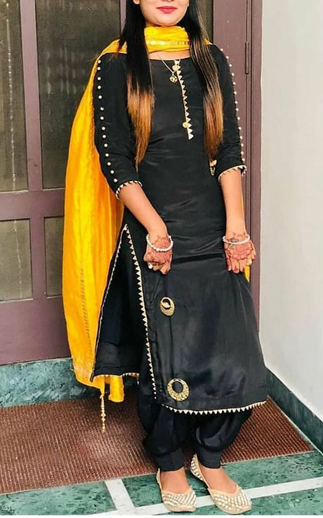 This long Punjabi dress has three fourth-sleeve patterns with golden beads on it. It also looks awesome with a stylish mehndi design. The golden beads of this dress complete the look of the sleeves. The neckline has a short gota lace and a broad boat pattern. The gota lace detailing Is seen on the chalks of the dress with the same border covering the bottom. It's paired with a contrasting dupatta of yellow color which make the dress stand out differently.
9. Soft cotton cut work lace design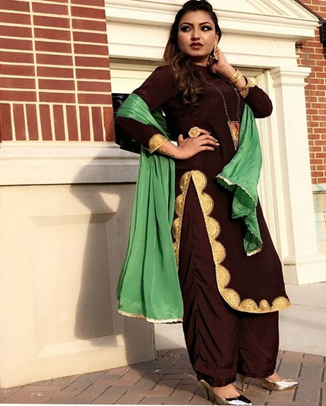 This cotton Punjabi Patiala dress has a tight Chinese neck on it which has neck detailing in the form of work. The sleeves and side chalk pattern has heavy cut work on it which covers the overall look of the dress. Three fourth sleeve is provided to this dress which even has a cutwork lace pattern. The top's front and back sides have lace, giving an overall heavy look. A contrasting olive green dupatta is paired along even that has simple lace detailing on it.
10. Heavy Velvet Punjabi Patiala dress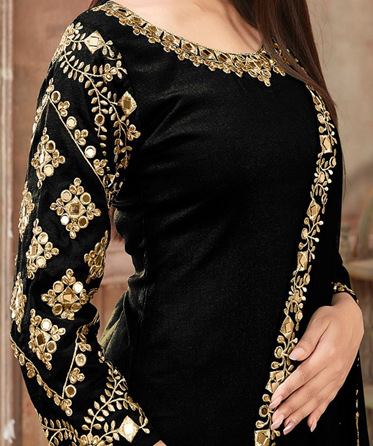 It's quite visible it's a heavy Punjabi Patiala which has heavy sleeves and a simple neckline on it. The neck is provided with a broad embroidery lace. This dress has a broad boat neck along with a cross pattern on the front. The sleeve design has the detailing of both mirror and embroidery work which gives a completely heavy look to it.
11. Simple Punjabi suit with colored laces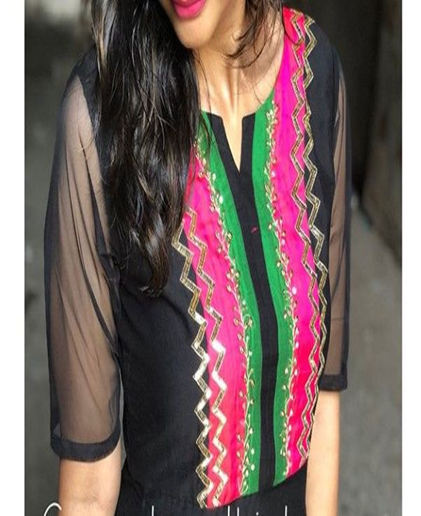 This simple net suit with a Punjabi pattern has a defined neckline which carries out the overall look of this dress. It has a V placket pattern which is black in color. To the sides of the black pattern, there are colored laces which are of pink and green color. In order to pop out the simple colors, zig-zag laces are used which are made of simple gota and double borders are used to enhance the overall neckline.
12. Glace cotton simple sequence Punjabi suit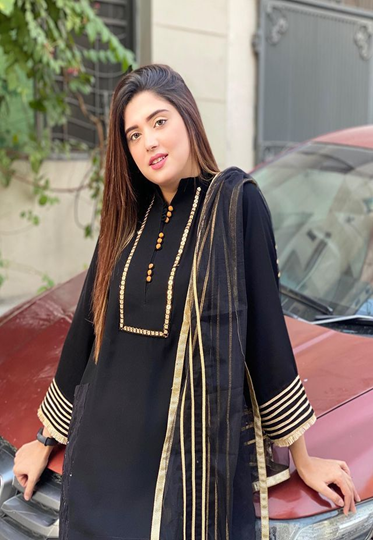 The overall of this Punjabi suit is carried with help of a neckline and heavy sleeves. A V placket is made on the neck which covers not only sequence lace but also buttons as well in a set of three. It's paired with a black net dupatta which has all the linings of a simple gota on it. The sleeve design is enhanced with both broad and short gota which covers 5 to 6 linings of gota lace.
13. Short Punjabi suit with Katan border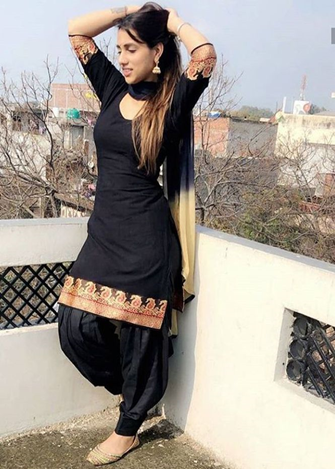 This simple dress can be carried in both casual and formal ways. It has three-fourth sleeves on it with a deep u-neck pattern. In the front, a broad simple Katan border is given which covers the entire look of the person. It's paired with a heavy Patiala shalwar and a tie and dye dupatta of chiffon material.
14. Soft Tissue Punjabi Suit with a heavy bottom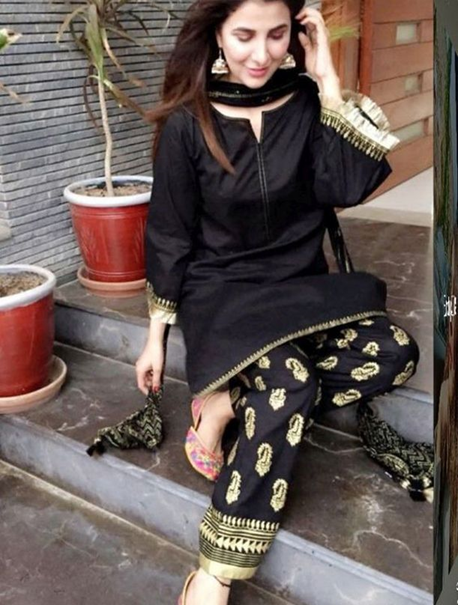 This dress has a unique design in itself. It has a short v and u-neck pattern with simple detailing at the border. The sleeves are provided with two types of laces, one being of golden thread pattern and the other of heavy work. A heavy bottom pant is paired with this simple pant which has a complete design on it. Overall, it covers a simple and elegant look.
15. Complete Gota Punjabi dress with a simple pattern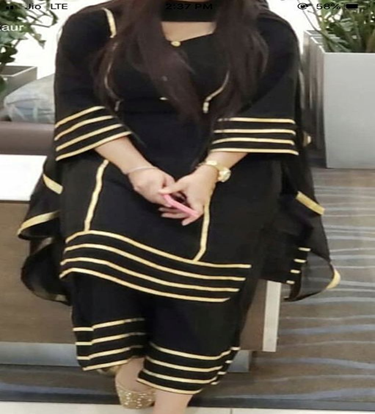 This complete Punjabi dress has the complete use of gota laces. The lace pattern is seen on the neck, on the border, and at the bottom also. Three lines of gota are provided on the sleeves, border, and on the bottom which carries the overall look of the dress. A simple dupatta is provided on it which makes the dress look complete. The light design of this dress is perfect to go for office events.
16. Black Ryon Punjabi Suit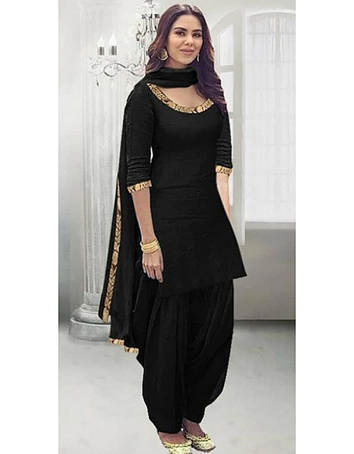 It's a simple black ryon fabric Punjabi dress which is paired with a simple golden lace dupatta. The neckline and sleeves have golden lace on it and the remaining dress is entirely plain. A heavy Patiala is paired with this embroidered lace top along with three fourth sleeve design. This design is great for casual look idea.
17. Festive Wear Heavy Punjabi Dress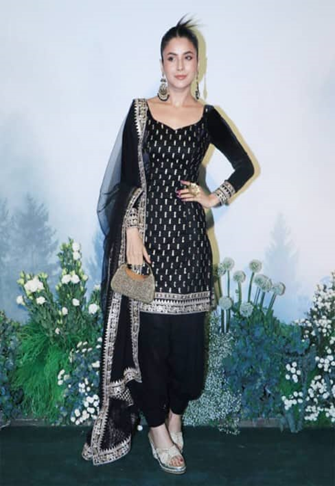 This short black Punjabi dress is great for a festive vibe. As seen this dress has a combination of silver laces on it which are used accordingly. It has a deep neck line with long sleeves pattern. At end of the sleeves, two to three silver laces are used in a sequence that gives it a heavy look. It's paired with heavy Patiala shalwar which gives the look of a perfect Punjabi dress. The dupatta is also designed with broad silver lace. This entire dress has both lace and a work pattern on it.
18. Long Punjabi Net Dress with Cotton Laces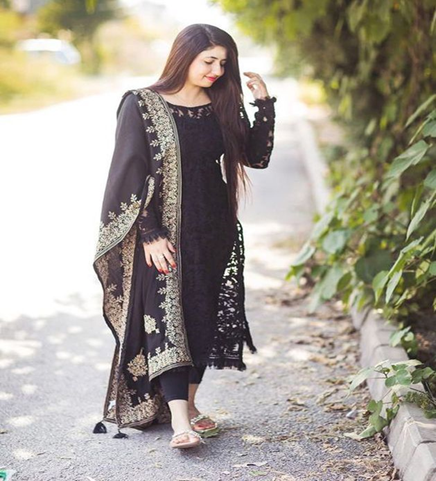 This is another Punjabi dress design that has detailing with cotton lace. Black net fabric is used which has a simple neck design with long sleeves. In order to enhance the overall look of the dress Pashmina fabric dupatta is paired along which has self-work on it. This Punjabi dress design can be worked on simple winter parties as it keeps us warm due to pashmina dupatta.
19. Short Net Punjabi Dress with Heavy Embroidery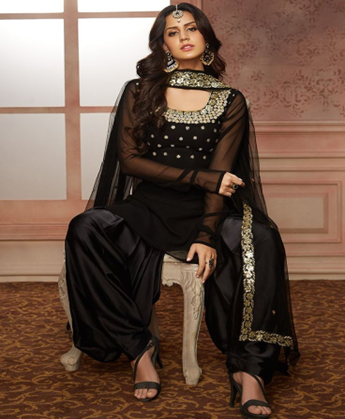 This Punjabi dress is designed for small parties and paired with satin silk Patiala shalwar. This small top is provided with long net sleeves and a heavy dupatta work. On the neckline, golden dori piping is used and heavy embroidery work is done along with a golden flower design. Apart from that, small flowers are there which gives a heavy look to the upper neck design.