Mehndi has been practised for thousands of years throughout Indian, African and Arabic countries. Mehndi is an ancient form of body art or tattooing different body parts. It has been practised in the Middle East, India and some parts of Africa for thousands of years. Mehndi is often viewed as a woman's practice.
Read more
Mehndi is the art of applying designs to the skin through the application of pastes made with henna powder on different parts of the body. A paste made of the crushed leaves of the Henna plant is used to decorate the body in beautiful intricate designs. Mostly Henna was applied to the hands and feet. Mehndi designs vary from country to country, and culture to culture.
100 Different Patterns of Mehndi Designs
1. Multi-pattern and elegant mehndi design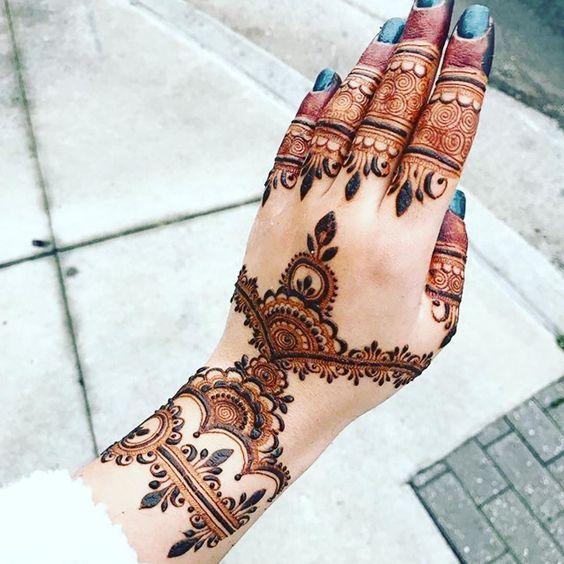 This graceful mehndi design is perfect for the brides who want to strike a balance between traditions and modernity. There are leaves, floral patterns, jaalidaar designs and also a catchy play of bold and light strokes. The prominent empty spaces further add to the contemporariness of this design.
2. Sheer elegance mehndi design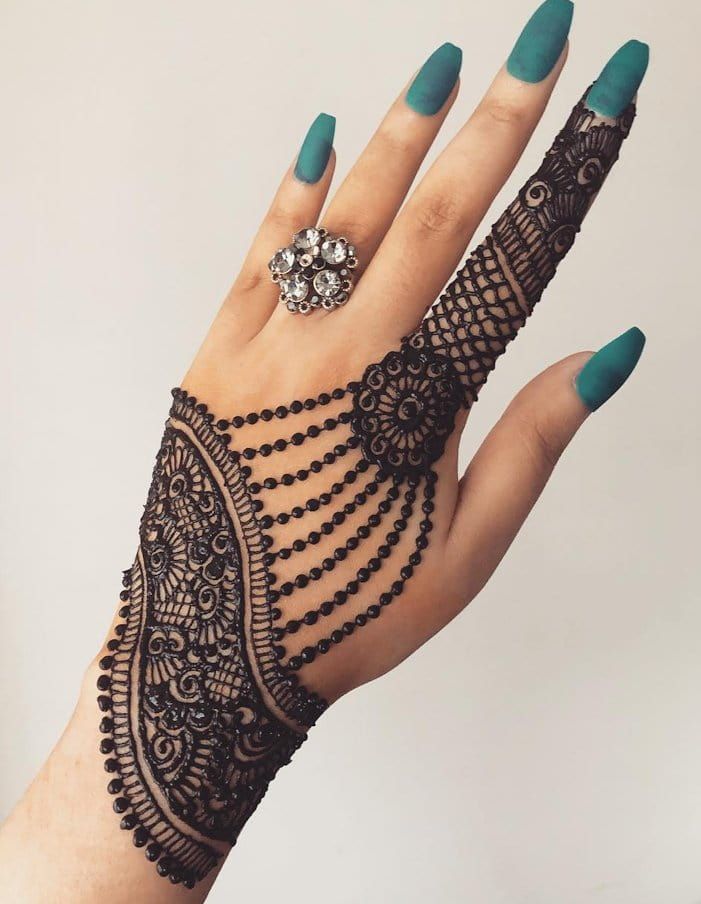 Concentric circles brought to life with dotted highlights look so soothing to eyes. Further, the identical belted patterns on the finger is delicately done. However, the bracelet part is yet another highlight of this charming Mehendi design.
3. Mesmerising Florals mehndi design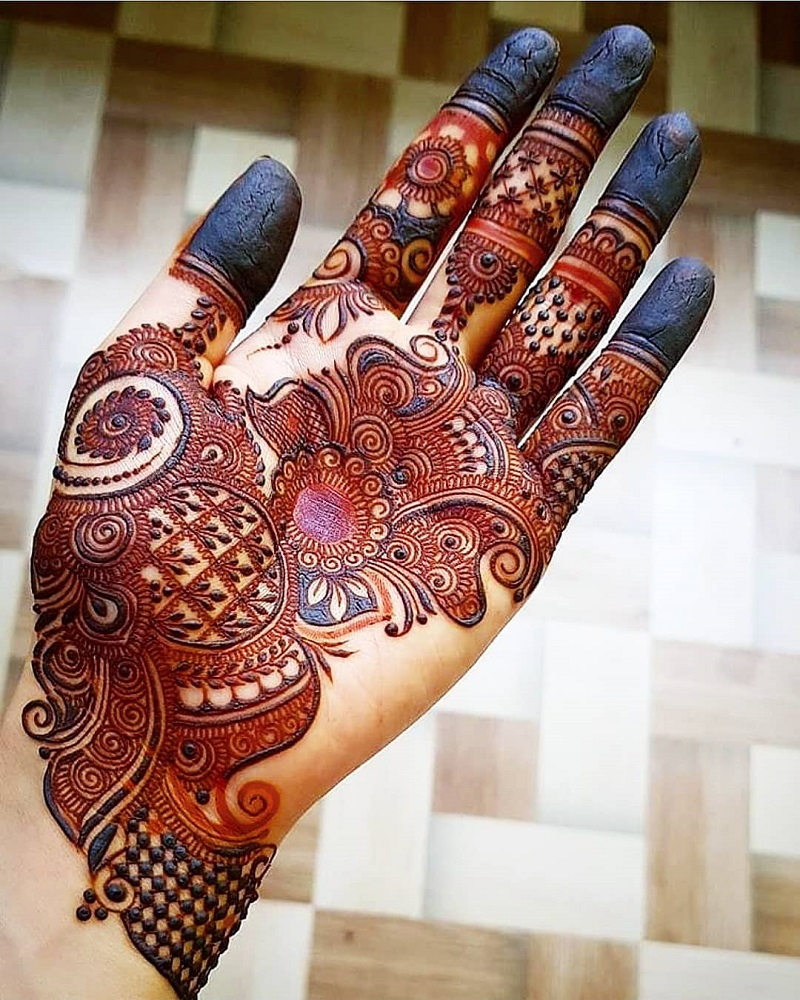 Pretty floral bootis adjoined together with delicacy make for a great mehndi design for wedding.
4. Minimalist mehndi design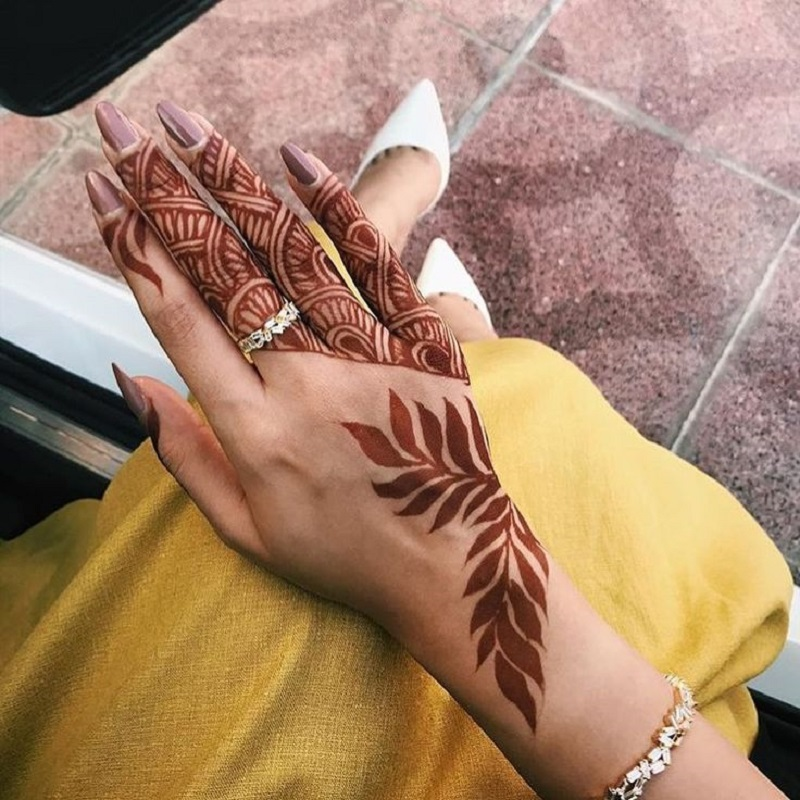 Mehndi ceremonies are essential and not missable part of every bride's look. This minimal mehndi design is an epitome of elegance and sophistication.
5. Trailed pattern mehndi design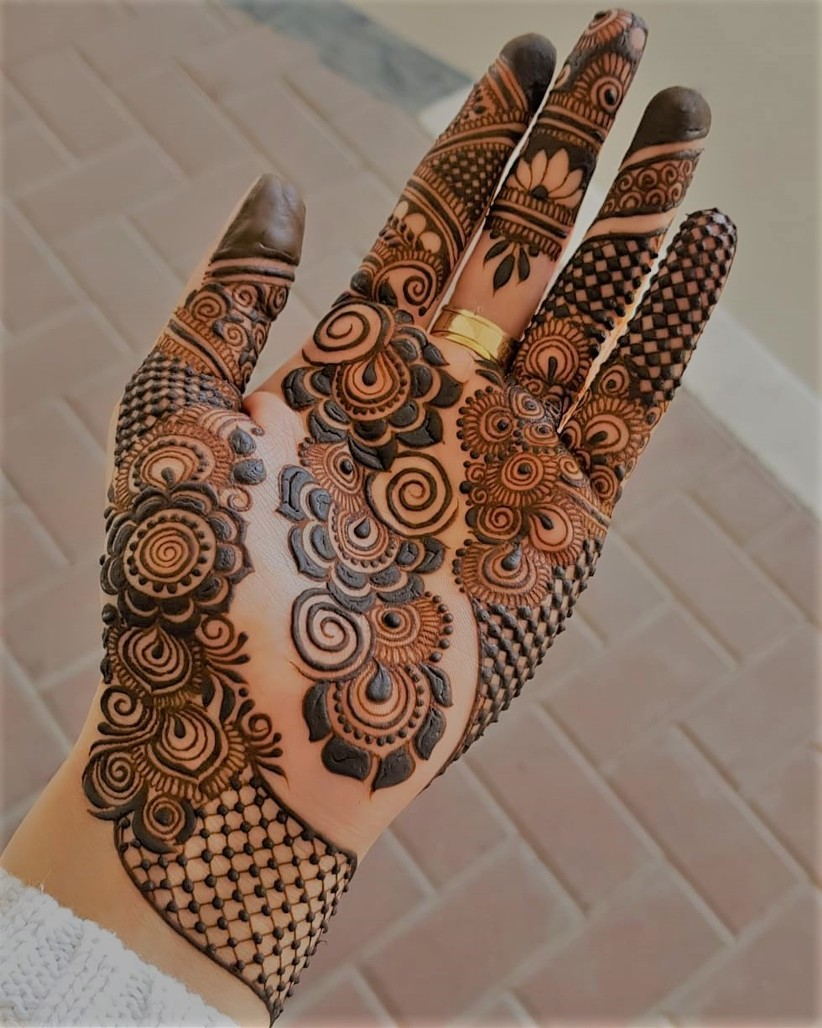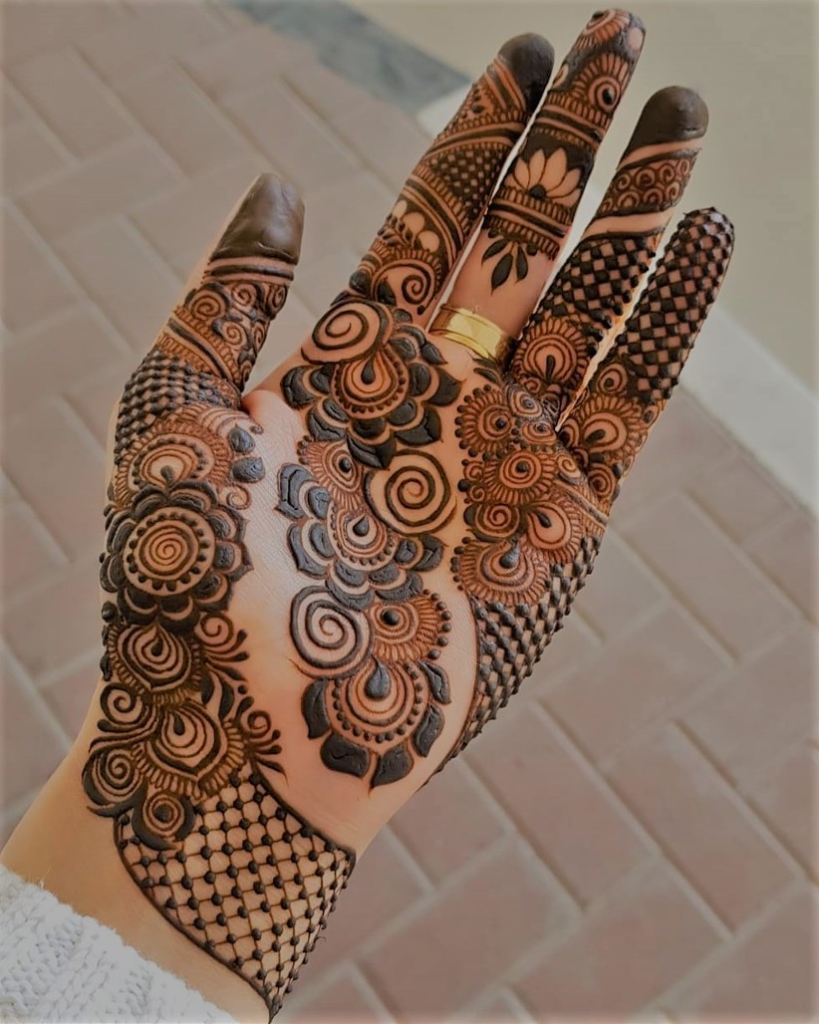 While it is common to have mehndi trails for the backhand, but this is one of the uncommon simple mehndi designs with a well-detailed Arabic trail on the front hand. Looks great, doesn't it?
6. Universe motif mehndi design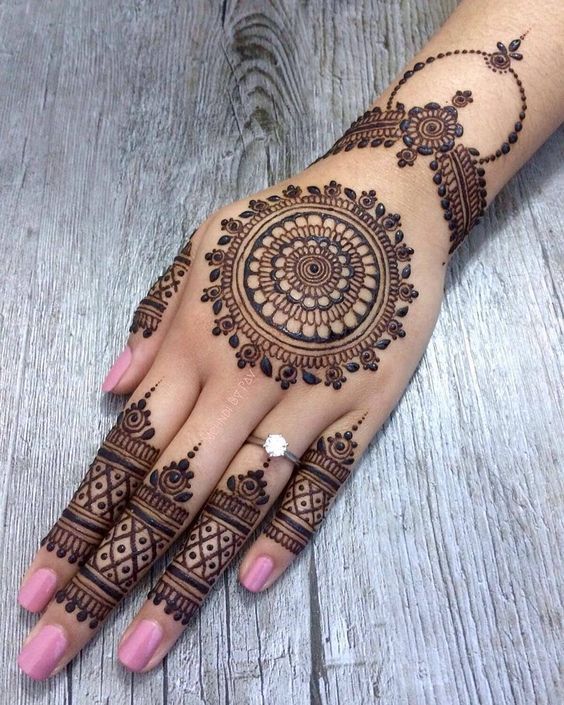 A mandala is a spiritual and ritual symbol representing the universe. It is considered auspicious for the brides-to-be to have mandala incorporated in their mehndi design. However, for a bride who doesn't want her hands to be fully covered with mehndi and yet has to follow the mehndi ceremony for traditional purposes, this simple mehndi design is a perfect reference.
7. Peacocks mehndi design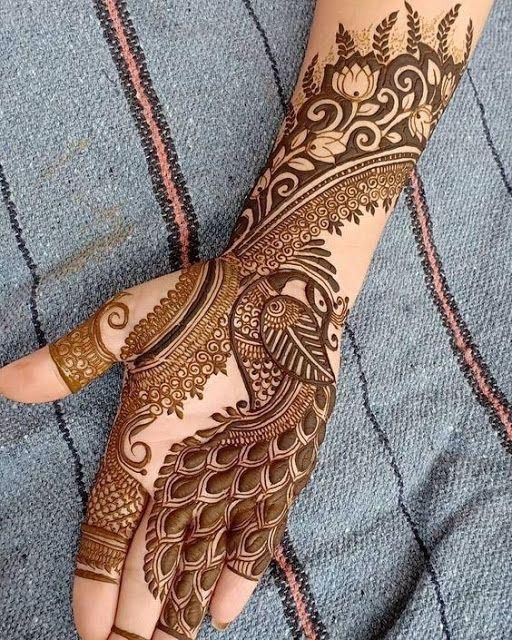 Bold designs are simple but also serve the purpose of covering the space. This simple mehndi design with effortless strokes with peacock detail is one of them.
8. Mermaid and lotus motif mehndi design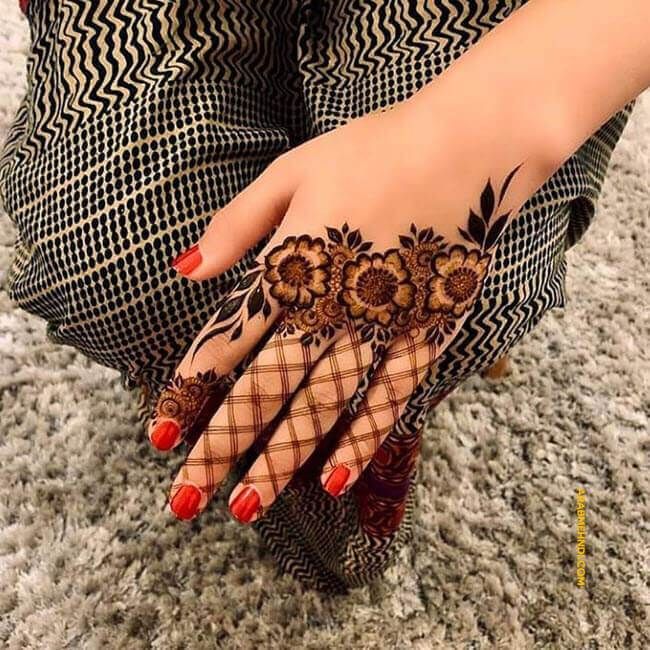 A simple mehndi design with a mermaid on arms and lotus on the back of palm which is followed by a dual leafy trail. The bel bootis highlight on the fingers looks complex but is easy to draw. The bare skin makes this design look so apt for modish women.
9. Traditional Ganpati mehndi design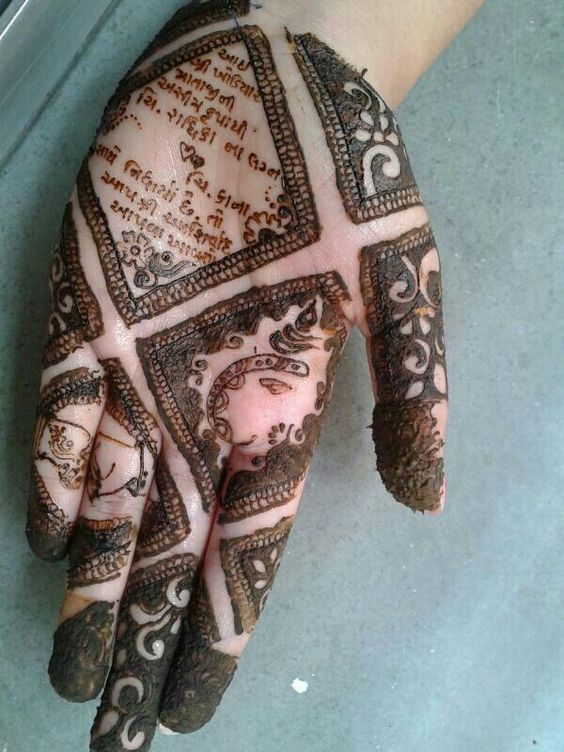 Lord Ganpati is the most worshipped god among Hindus. He has been worshipped on almost all the important occasions. The image of lord Ganpati can be incorporated in the mehndi design which makes the celebration more auspicious.
10. Multiple unique elements mehndi design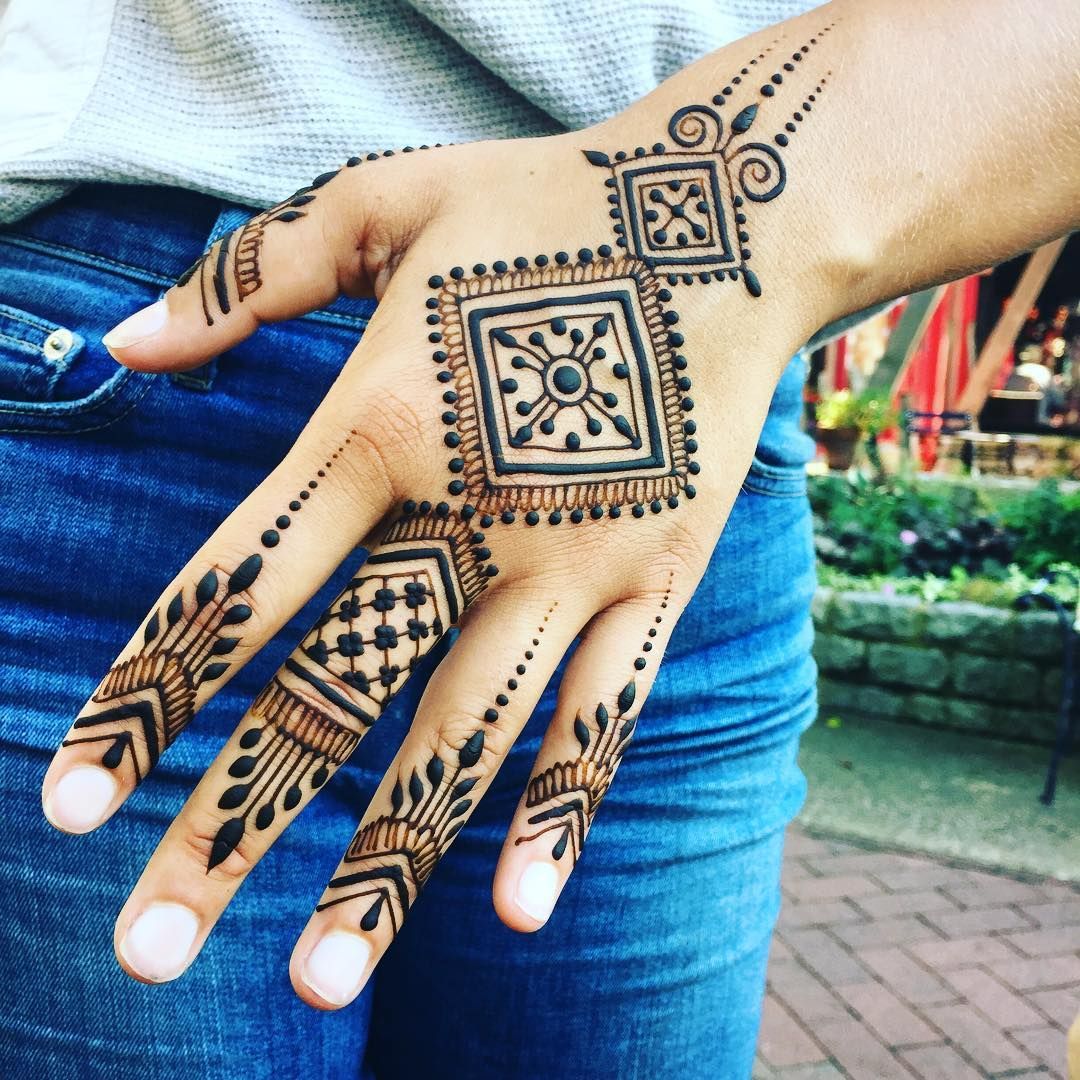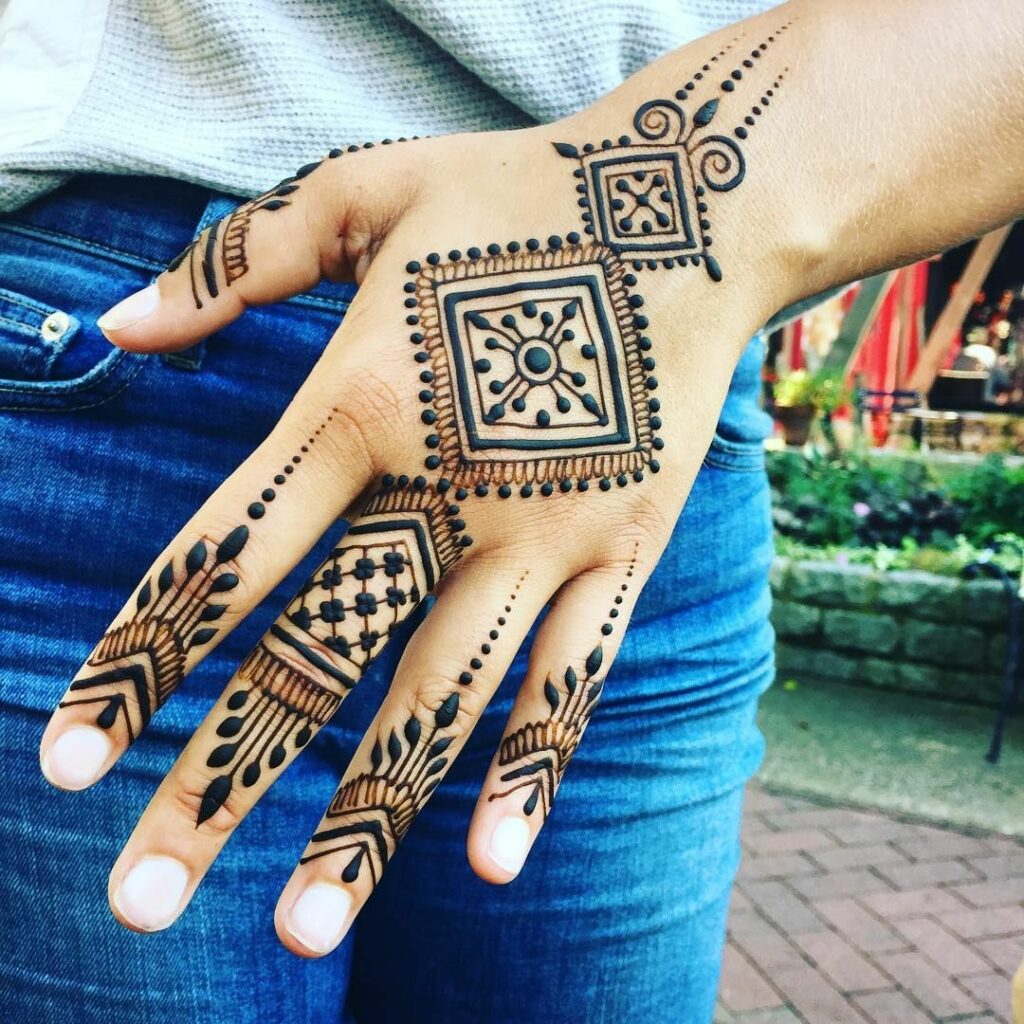 This mehndi design is different for so many reasons! It has Warli Painting comprising of tribal creatures and unique elements like a swing, earthen pots, birds, lotus motifs and dotted patterns.
11. Symbol of a love story mehndi design
It is a trend among modern brides to depict the love journey on their bridal mehndi. This alluring mehndi design with well-defined symmetry is one of them. This particular design is not only gripping but hypnotizing as well. The lovey-dovey pair, save the date, wedding date, symmetrical pattern, artwork on palms are the elements that are absolutely worth crushing over.
12. Traditional Feel mehndi design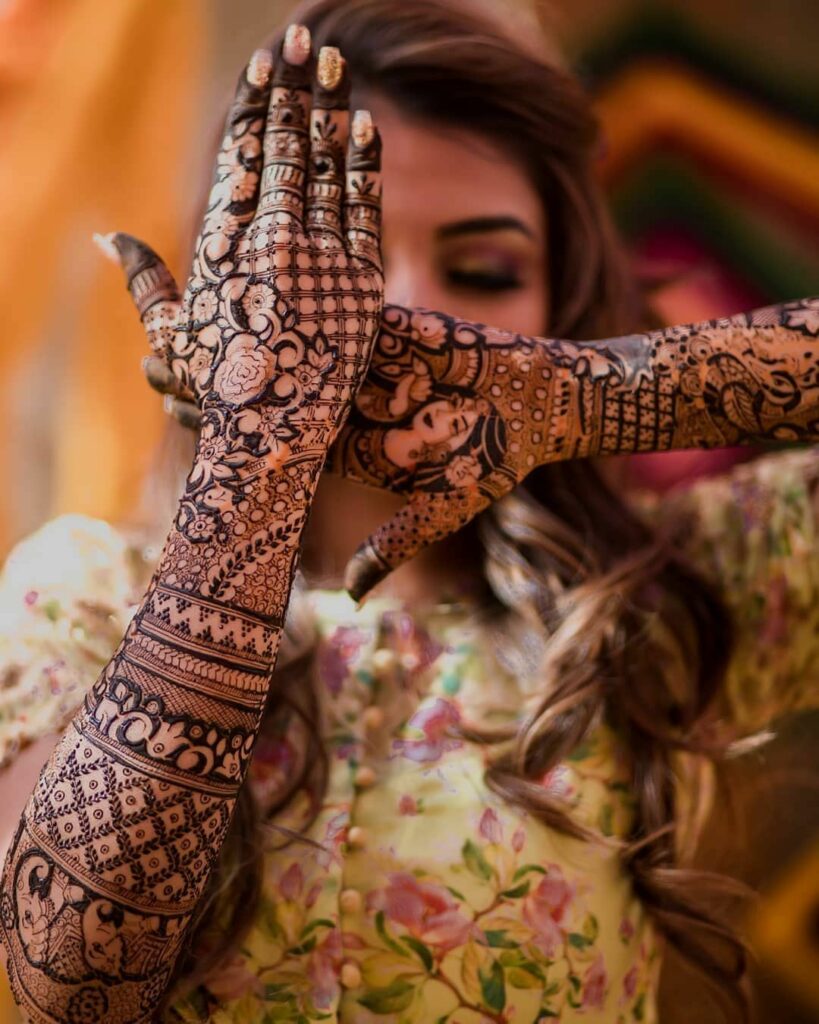 The Sindoor moment is one of the most hearty and soul-stirring moment for Hindu couples. It is one of the most sacred moments when the groom fills his bride's maang with sindoor. This ritual can be incorporated in the mehndi design as well.
13. Checkered Composition paired with motifs mehndi design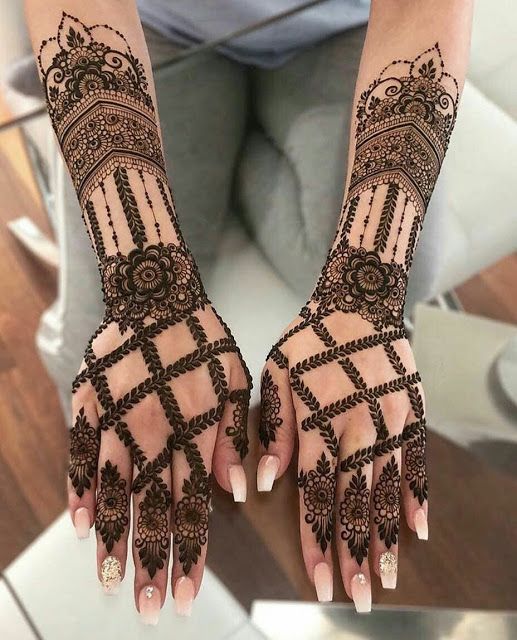 The significant motifs amid a spread-over checkered pattern make for a great simple mehndi design. While one hand has a floral figure enclosed in a patterned-frame, the other hand has a flying pigeon.
14. Conventional mehndi design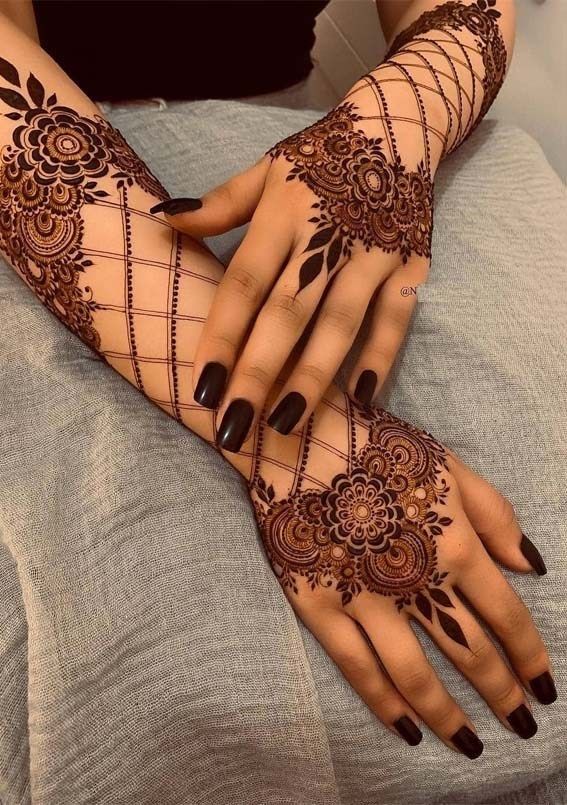 The USP of this design lies in its simplicity and mini empty spaces. Composed with the most traditional mehndi patterns like paisleys, mandala, leaves and pearl drops, this simple mehndi design is simply beautiful.
15. Jhumki mehndi design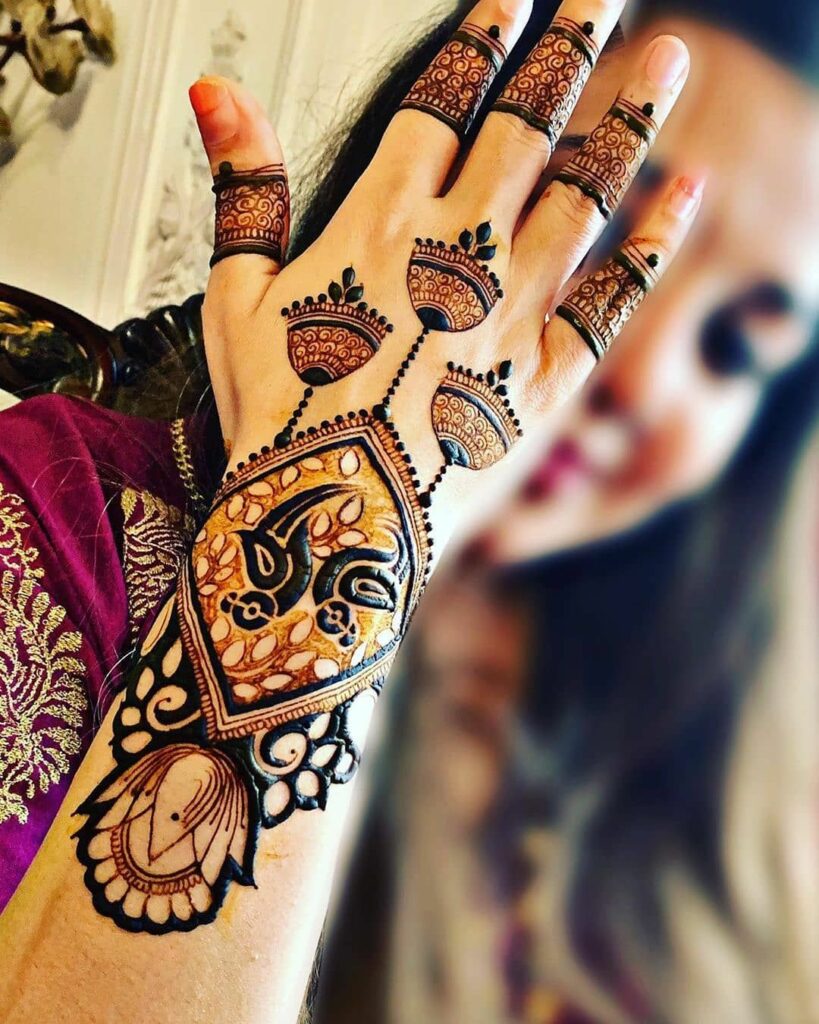 Such different and simple pretty mehndi design with Jhumkis and floral motifs! The interest spaces and silhouettes enhance this design's beauty quotient.
16. Wedding articles mehndi design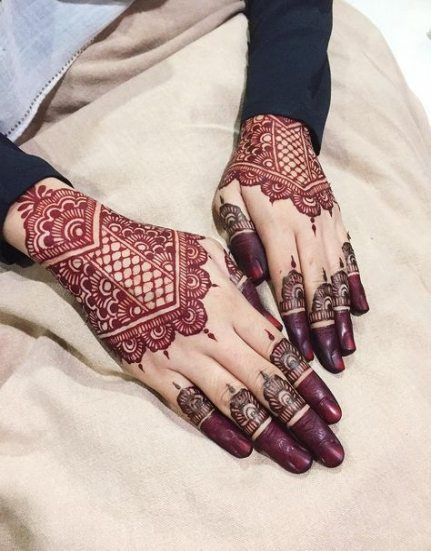 This minimal mehndi design with motifs of bride, groom, elephant, and doli is so damn gorgeous.
17. Bride's mother mehndi design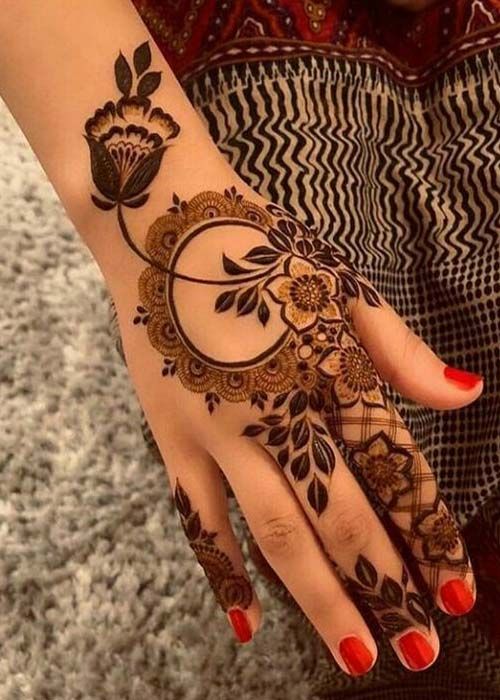 It is a ritual for the bride's mother took to get the hands laden with mehndi. This design aesthetics are perfect for the same.
18. Prince and Princess motif mehndi design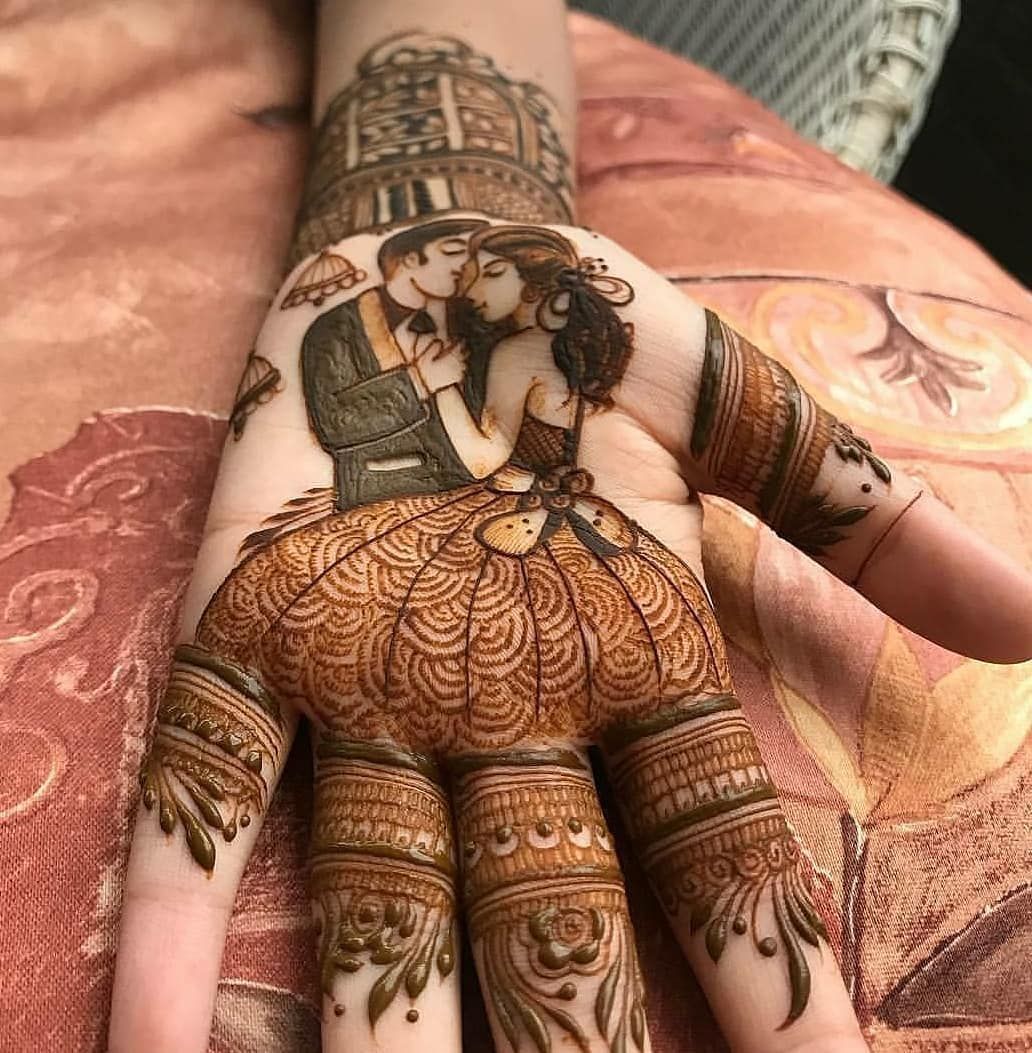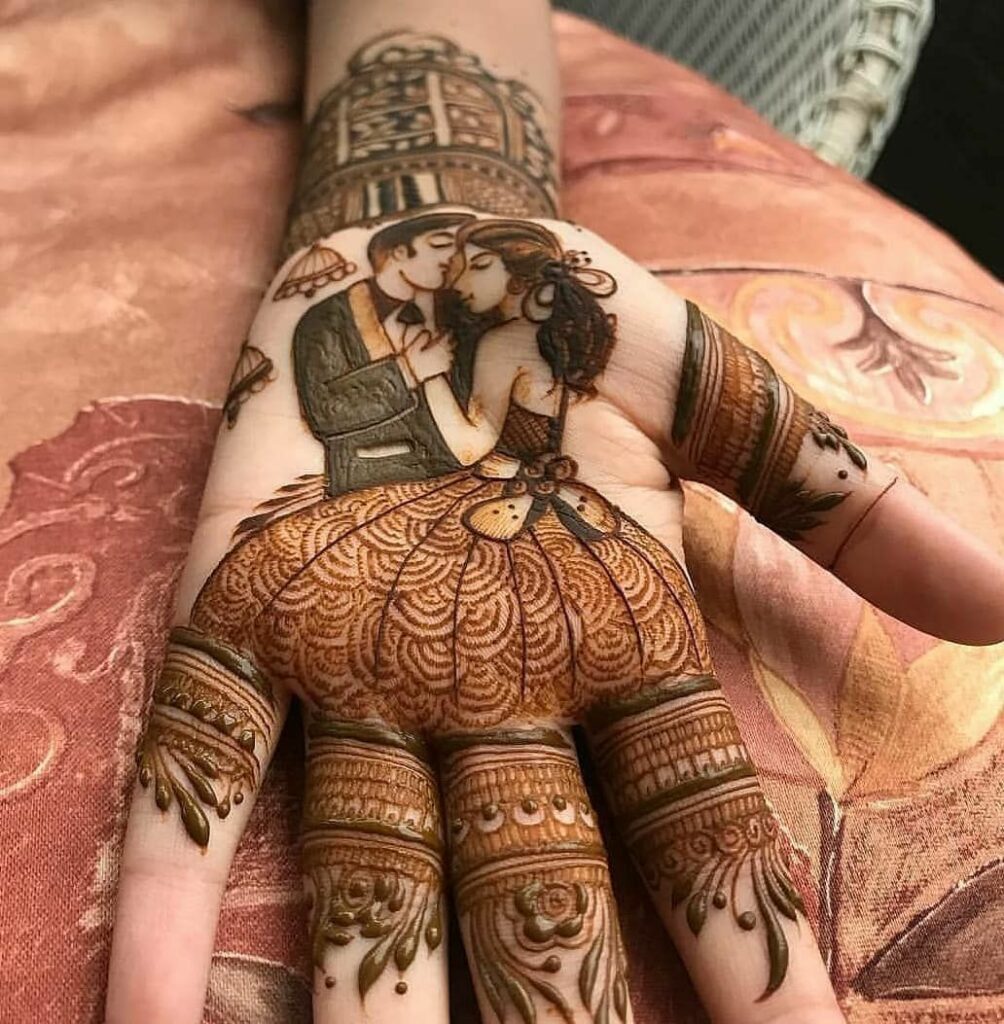 Let the world know about the princess that you are with your wedding mehndi design. This unique mehndi design has a castle and portrait of a prince-princess. It is also personalized with the beautiful rose motifs and the couple's name.
19. Paisley pattern mehndi design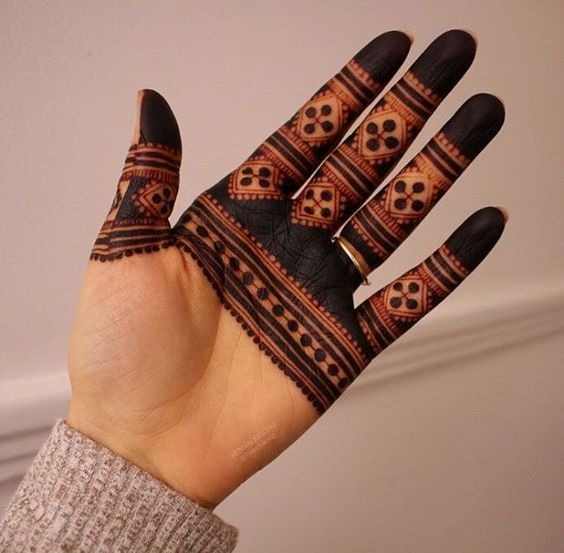 A pretty Paisley mehndi design all beginners must try to hone their skills. This very simple and very attractive mehndi design.
20. Backhand mandala mehndi design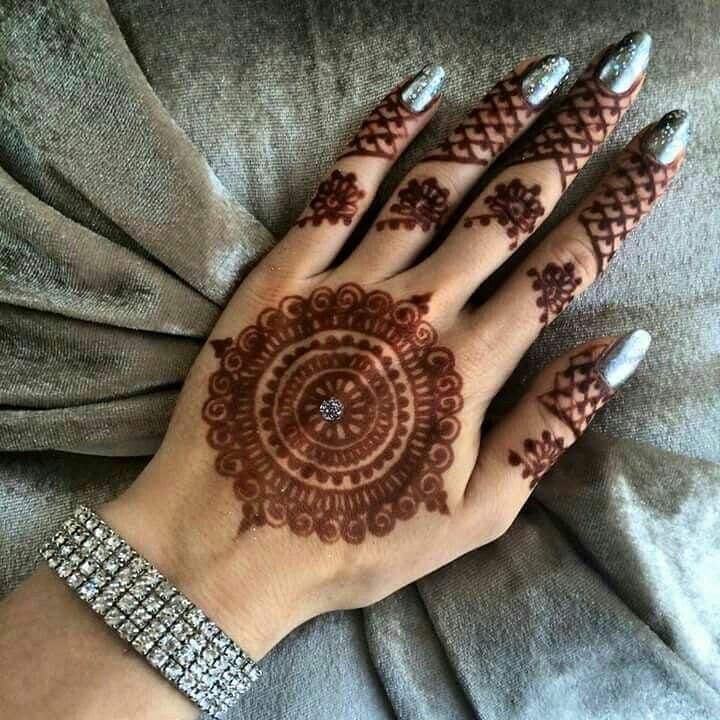 Mandalas are an integral part of traditional mehndi designs and it is important for all beginners to attain perfection. This backhand mandala is an easy yet perfect design to try out.
21. Circular strokes mehndi design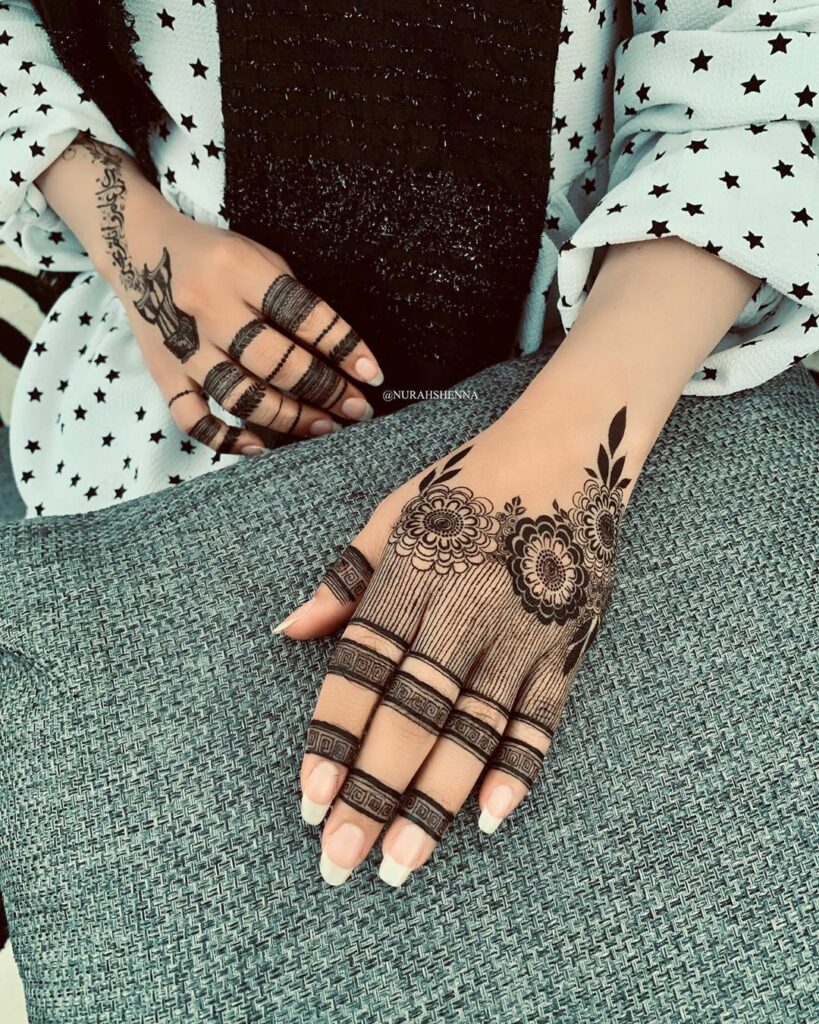 This simple mehndi design with circular strokes and extremely easy ring-style pattern on fingers is a great option.
22. Bel art mehndi design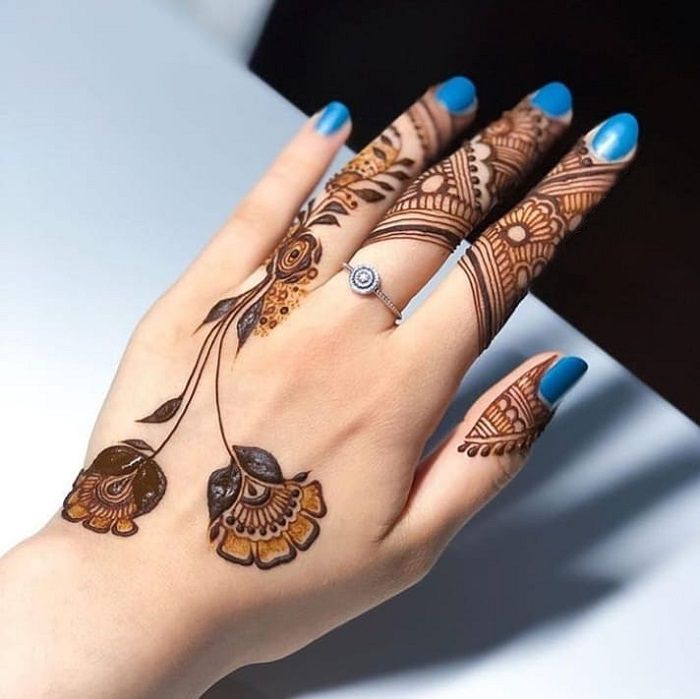 The diagonal design work has always been a rage among girls when it comes to mehndi. This is one you can try if you are a beginner.
23. Mandala with lace on fingers mehndi design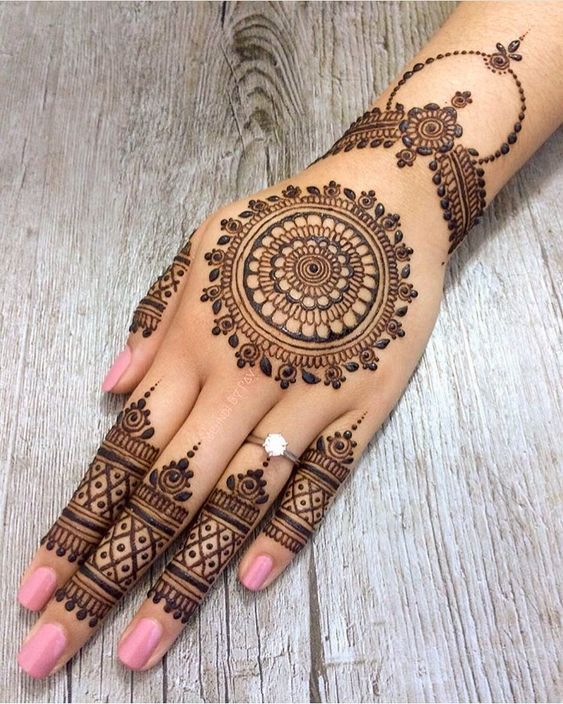 This attractive mandala design completed with lacy fingers is to die for. This design also includes a thick bracelet pattern on the wrist.
24. Minimal ring mehndi design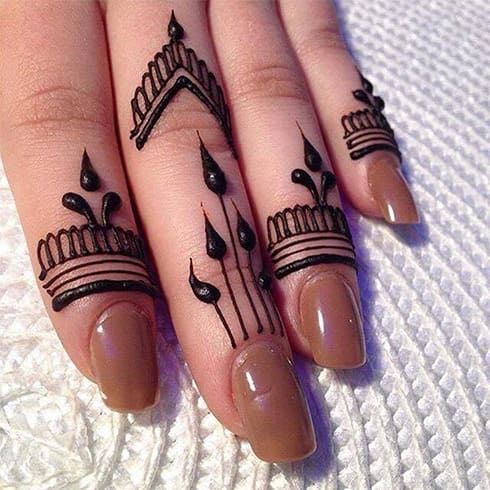 As per the ongoing trend, 'less is more'. So, you can impress others by drawing this chic and classy ring design on the backhand.
25. Lacy glove mehndi design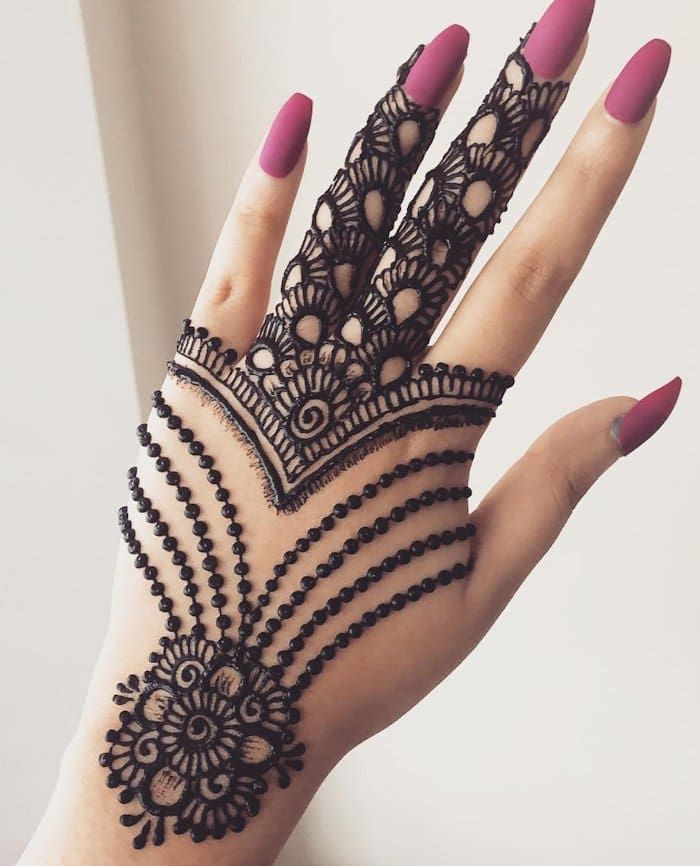 This mehndi design resembles a lacy glove. It requires neatness and intricacy. This design constitutes lace with a floral pattern on fingertip and end also have a floral and filigree wrist band.
26. Floral foot mehndi design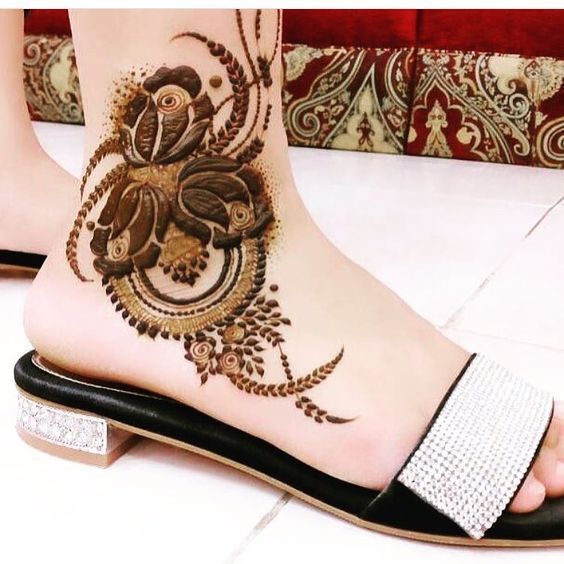 Being a beginner, it is usually a tougher task to apply mehndi on feet. But you can begin your art with a basic floral design like this.
27. Modern line pattern mehndi design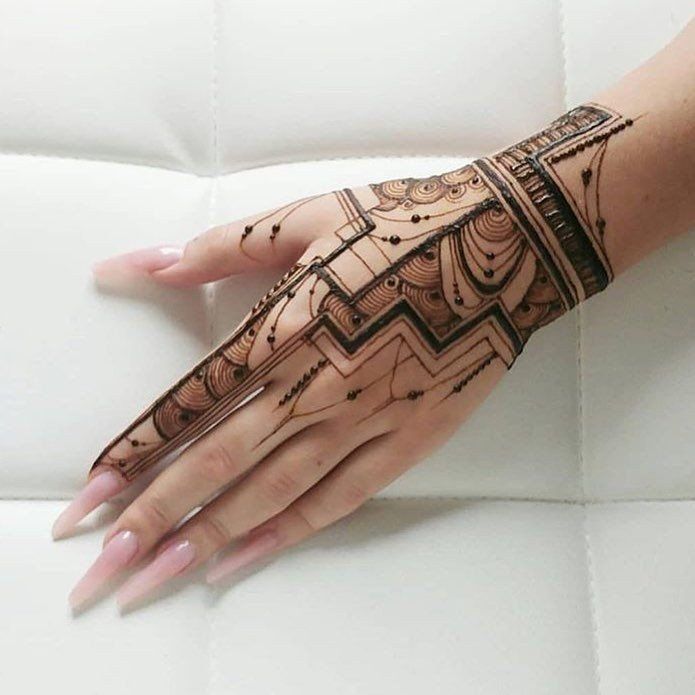 Every modern woman would love to flaunt this contemporary mehndi design, The central portion of the backhand is adorned with a diagonal pattern making it so likeable. Whereas, the lined-pattern on fingers is so simple but looks so modish.
28. Just finger tip mehndi design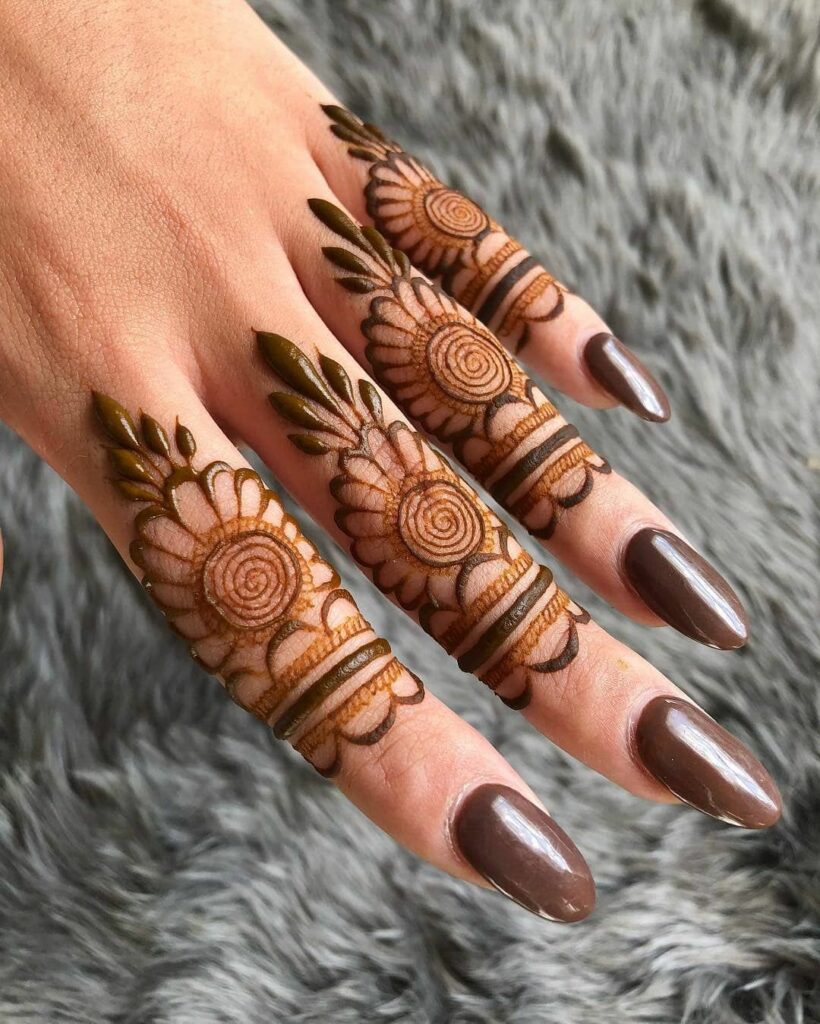 Gaudy and Elaborate designs are quite difficult to draw. Hence, this fingertip design is one of the finest examples of simple and easy mehndi designs.
29. Statement ring mehndi design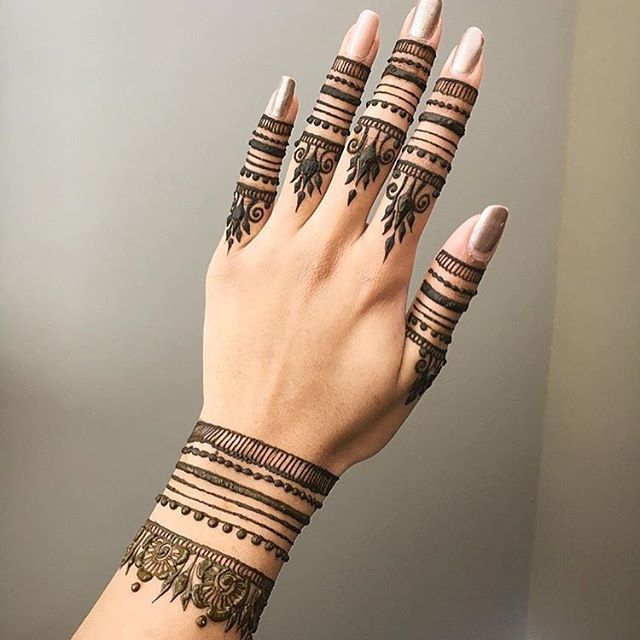 Despite being so minimal, this design is eye-catchy and looks like an extended ring.
30. Foot Mojri pattern mehndi design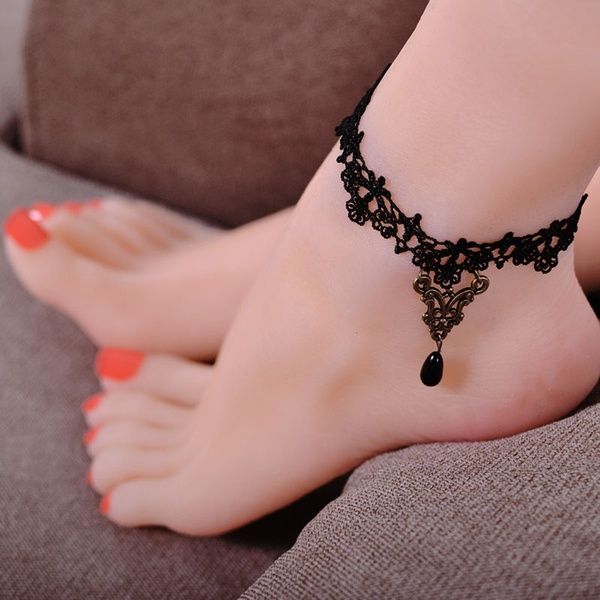 It is one of the patterns you will use in most heavy mehndi designs. But this individual pattern also looks great on the feet.
31. Lotus motif mehndi design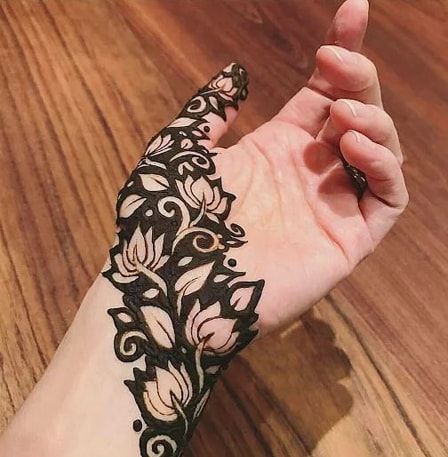 A lotus motif centered in a circular frame is an easy option for beginners. It has lotus motif on wrist and fingers and have peacocks on both palms. Two standing elephants are the main focus of the lotus motif wrist band.
32. Simple trail mehndi design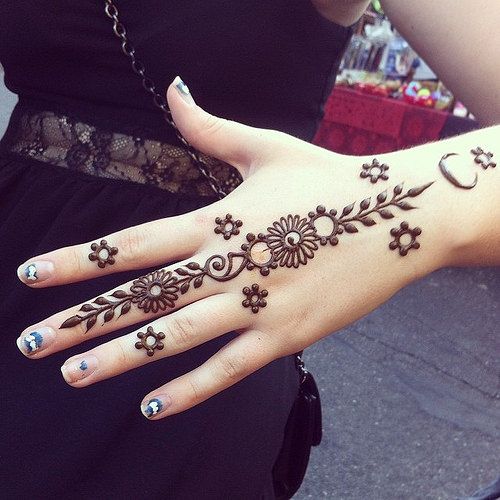 This is a simple and great trail design for beginners. It includes a simple and elegant leafy trail on the middle finger which ends at the big round flower. Also, have a fine meshwork around the thumb. It has small flower bootis on the other fingers followed by dots.
33. Coiled Bail mehndi design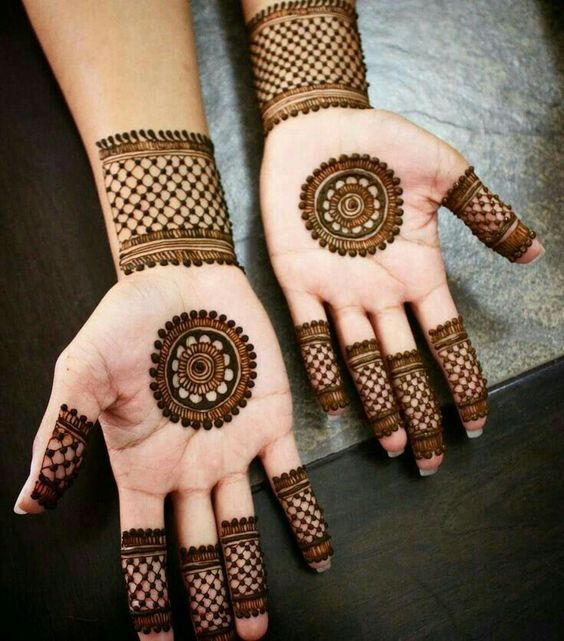 Simple curled up design looks so elegant and minimal. It is the best option for those who admire less mehndi coverage. This pattern has been done in the stylish way. The filgiri coil spreads over the back of hand which resembles the letter 'S'. The coiled bail is highlighted with a bead line.
34. Flowers and mesh mehndi design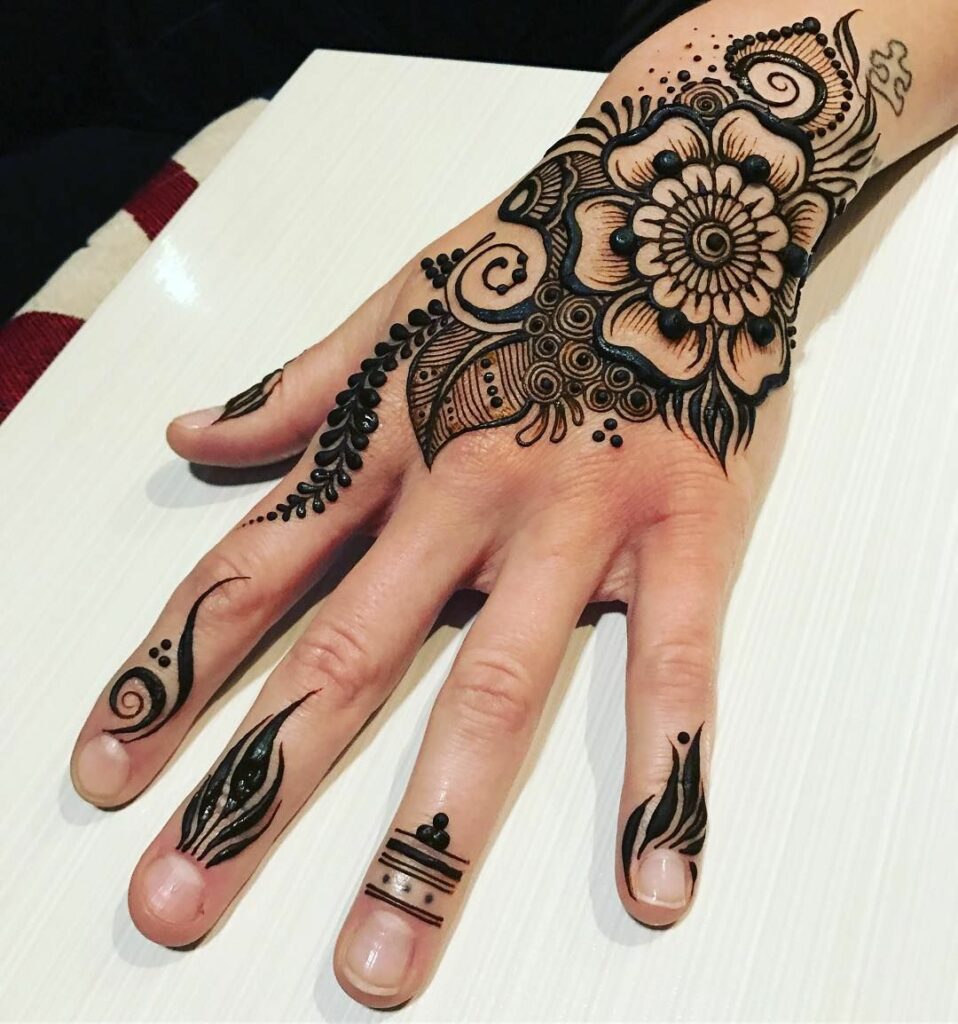 Flowers are the basic designs that are easily learned. This design with a unique flower and mesh pattern looks so modernistic.
35. Shaded Florals mehndi design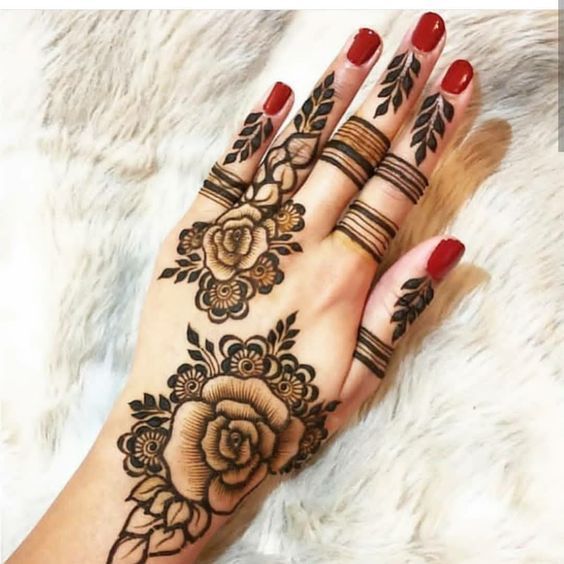 With shaded flowers, leafy strokes and checkered patters. This is one of the finest mehndi designs for weddings.
36. Paisley pattern mehndi design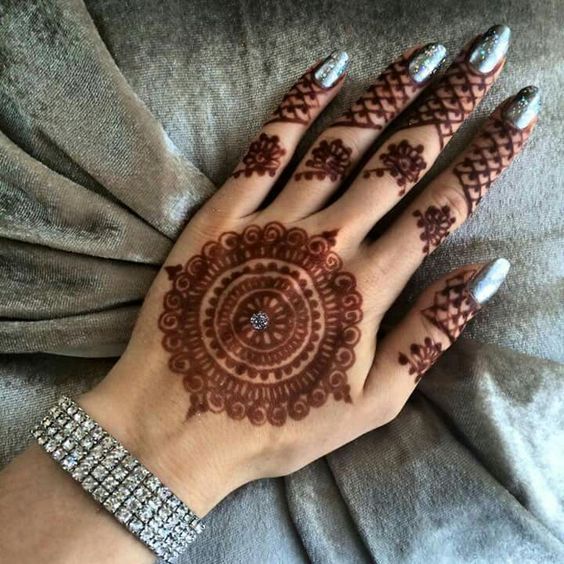 Here is an exquisite mandala in the centre with an alluring pattern on fingers. There is a checkered band on the wrist paired with a pretty paisley pattern.
37. Floral Charm mehndi design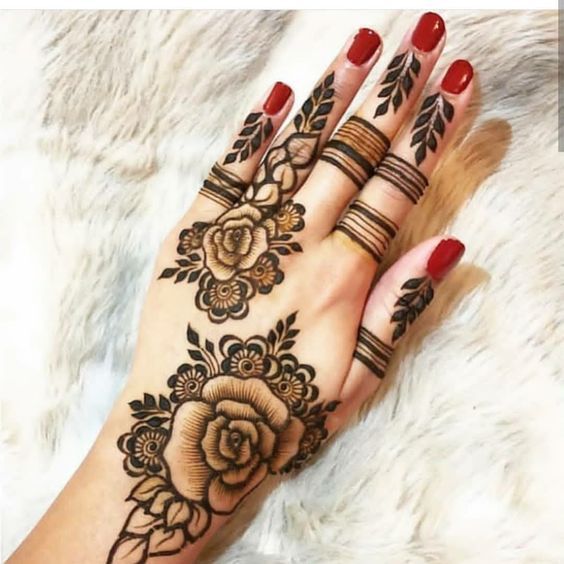 A circular structure made with multiple flower bootis with a checkered design in the middle. The combo of checks and floral motifs looks great on fingers too.
38. Diagonal floral trail mehndi design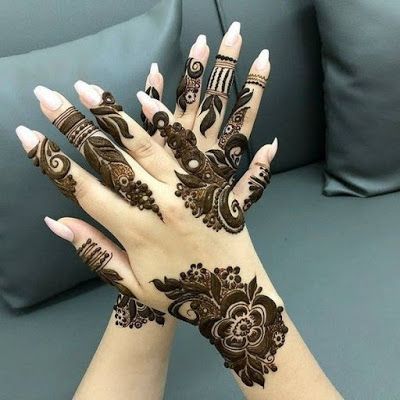 A big floral motif on the palm connected with a spiral pattern on the index finger. Flower on the palm is consist of different shaped petals. There is a flower on the tip of other fingers which are followed by dots.
39. Wide-spaced mehndi design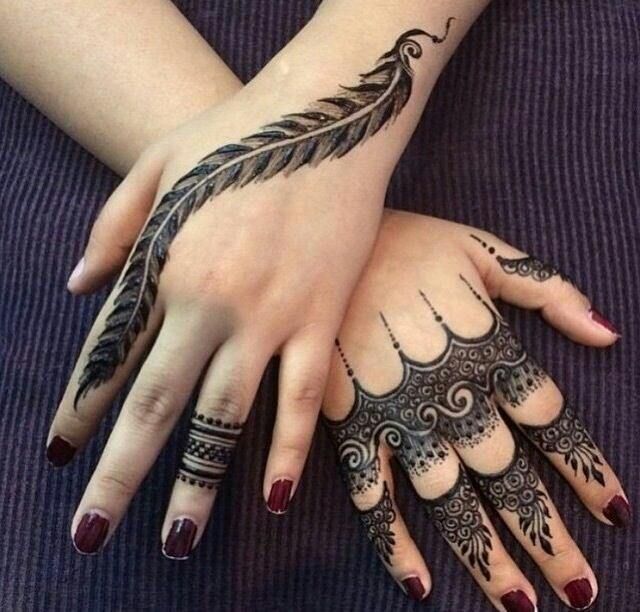 Creating a wide-spaced mehndi design is one of the simplest tricks to fill your palm with henna and make it look gorgeous.
40. Symmetrical mehndi design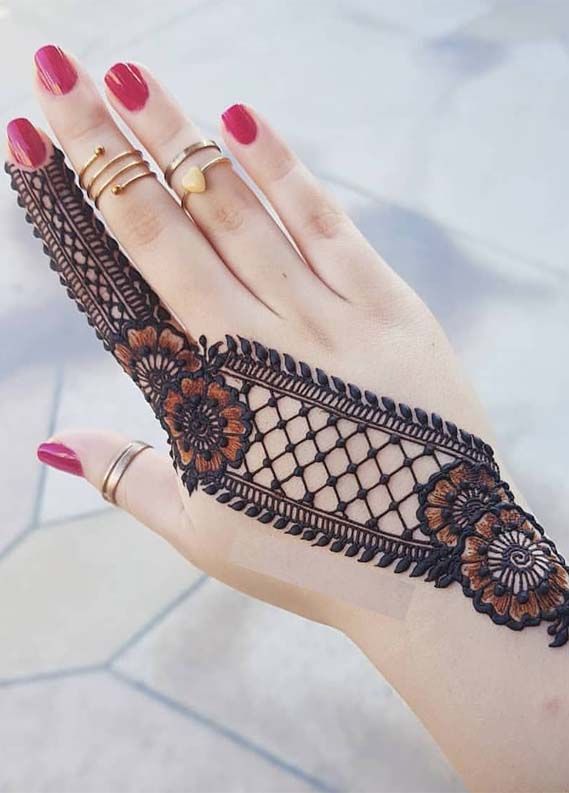 All the fingers are laden with mehndi whereas the palm of the back looks visually aesthetical with a geometrical floral pattern. The wrist further has some interesting and eye-pleasing band work paired with half-mandala artwork.
41. All over intricate mehndi design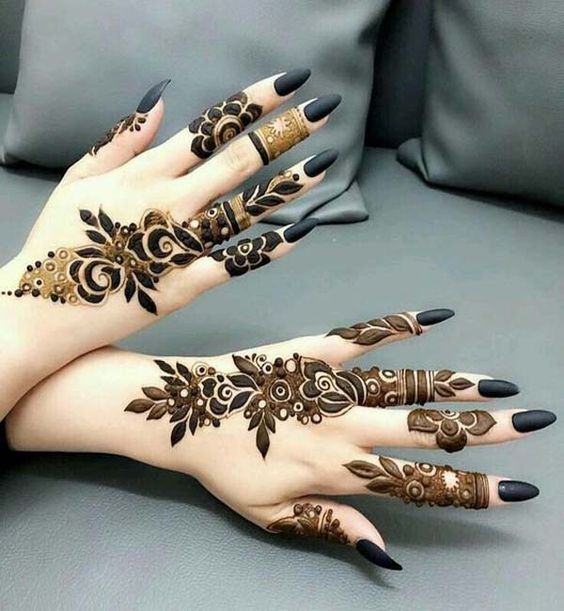 Another interesting land simple mehndi design you can go for this one. It looks like a complex design but is very simple to apply. It is all about spirals, repetitive curvy strokes and some easy floral motifs. There is also an easy-to-do mandala to add to the traditional vibes.
42. Pretty flower and leaf mehndi design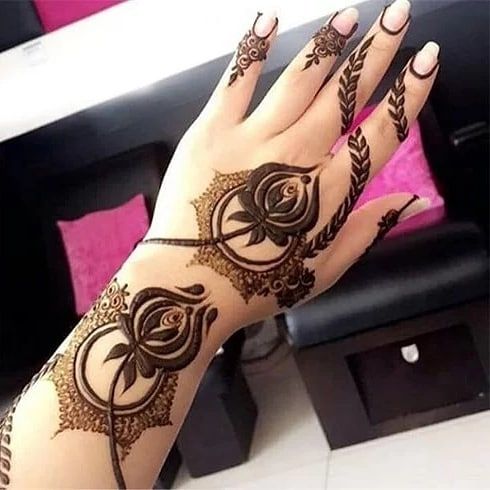 This simple mehndi design looks like a piece of hand jewellery. The mesmerizing leaf strings, coiled pattern and the floral elements applied with sheer perfection make it look oh-so-gorgeous.
43. Trail on fingers mehndi design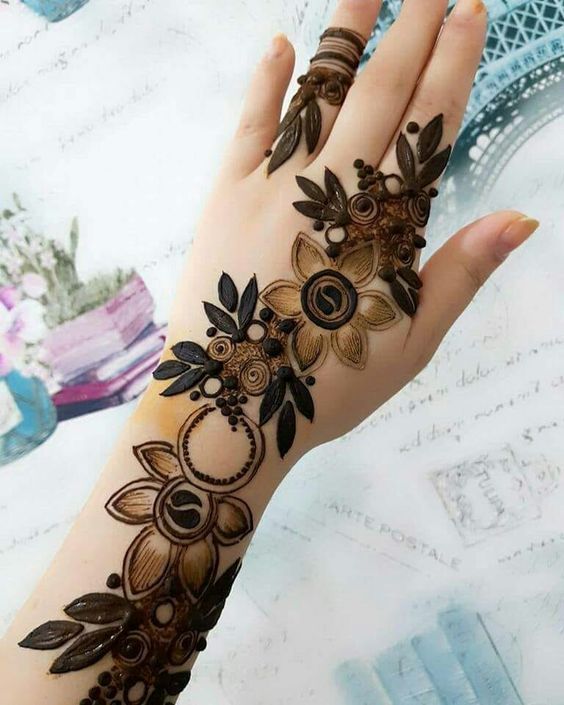 While all the fingers are laden with mehndi design but the last two fingers are leading a trail which connects the finger artwork to the mehndi bracelet on the wrist. The half-empty space on the back of the palm looks sassy.
44. Intricate mandala mehndi design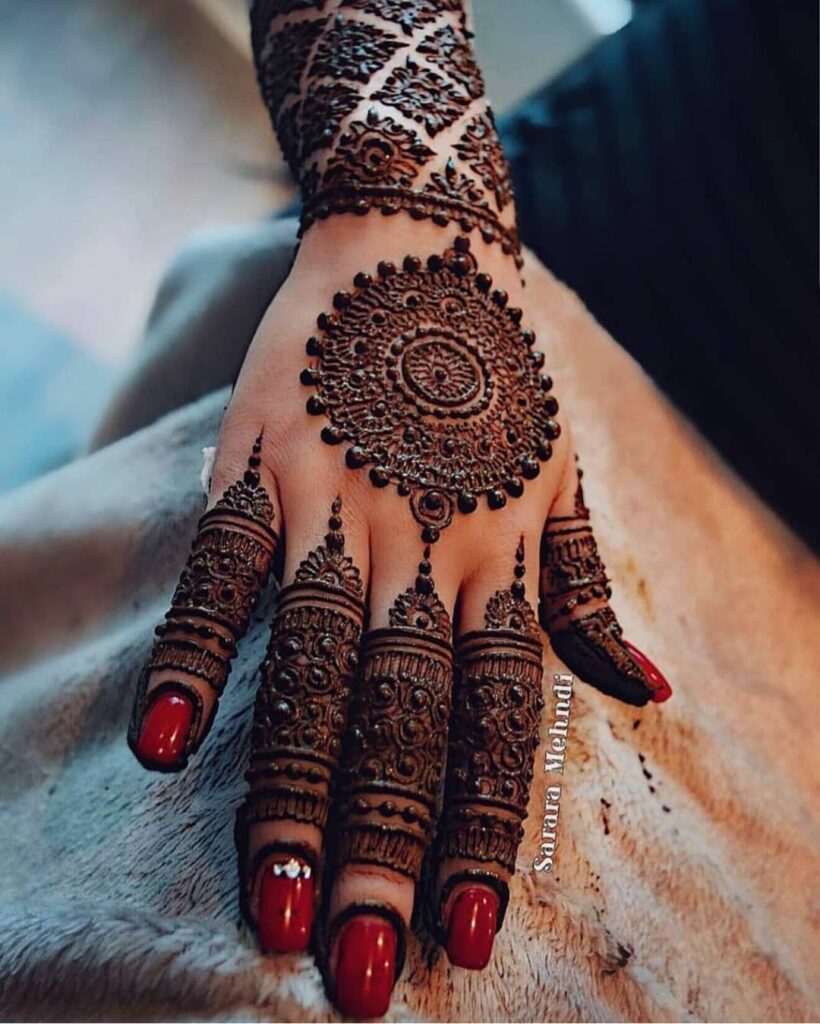 A designer round-shaped mandala drawn with delicacy and intricated pattern is there to highlight nails on the fingers. The central mandala is connected through the string with a middle finger.
45. Multi-dimensional mehndi design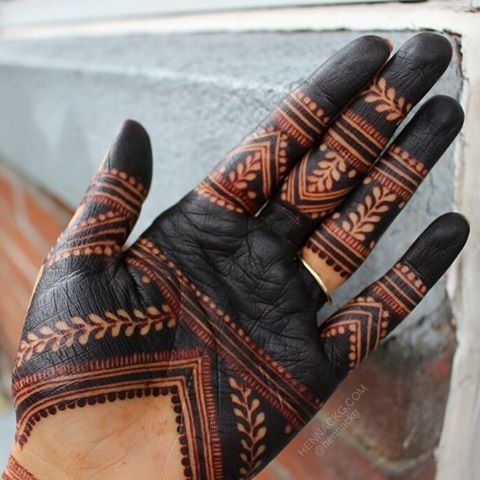 This geometric backhand mehndi pattern is very unique. Whereas, on the other hand, the mehndi design resembles a piece of jewelled hath phool.
46. Adjoined chakras mehndi design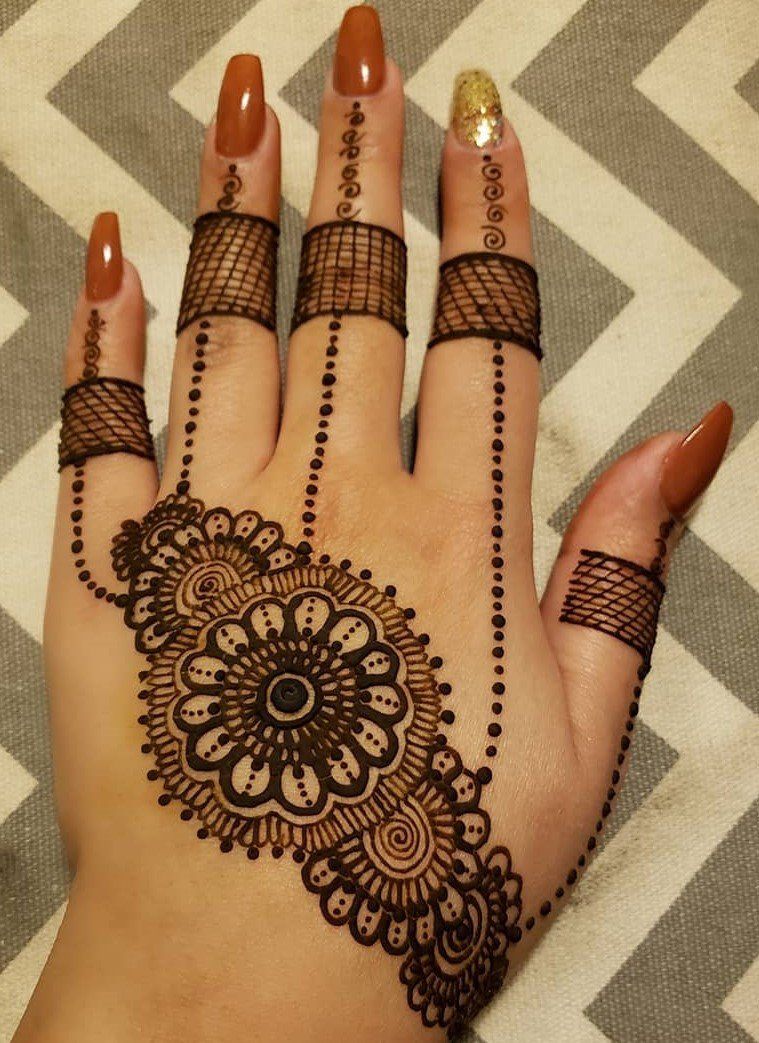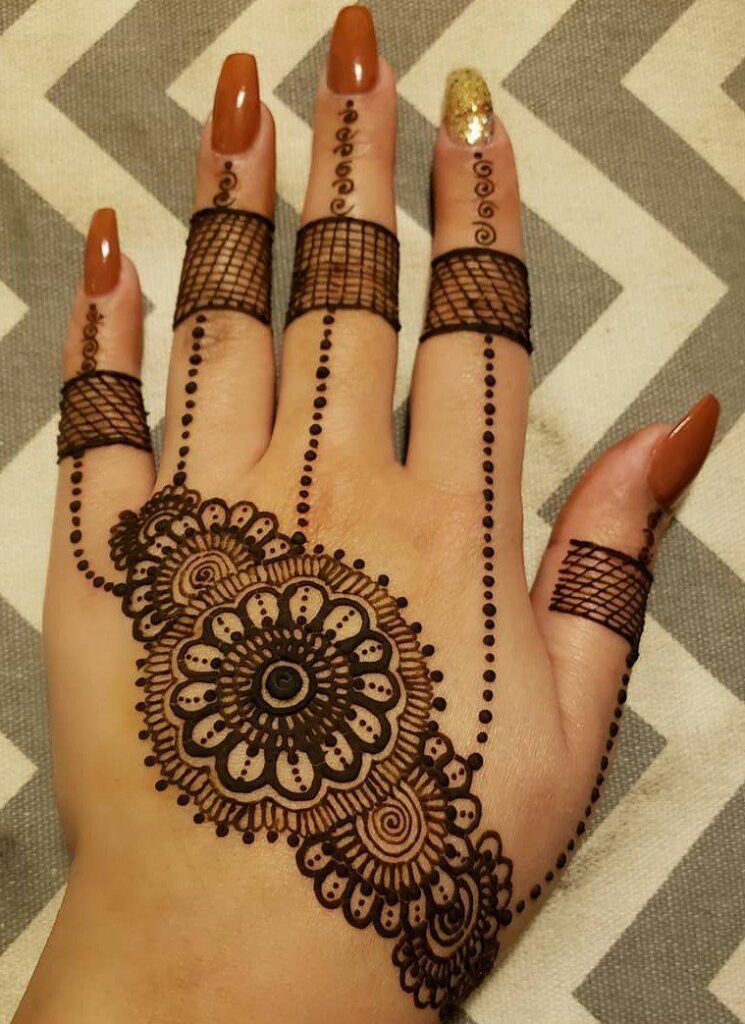 This back hand mehndi is traced with multiple adjoined chakras accentuated with leafy outlines and floral detailing. Beautiful work is done on all the fingers. This pattern constitutes a beautiful double sided wrist band also.
47. Glittery floral and checkered mehndi design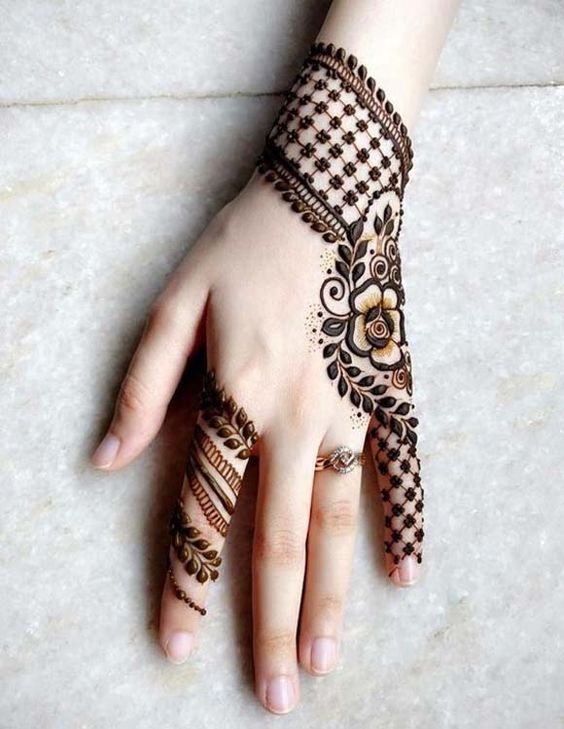 Despite being a little complex, this design must be tried. The beauty of this full-coverage design lies in the intricately detailed checkered design with a floral trail in between.
48. Map tattoo mehndi design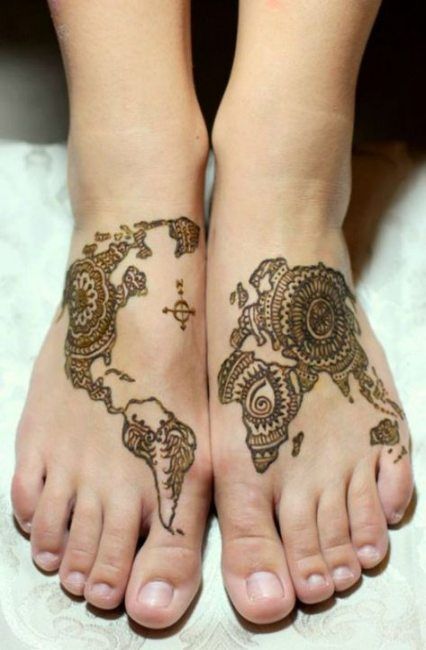 A world map imprinted on feet with mehndi simple yet carries a strong message. It is minimal and is perfect for the brides who are travel junkies.
49. Lotus motifs foot mehndi design
The feet in this design is divided into two slanted halves, one of which is adorned with pretty and notable floral motifs whereas the other side is covered with netted details. The best part of this design is that it accentuates the essence of the nail paint.
50. Modish Half coverage foot mehndi design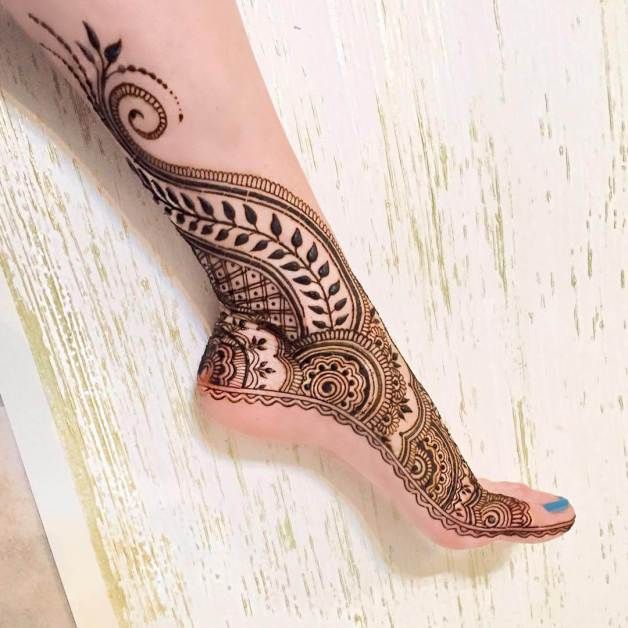 This minimal mehndi design is effortlessly beautiful. The toes have been adorned with mini bootis whereas the checkered pattern is teamed up with two lotus silhouettes on both the feet.
51. The dainty bootis mehndi design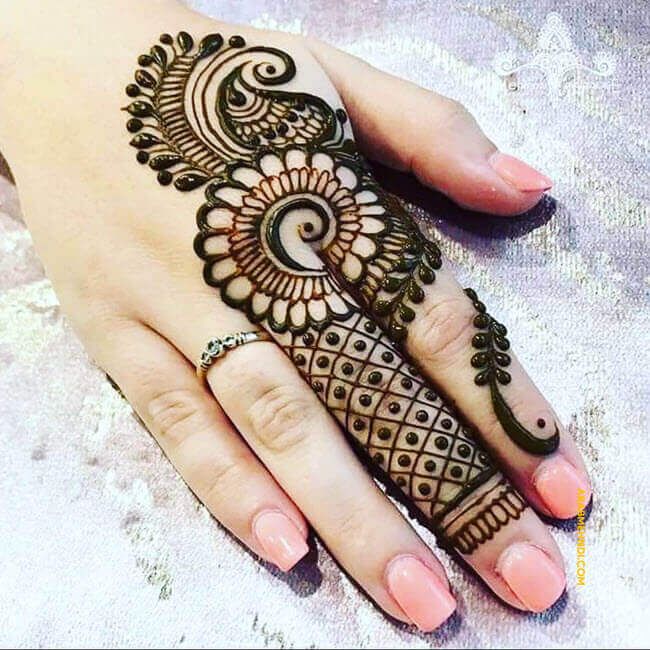 A mesmerizing checkered pattern paired with dainty bootis on finger paired with a thick bangle pattern is perfect for the contemporary brides.
52. Mandala connected with dots over foot mehndi design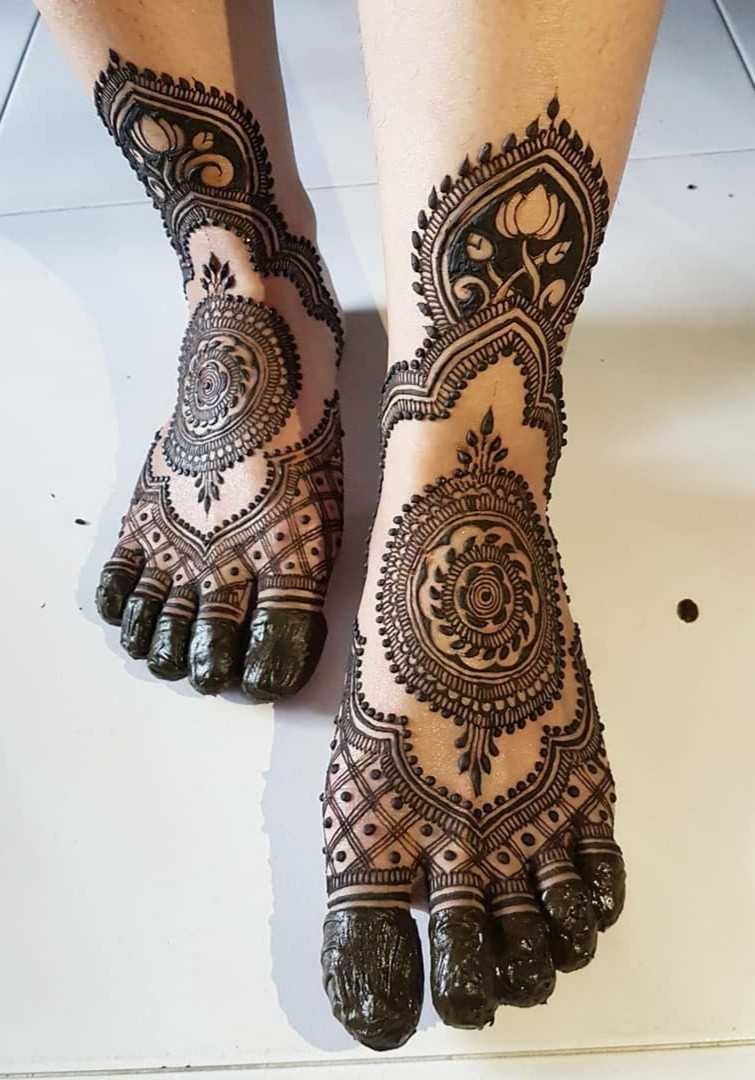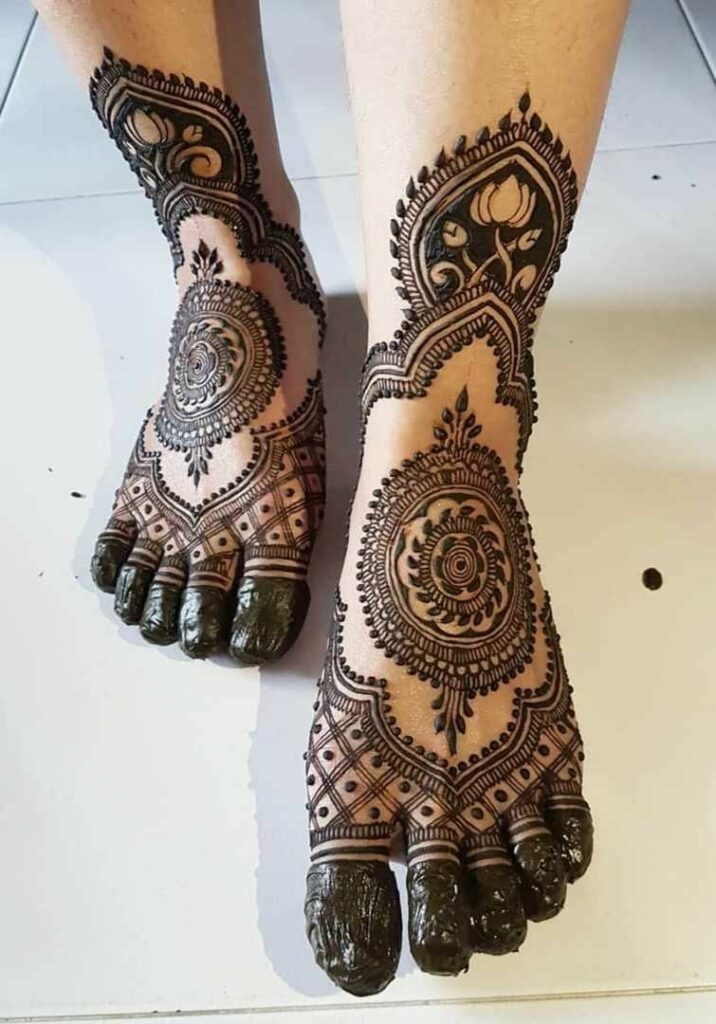 An exquisite mandala in the center connected to the well-designed toes via tiny dots.
53. Anklet style foot mehndi design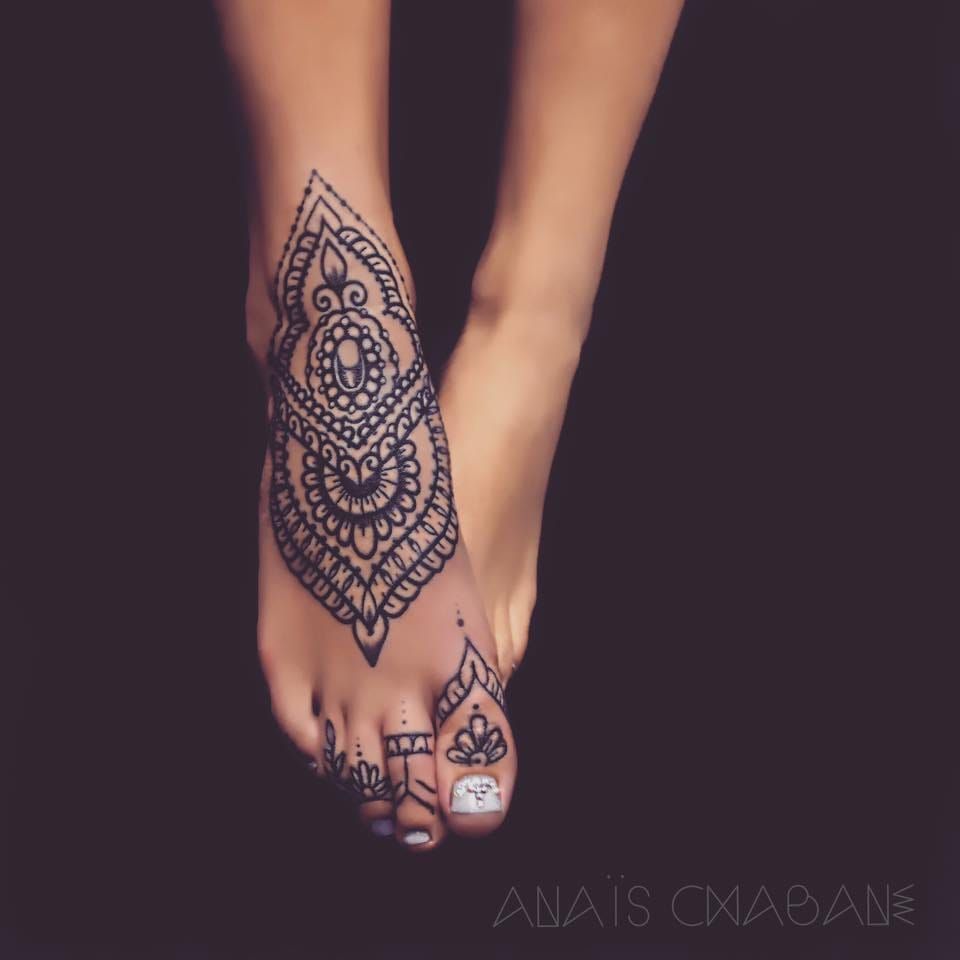 Yet another simple mehndi design with a mandala artwork in the middle which is connected to toes with tiny pearly dots. However, this one is unique for the dotted-strands on the ankle that make it look like a stunning foot jewellery piece.
54. Full leg mehndi design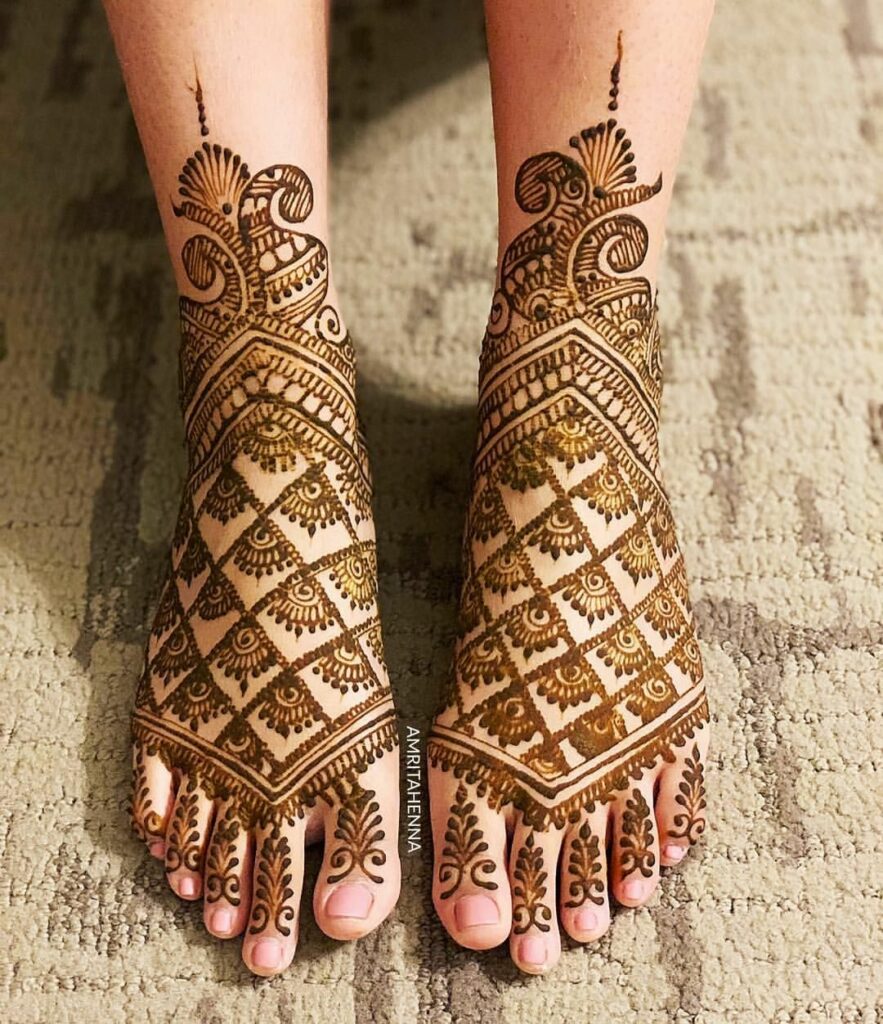 Lotus, monumental structures, leafy strokes and well-aligned lines – this foot mehndi design has so many aesthetical elements adding to its beauty.
55. Full Coverage mehndi design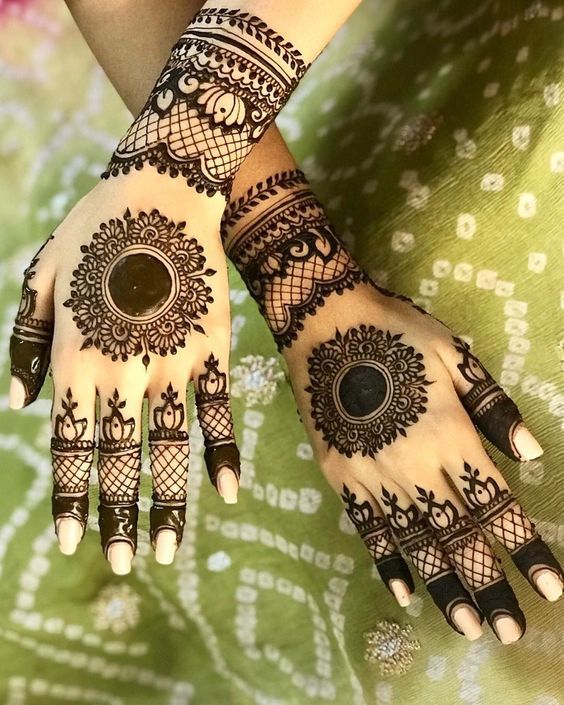 Edgy, sharp and playful are words that best describe this simple mehndi design. Leafy trails, paisley, mandala and distinctive boundaries are prominent elements of this design making it look super attractive.
56. Traditional and chic mehndi design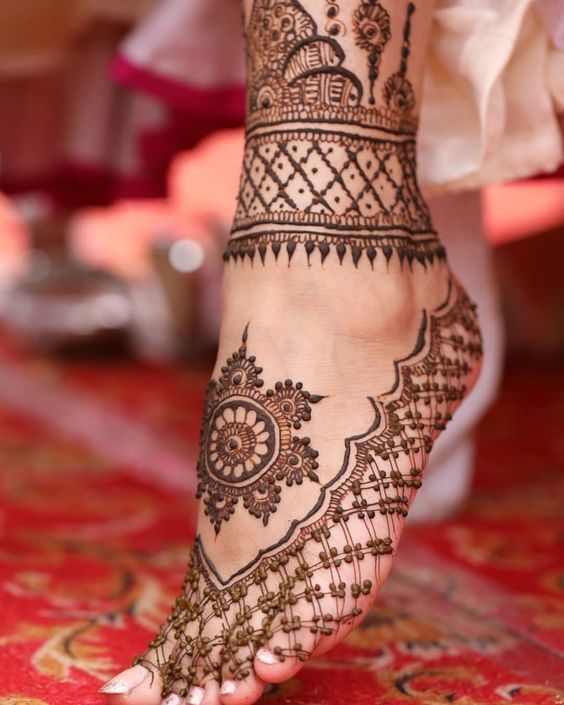 Dominated with paisley patterns, this foot mehndi design with playful strokes is great for brides who want to keep it traditional while not compromising on the chickness.
57. Half and half foot mehndi design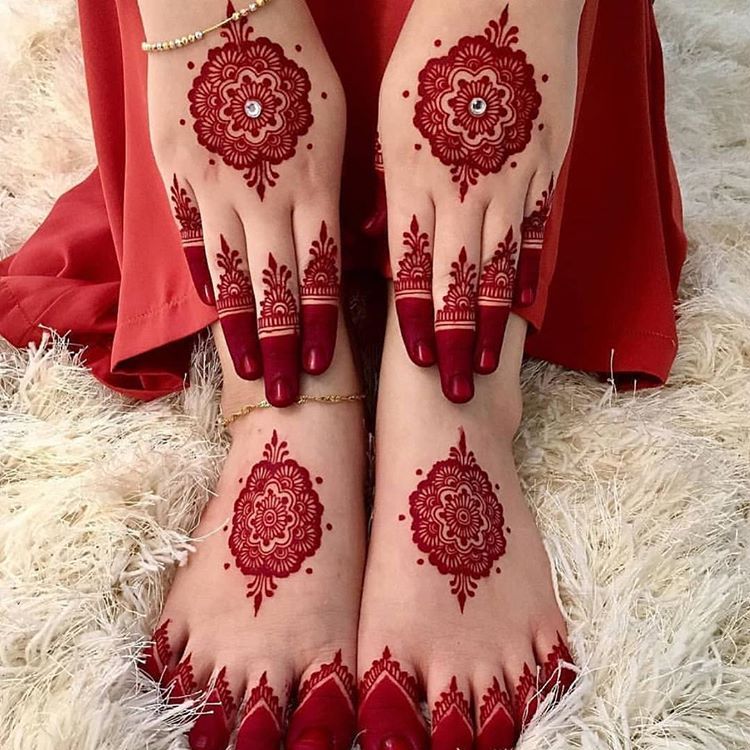 Symmetry needs to be kept in mind before you take the plunge to opt this pattern. The designs on both feet must look like mirror images of each other.
58. Silhouette foot mehndi design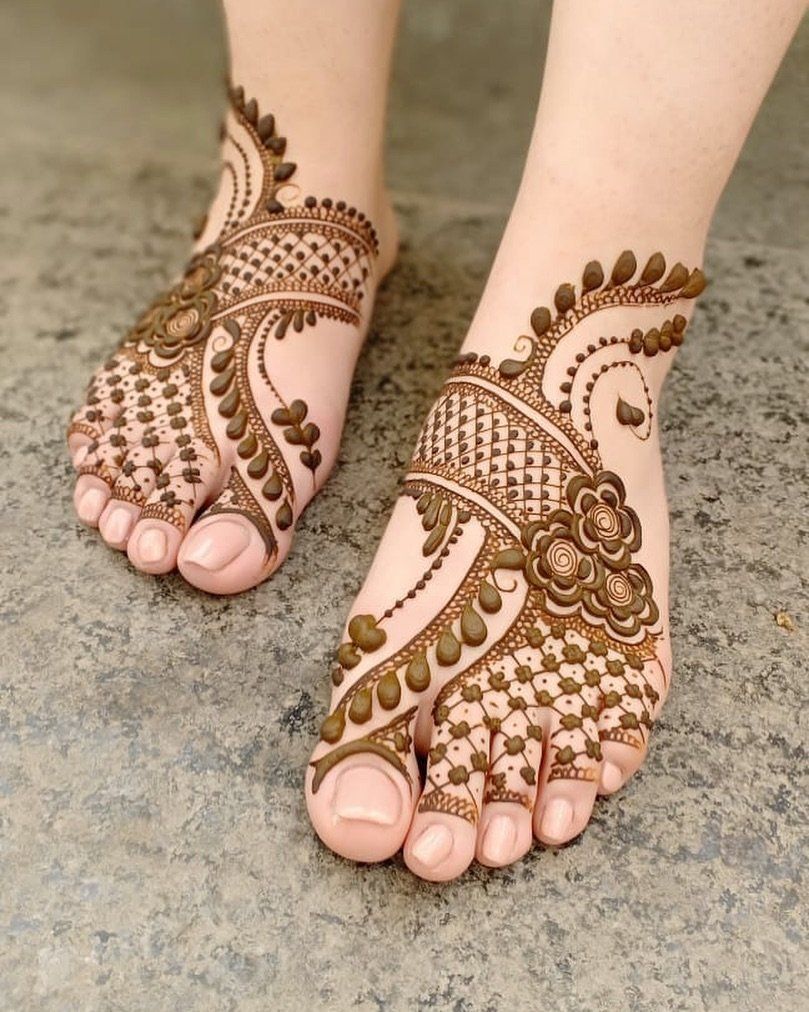 While most of the area is covered with dainty dots, the major designing highlight in this foot mehndi design is the silhouette floral motif adjoined with a simplistic mandala pattern.
59. Swirly pattern on foot mehndi design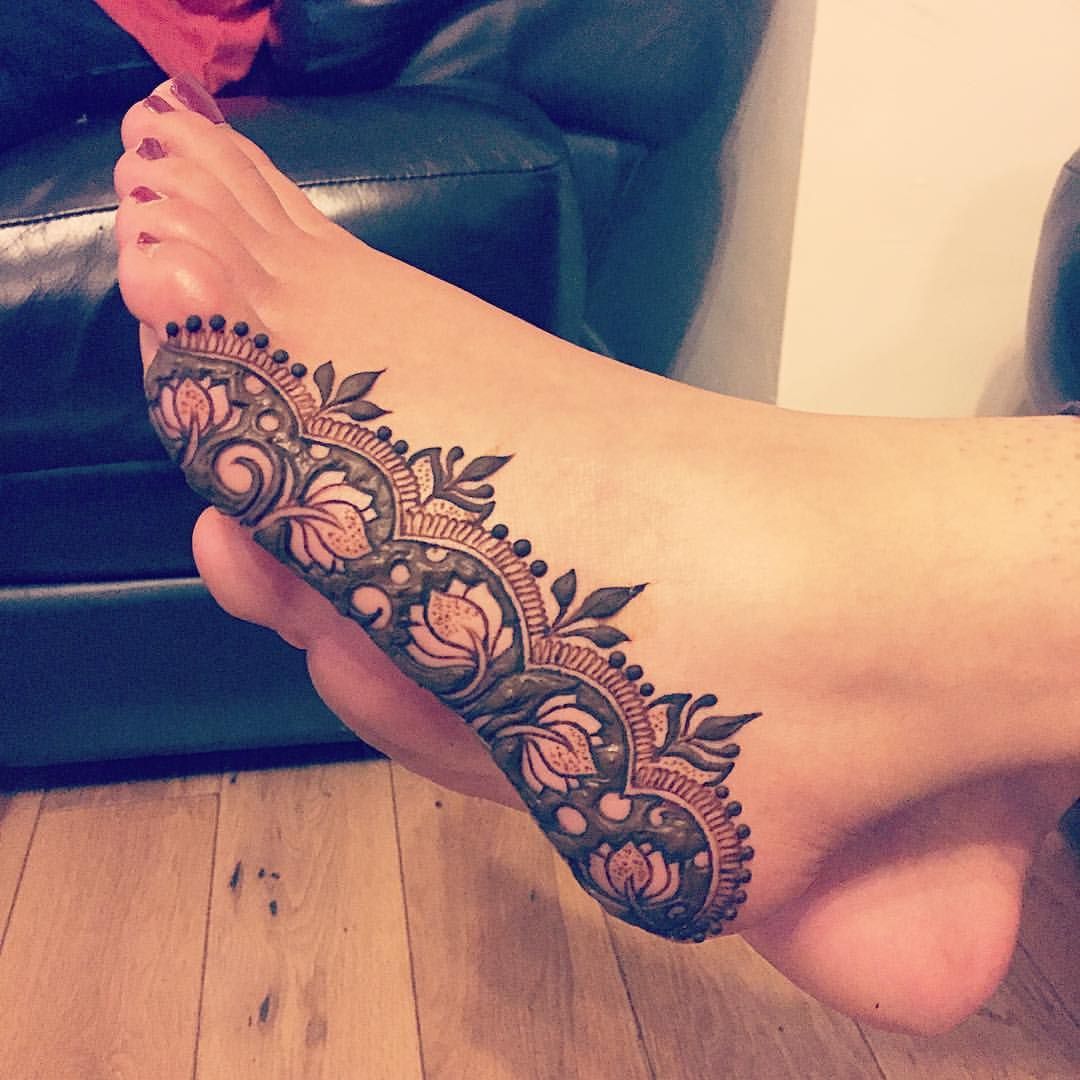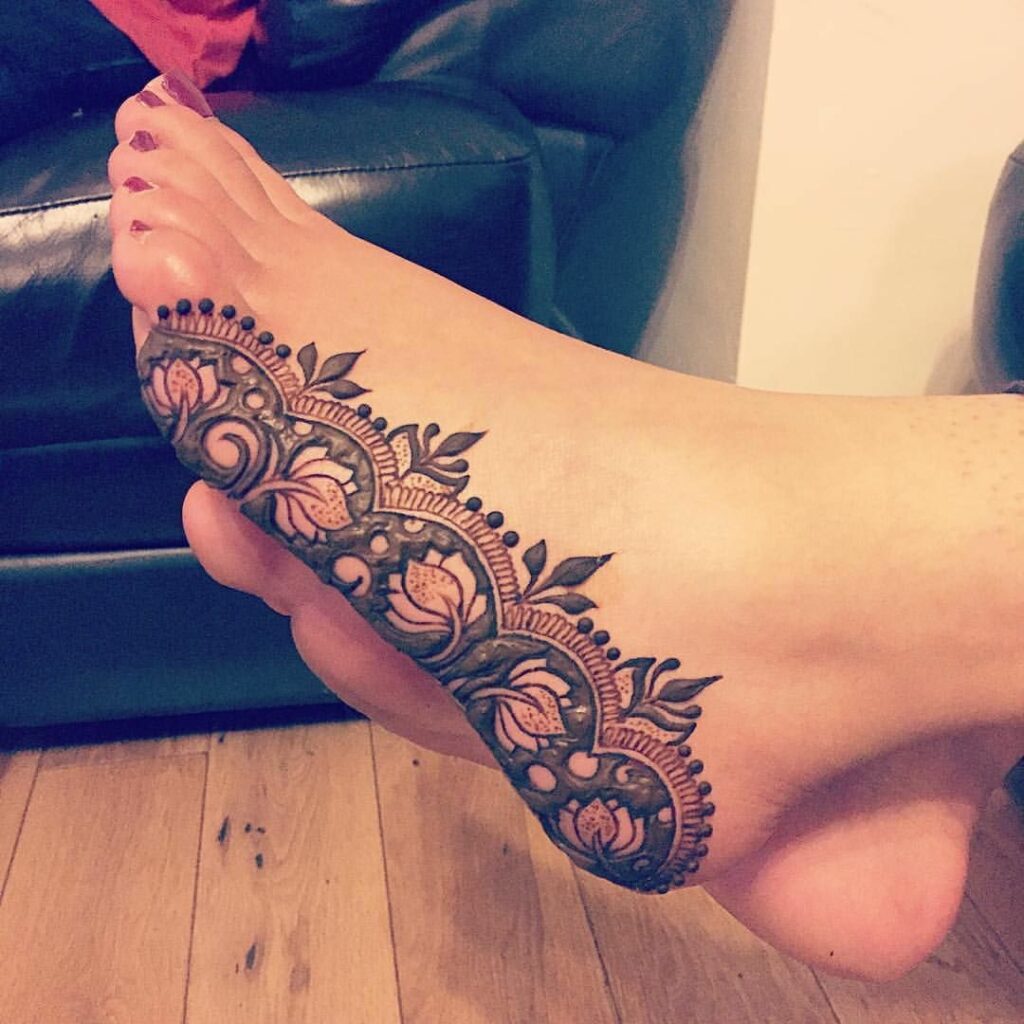 This foot mehndi design with mystical design elements is worth swooning over. It has adjacent swirls, pearl-like dots, line details and of course, floral embellishments.
60. Bold and beautiful foot mehndi design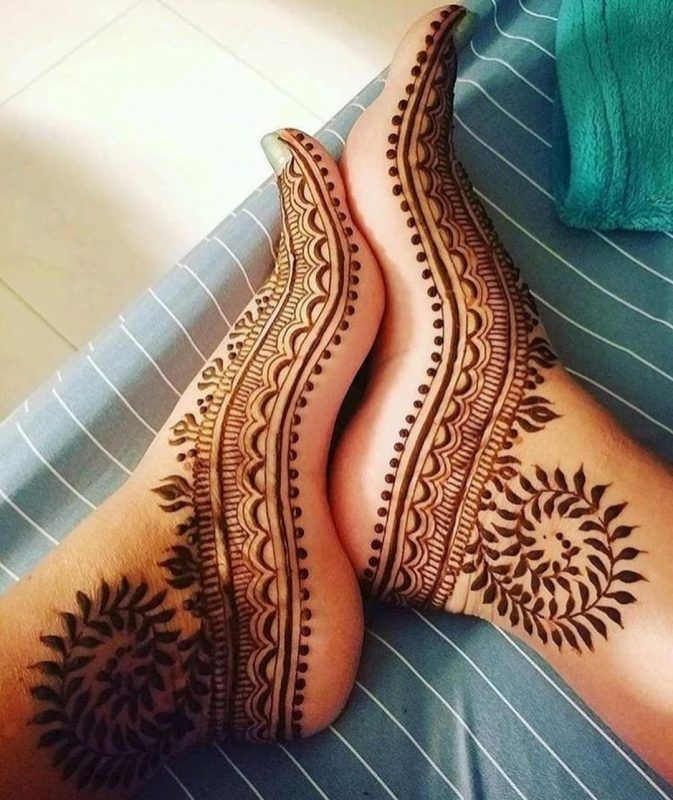 The bold outlines of this simple foot mehndi design make it look so catchy and contemporary. It only covers the foot line and gives an elegant look.
61. Square mehndi design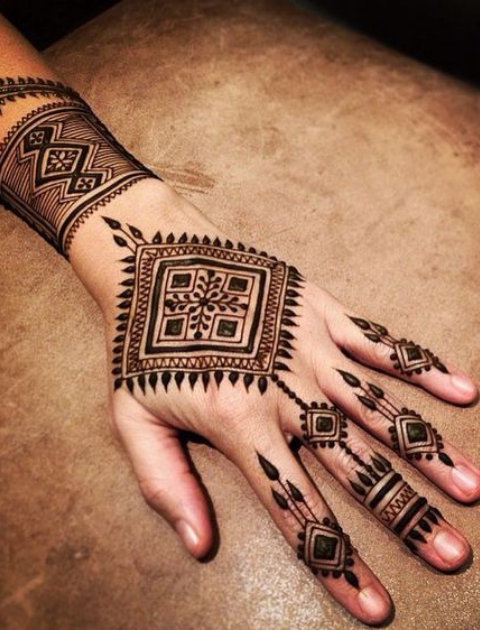 This trendy design comprises of a square-shaped mandala which is mostly highlighted with repeated lines drawn one over the another. It also includes square-shaped ring designs on all the fingers accompanied with a bracelet formed in a lace style using square shapes and diagonal lines mostly.
62. Bracelet mehndi design
This design is very delicate, covers little finger and some of the backhand parts with floral pattern outlined with bead chain. One bracelet is attached to it. The middle finger is having flowers connected through a chain and finally attaching to the bracelet.
63. Bracelet mehndi design with jewellery pattern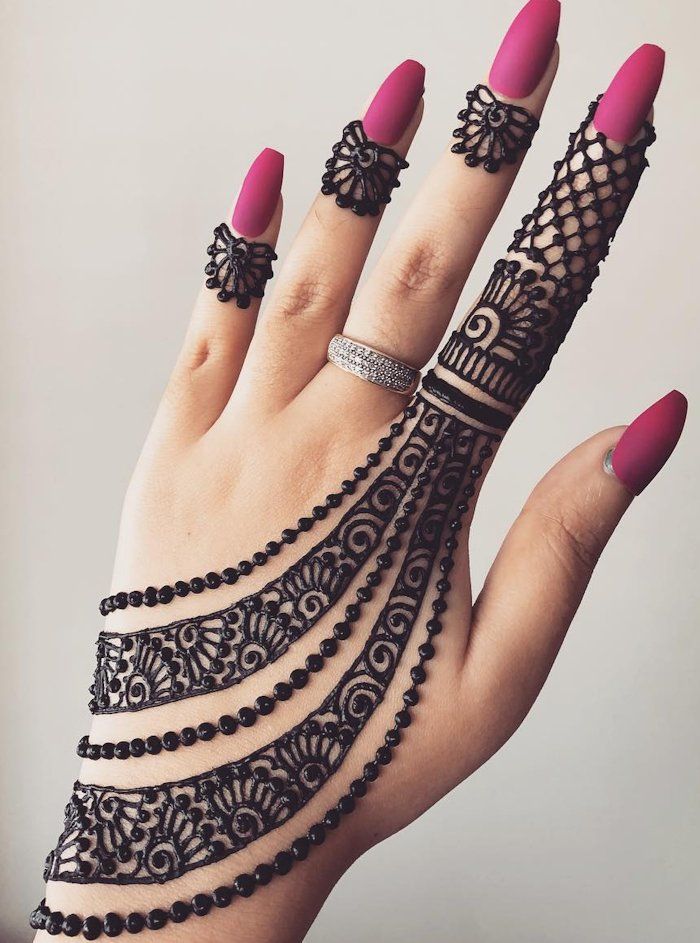 This design is only made from simple looking leaves having a bracelet attached with a ring finger. The pattern of bracelet, chain and ring is very sophisticatedly made from leaves only.
64. Flower and chain pattern mehndi design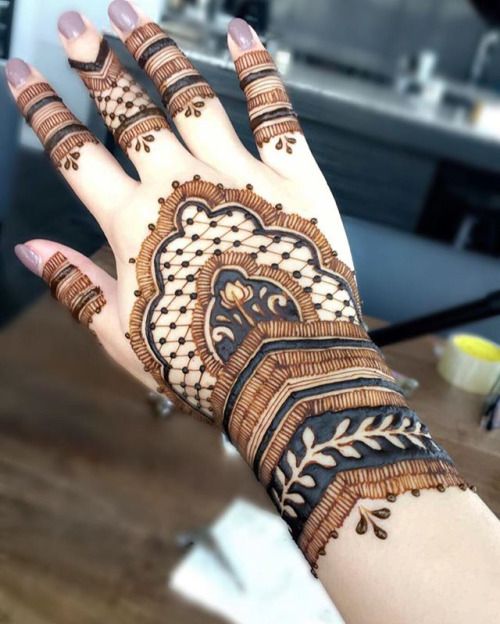 Here is one big flower at the back of the thumb and some beautiful intricate drawn over the finger. One bracelet is also there to complete the pattern. The flower on the thumb is connected through the little finger with a fall of three continuous chains.
65. Heart shape Arabic mehndi design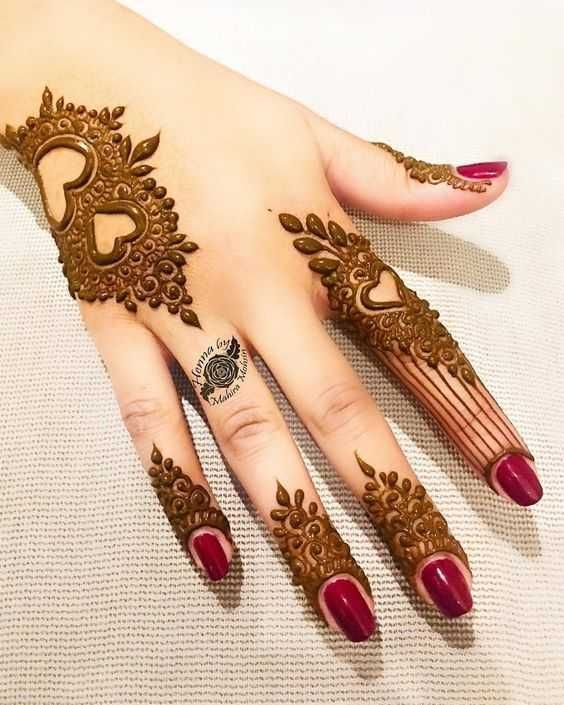 This geometric designed heart is ideal for wedding occasion and other events. One of the most adorable and beautiful mehndi design on hand. This style is simply enhancing the beauty of heart designs.
66. Unique flower mehndi design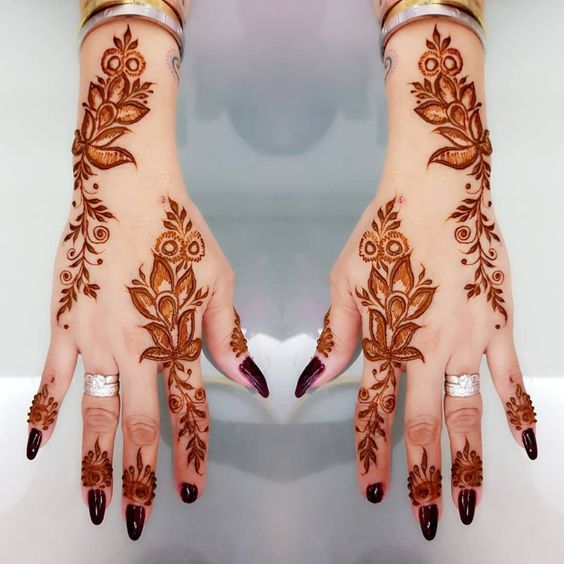 A unique floral pattern that covers the palm, the pattern is quite common but never boring to behold. The large central floral pattern is the main attraction of this mehndi design. This design is very simple to create yet so gorgeous it looks.
67. Finger with hanging dangler mehndi design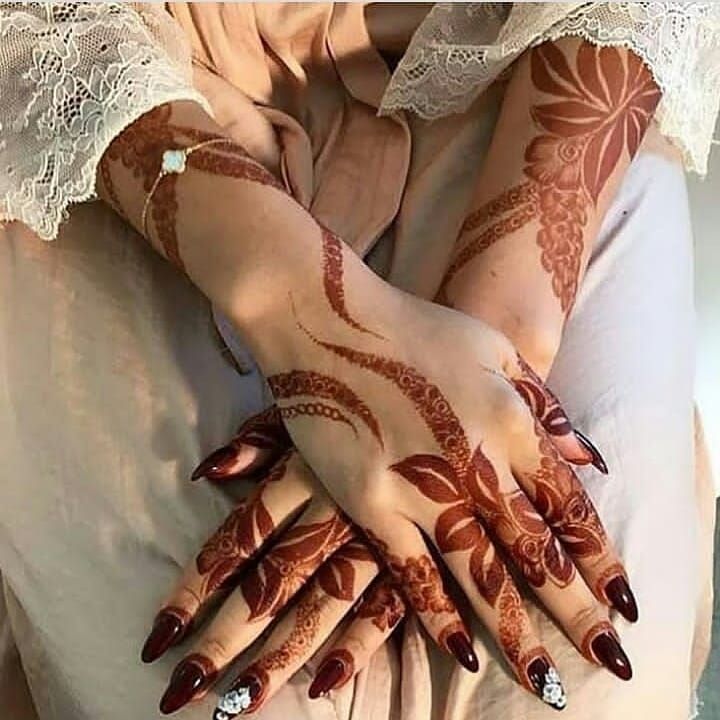 This is one of the jewellery mehndi designs for fingers specially designed for teenagers. This design includes lines, dots, floral designs, leads and diamond-shaped pattern. This embellishment finger design tries to cover the full finger lengths. The inverted v designs have dots on the extremes which highlight the look. This has a lot of assorted designs which makes the fingers look elongated with lovely dark nail enamel.
68. Dark rose pattern mehndi design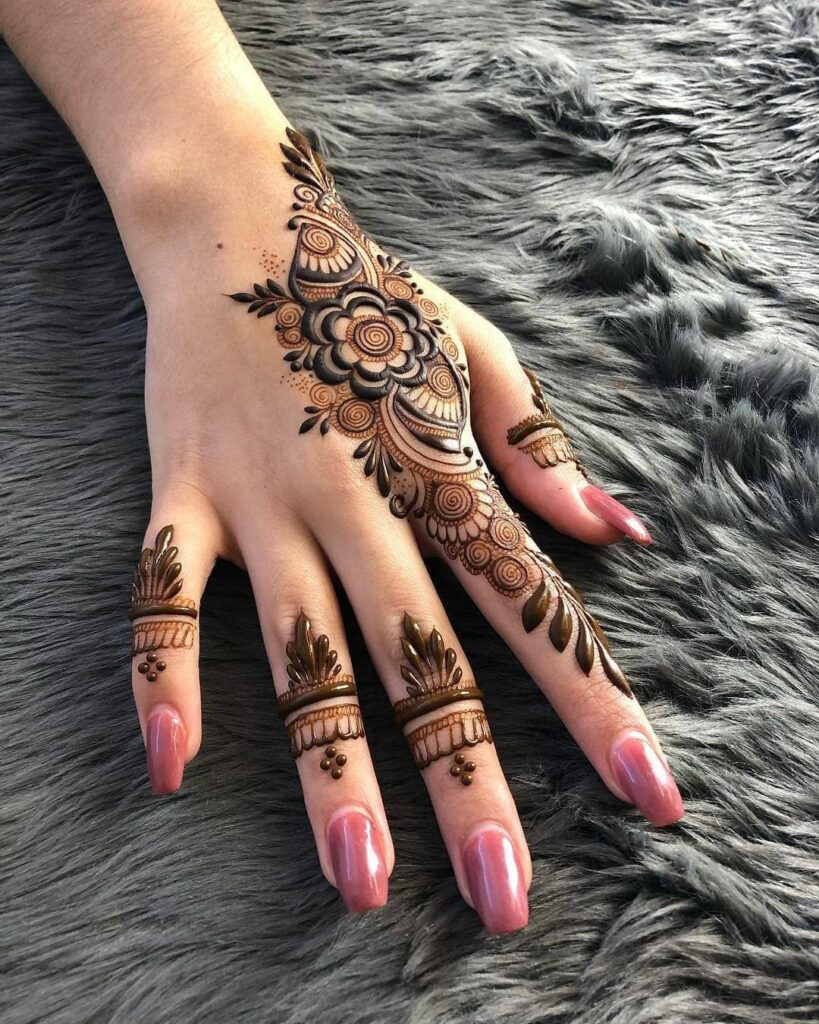 Nothing says floral like roses. Added to that is a beautiful mandala floral pattern. This Arabic mehndi design really has the best of both worlds. The pattern on the fingers is giving the illusion of finger cuffs and is a great idea if you want to incorporate some jewellery elements in your mehndi design itself.
69. Geometric pattern mehndi design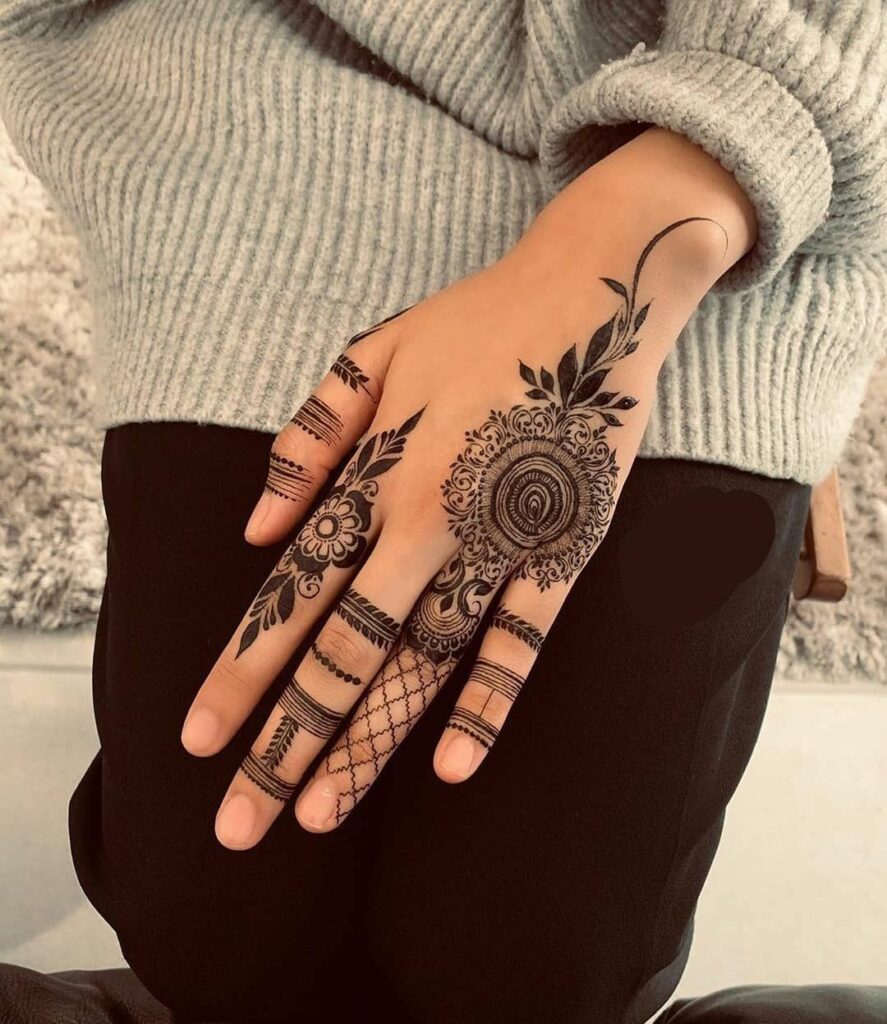 This particular geometric design is for women who prefer to be modern, different and classy. One hand has geometric patterns done beautifully on the wrist while the other has it done on the fingers together; this geometric design creates magic on hands.
70. New leaves pattern mehndi design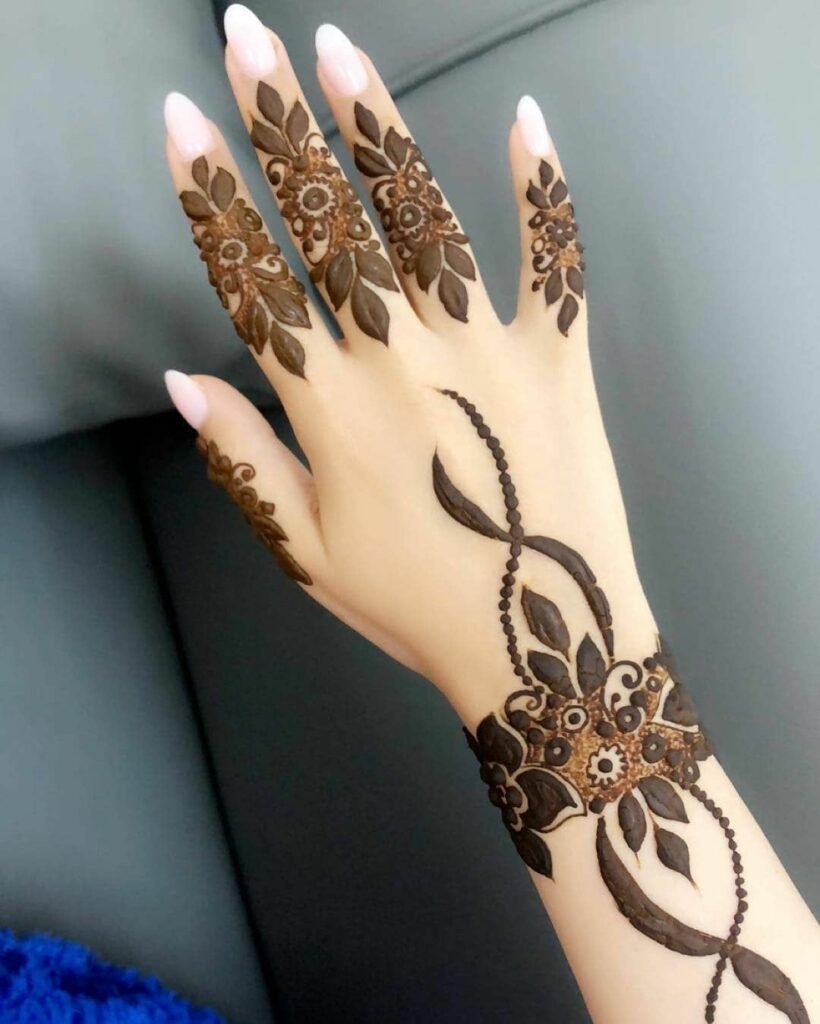 This Arabic mehndi design incorporates quite a few gemstones, and we are not complaining. The leafy vine climbing up the finger is simple and soothing to look at.
71. Trendy pattern mehndi design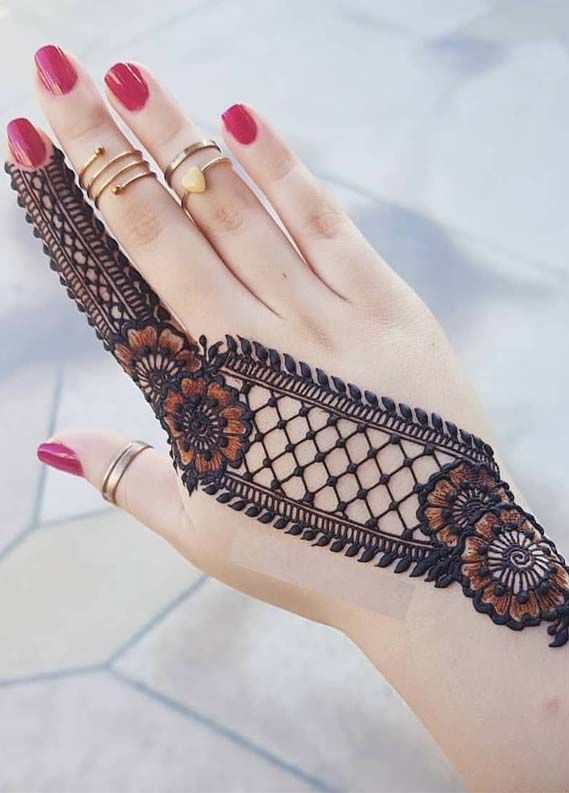 This is yet another trendy circle mehndi design. These can be teamed up with any type of outfits. You can also wear Kundan bangles to match this well. The designs on the fingers look very intricate. If you have an occasion or event coming up, you can have this done by a professional. Glitters can also be added to this design. You can also see designs from stickers and then team these with other Punjabi or other forms of patterns of mehndi.
72. New circle pattern mehndi design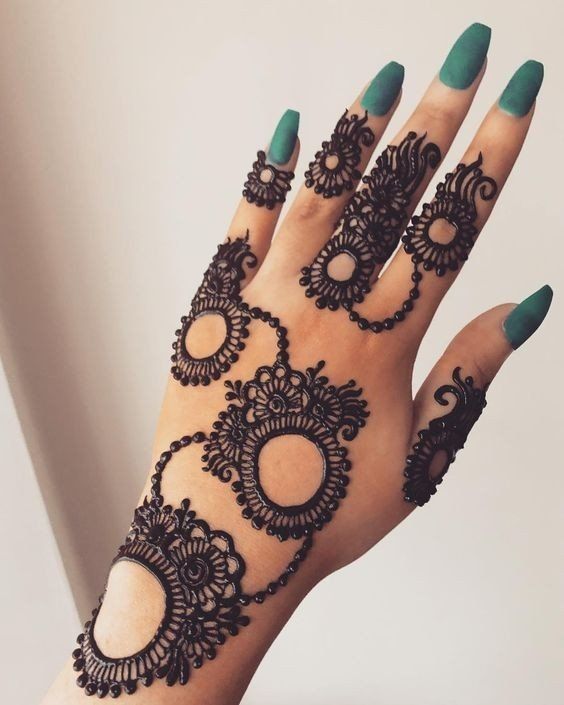 Mandalas or circle mehndi designs consist of floral patterns beginning with a small darkened circle which are filled with several petals. The edges are adorned with well-placed spirals that complete the look of the petals. You can either draw a single flower to keep the design simple or you can make more flowers making the design look more intricate. The design can be made to look larger and more ornamental by adding more flowers to it.
73. New Arabic pattern mehndi design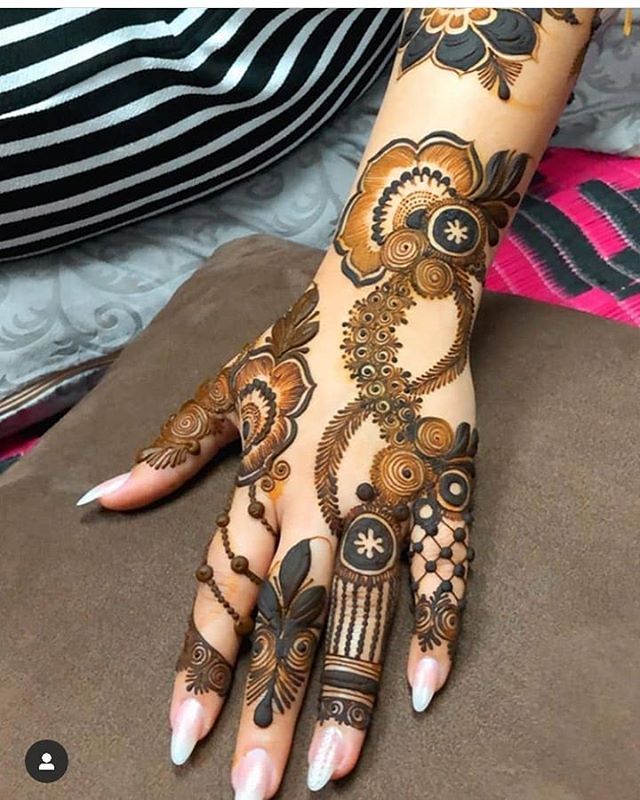 This beautiful round mehndi design would be one with several concentric circles that feature a number of different patterns. Thick dots and spirals act as supplementary elements that complete the design. A border along with the fingers and the wrist adds to the beauty of the image. This design would be ideal for an engagement function or a ring exchanging ceremony.
74. Chain pattern in circle mehndi design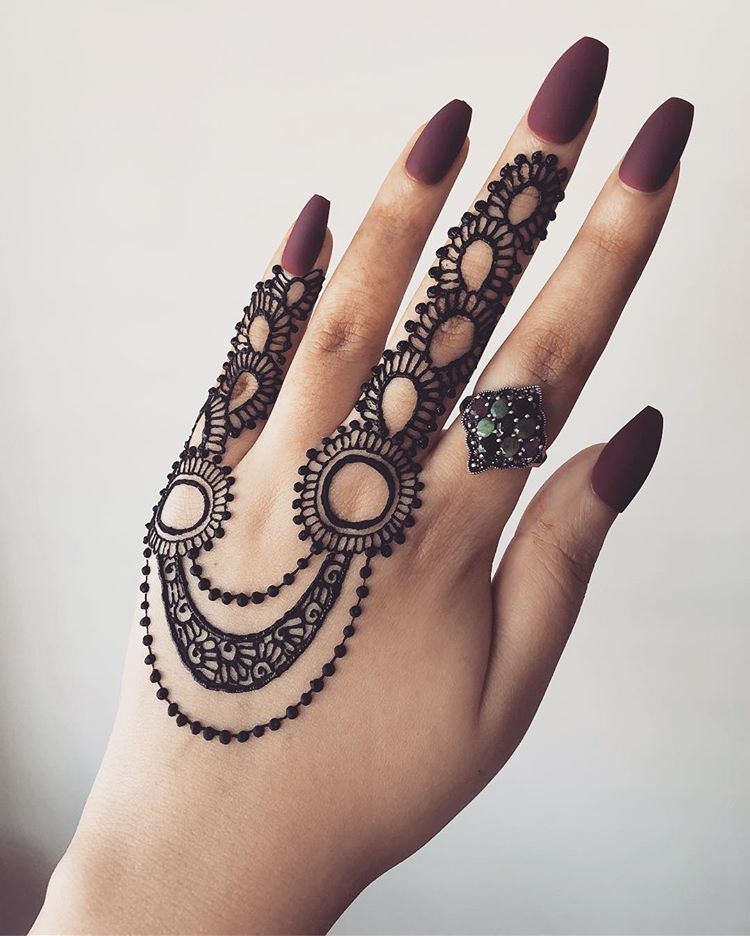 The simplest and easy to apply mehndi design is right in front of you. A simple mandala-like circle design, it can be customized to your liking with just some dots and paisleys on the fingertips. Although a very small and simple design, it easily fills your hand with the circle in the centre.
75. Bangles pattern mehndi design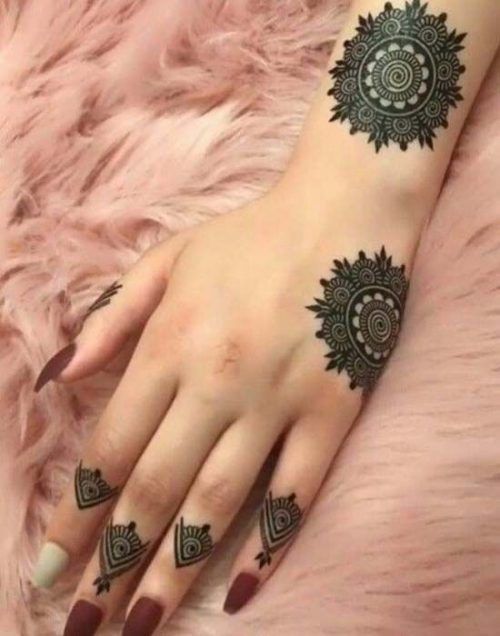 This mehndi design is what looks like an Indo-Arabic design. The design does not entirely cover your hands, but there isn't a lot that it has missed either. People who are looking for a design that isn't too simple but not too difficult either can pick this one for any occasion.
76. Dark flower pattern in chain circle mehndi design
They say the darker your henna, stronger is the bond between you and your spouse. Well, this Arabic mehndi design is bound to come out beautifully and with rich colours, that's for sure.
77. Dark outline with same filling pattern mehndi design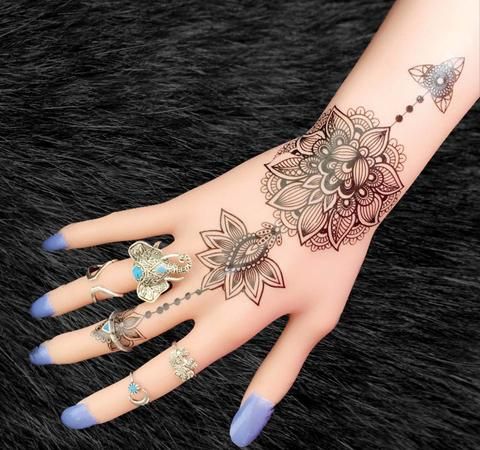 This mehndi design is not complicated to apply the finger caps have inverted v with lines and loops and joined linearly with a filled paisley motif in the centre. The finger mehndi design is completed with curves and dots can also transform this design into many more interesting patterns.
78. Simple chain pattern mehndi design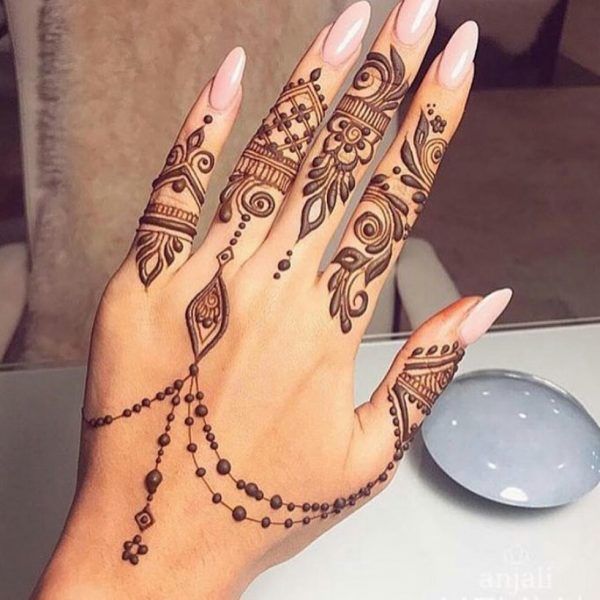 This mehndi design immediately reminds us of Wonder Woman's magic bracelets. Wasn't the same for you? Doesn't matter, at least we can all agree it is one heck of a mehndi pattern.
79. Finger with bracelet mehndi design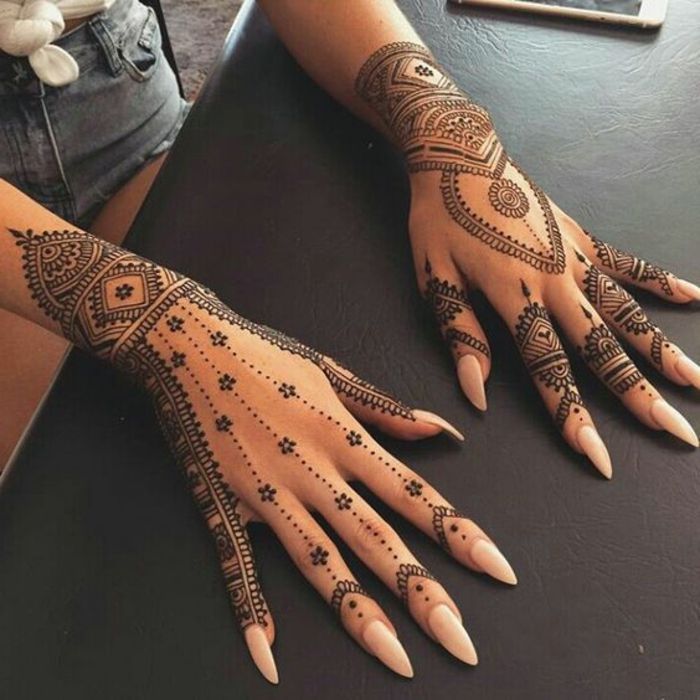 The jewellery style mehndi design is beautifully done with a chain connecting the ring and the index fingers. It is done of two curved lines with patterns like dots and has delicate work on them and the other fingers had matching patterns. There is a big designed petal-shaped teardrop connected from the index finger.
80. Arabic index finger and butterfly pattern mehndi design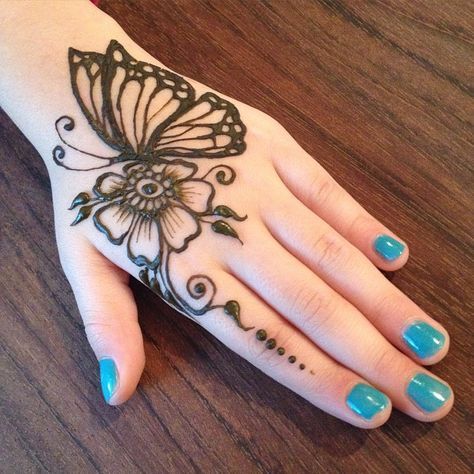 This beautiful rendition of jewellery like Arabic mehndi design has our heart. In fact, the pattern on the wrist and the one on the back of the palm are coming together beautifully to give an illusion of arches and the overall look is neat, precise and pretty. The jaali on the fingers is dainty too.
81. Rakhi pattern with brother and sister mehndi design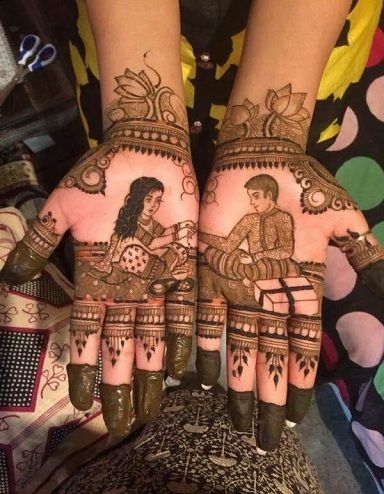 This particular mehndi design is one of the most appropriate representations of the celebration of Raksha Bandhan. While the four sides of the palm have some regular henna design, in the centre we can see a depiction of the festival. On the one hand, we can see the sister sitting with a plate full of things similar to a 'PoojakiThali' and tying a thread on her brother's wrist, on the other palm we can see the brother outstretching his hand and a gift box by his side.
82. Latest Bridal mehndi design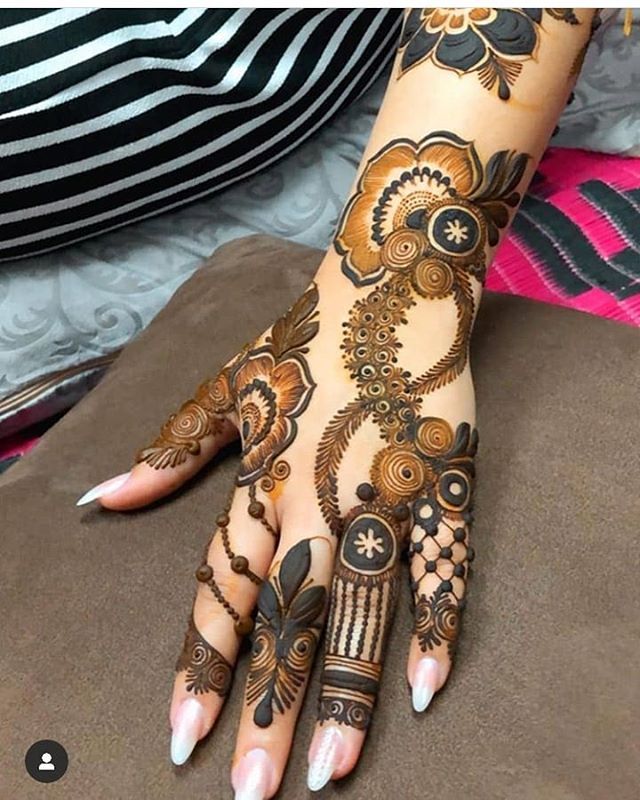 This design includes unique patterns and motifs, which makes the hand full with its intricate design. Such designs are more preferred during wedding occasions. Such designs are very subtle and perfect for bridal mehndi. These are among simple bridal mehndi designs for a stylist or professional ones, and the bride generally prefers this unique design.
83. Swan pattern mehndi design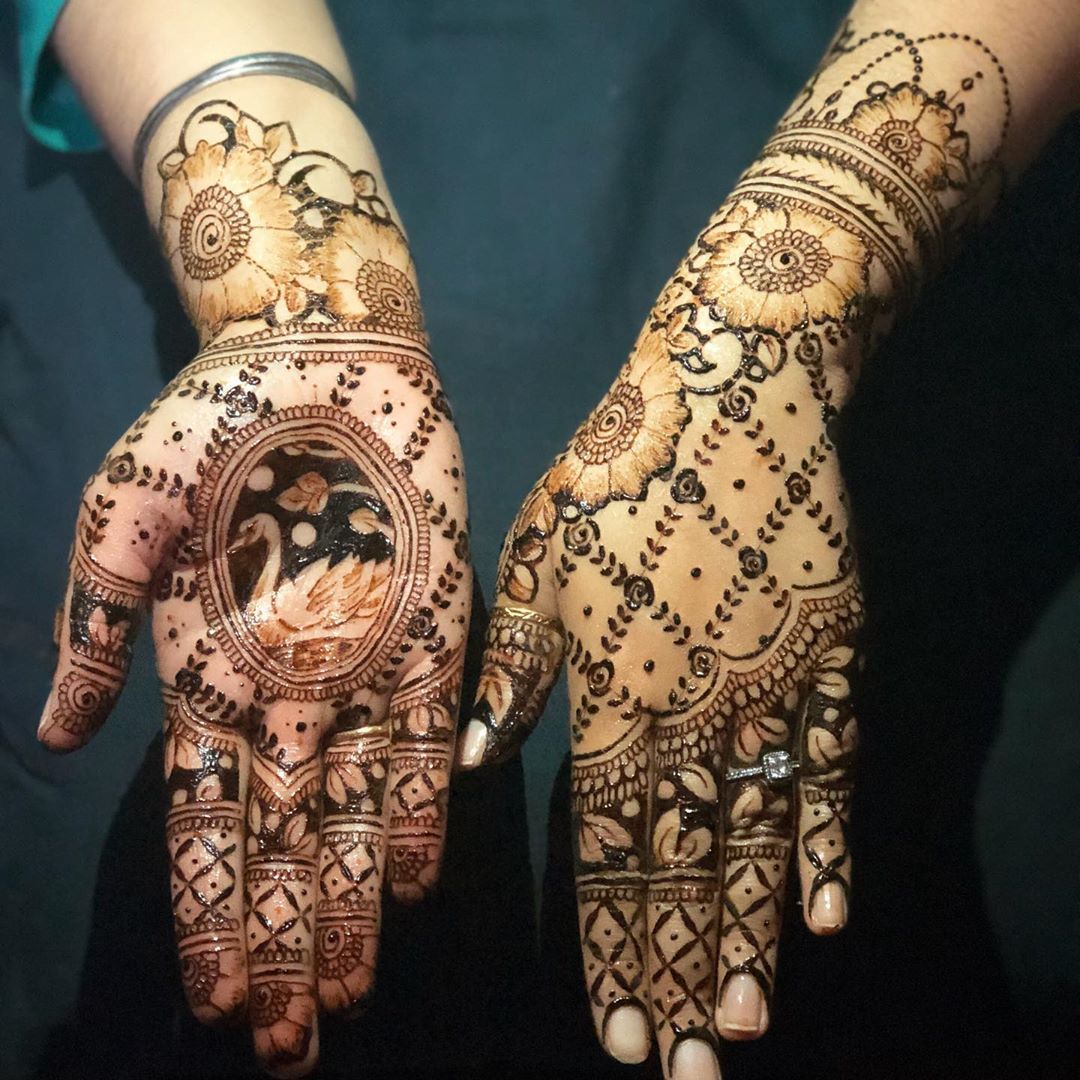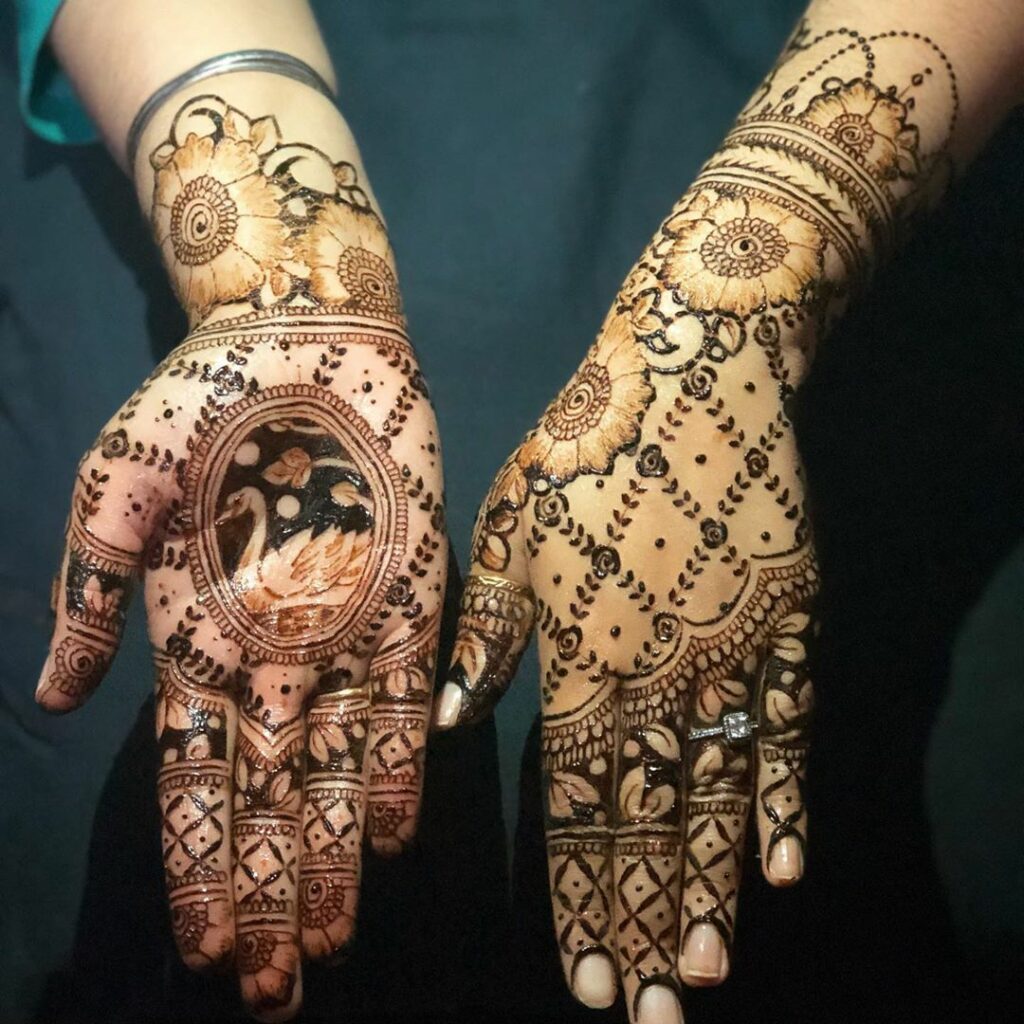 There is no perfect mehndi design to represent the poetry of your love story better than the swan. Add dainty flower, paisley with fine leaves along with this motif to make your mehndi look more decorative.
84. Latest bridal foot mehndi design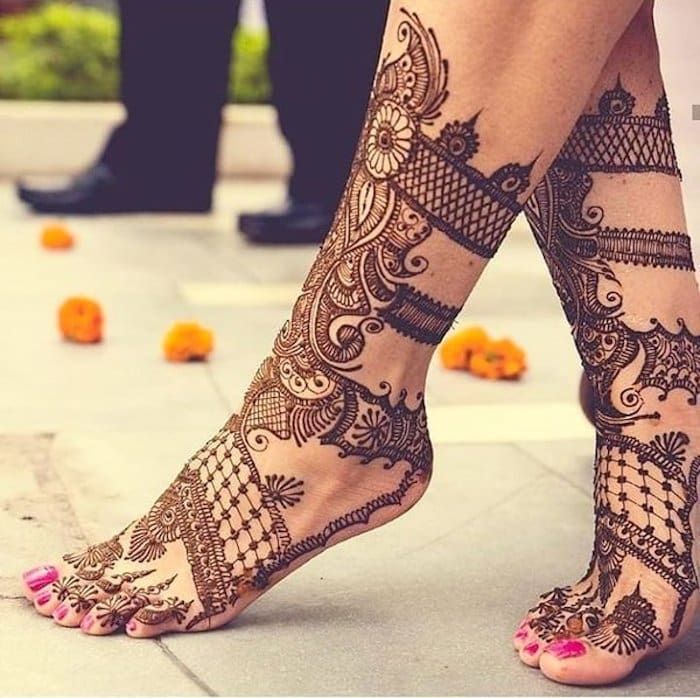 This peacock spread lavishly on the leg of a new bride is a sight to behold. The best thing about this Arabic mehndi design is how the plumage of the peacock is giving an impression of leaves, another frequent motif of the art. And the shading within individual feathers is just mesmerizing.
85. Mesh surrounded with flowers on foot mehndi design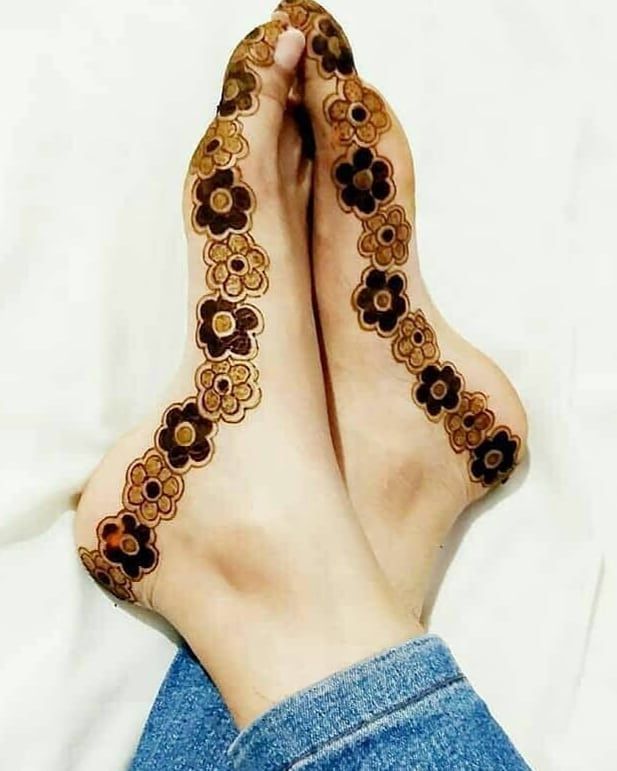 All things vintage have an unparalleled eye-pleasing charm. If you like to keep thing classy and poised, then a vintage mehndi design is the right choice for you.
86. King and queen motif mehndi design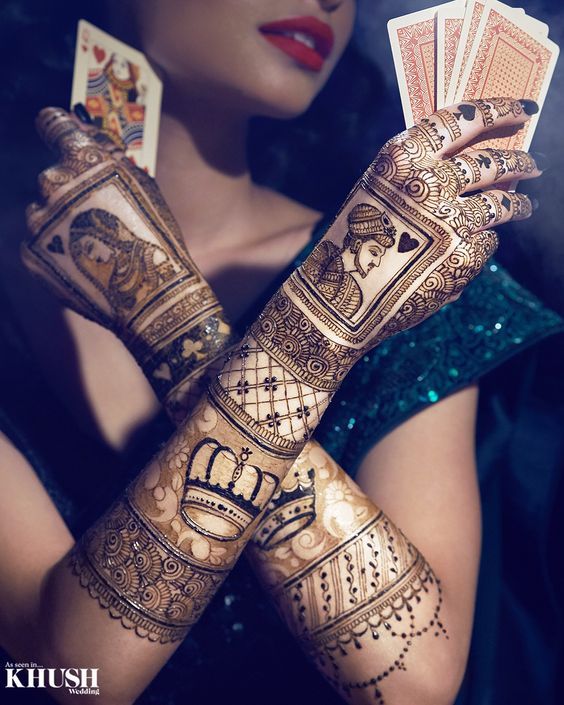 The main highlight of this design is the picture of king and queen. This pattern is having a royal look and geometric lines and floral elements would look so good when combined together. This spaced out, Arabic mehndi design is a sheer testament to this set of ideas. Take in the full bloom at the base, the wrist, the jewellery accents that tie it to the fingers and the tiny, spring buds at the end. This is indeed a combination worth the effort.
87. Linear pattern mehndi design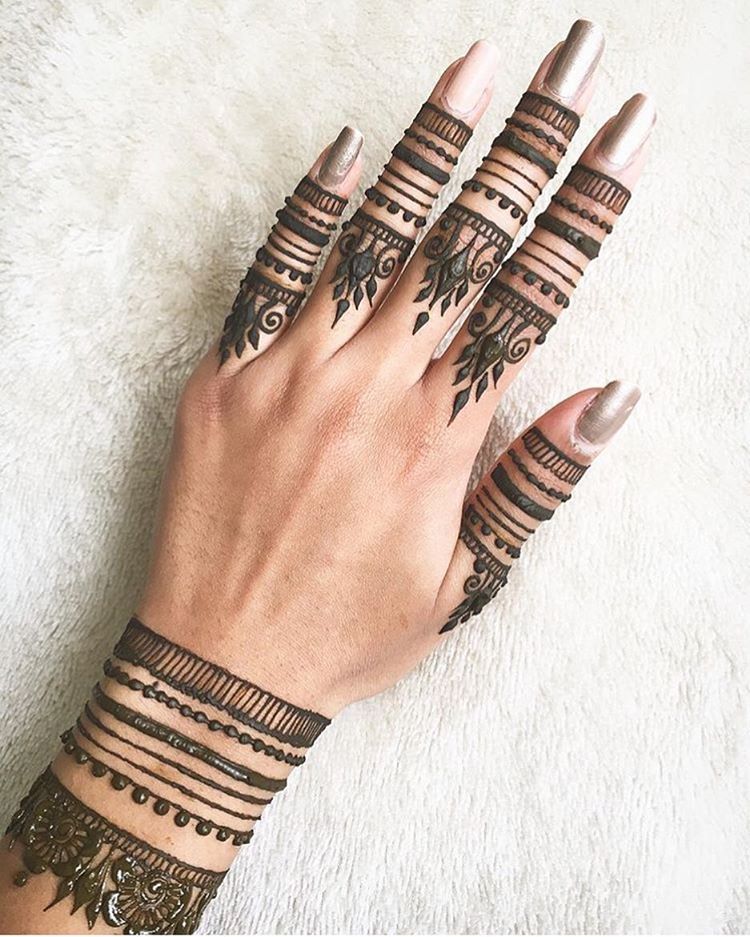 This Arabic mehndi design follows a linear pattern with various motifs and designs it is very intricate and done finely to highlight the back of the hand with flower and butterfly motifs used evenly. These Arabic mehndi designs for fingers give an appealing look for the hand.
88. Rose and filgiri pattern on foot mehndi design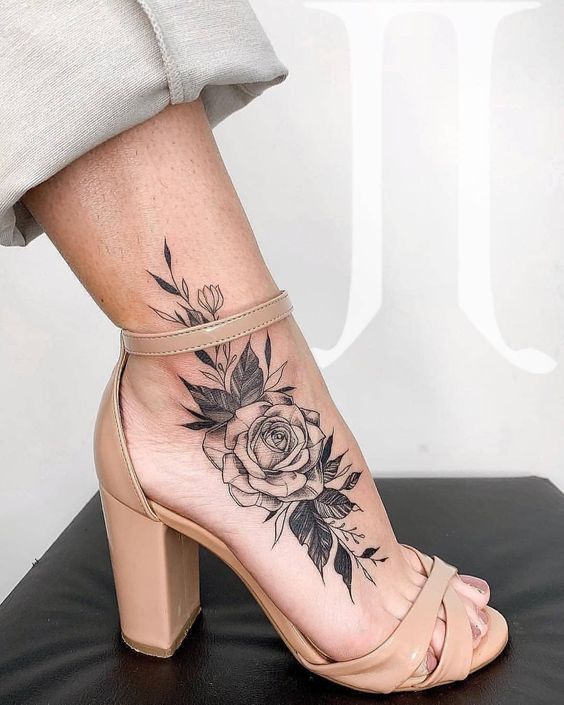 Using the mirror image style to make this gorgeous rose design is a brilliant stroke of creativity, we must say. The hidden bonus of the simplicity of Arabic mehndi design motifs is how easily they blend into symmetrical designs.
89. Side foot with anklets pattern mehndi design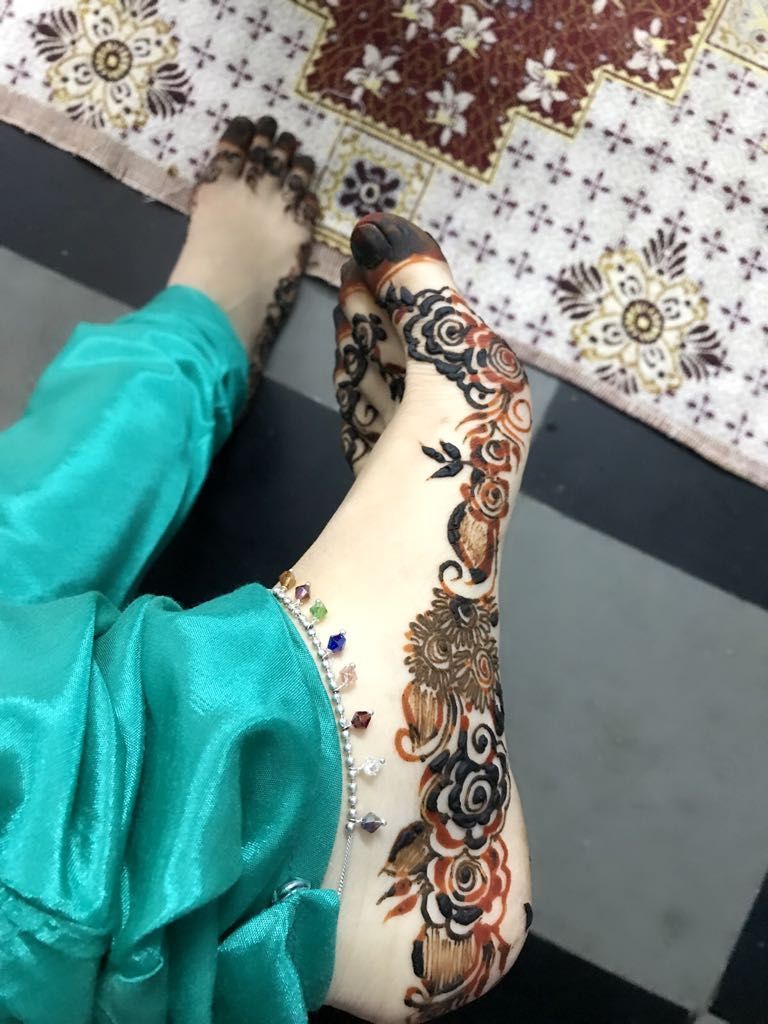 Figure that lattice and lace inspirations can only happen in strictly architectural, straight lines? This set of leaves is already making us question such assumptions. Done in dark, heavy mehndi strokes, these close-set leaves instantly remind us of a Victorian piece of lace, which can be easily added to a splendid outfit. It could also work as an edging for an old-world handkerchief.
90. Anklet pattern with flower on toes mehndi design
This Arabic mehndi design is made up of quite a few different kinds of flower patterns. We are especially impressed by the leaf motifs on the toes which are accentuating the whole floral vibes. If you'd look closely, you'll see the expert skills with which the artist has handled every layer. The difference in the thickness of the strokes for the outer flower, inner flower and the shading isn't as easy and flawless as the final output looks.
91. Jaymala motif mehndi design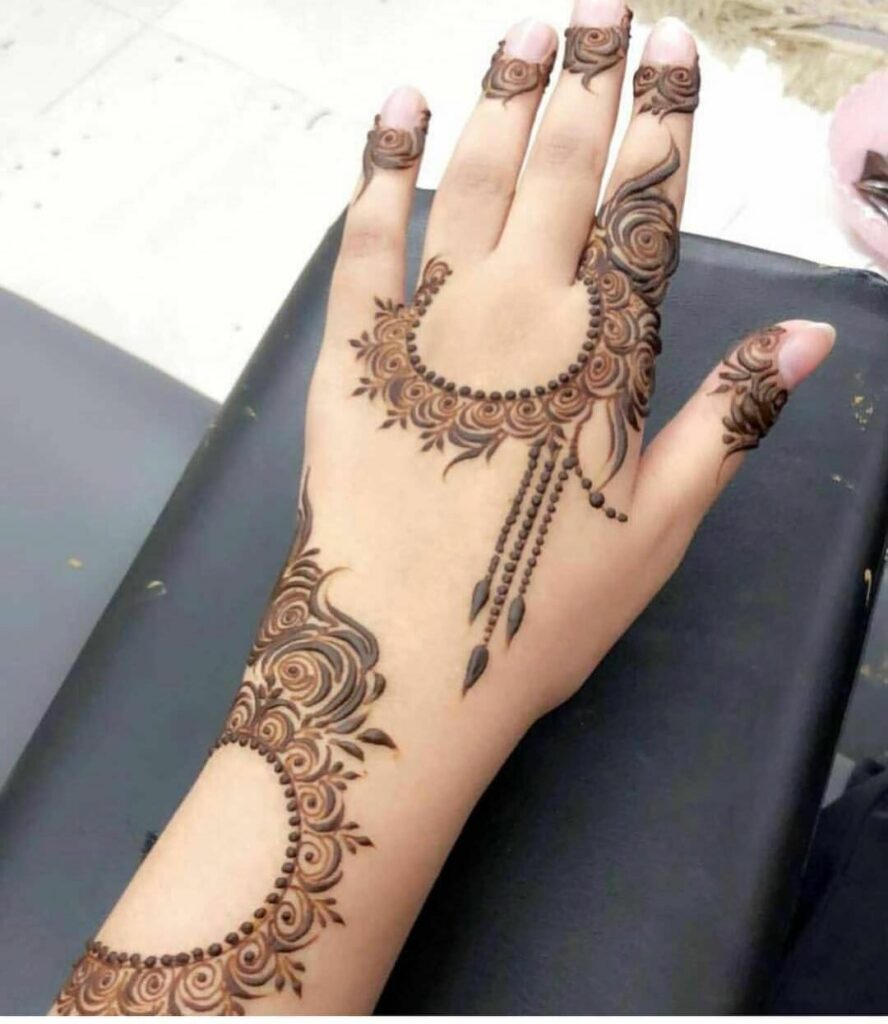 What could be more visually appealing than a beautiful mehndi design replicated on both the hands like a mirror image? This style is gaudy and has the ability to work perfectly well for almost any function. The main highlight of the mehndi design is the jaymala ceremony motif of both the bride and groom on the arms.
92. Butterfly pattern mehndi design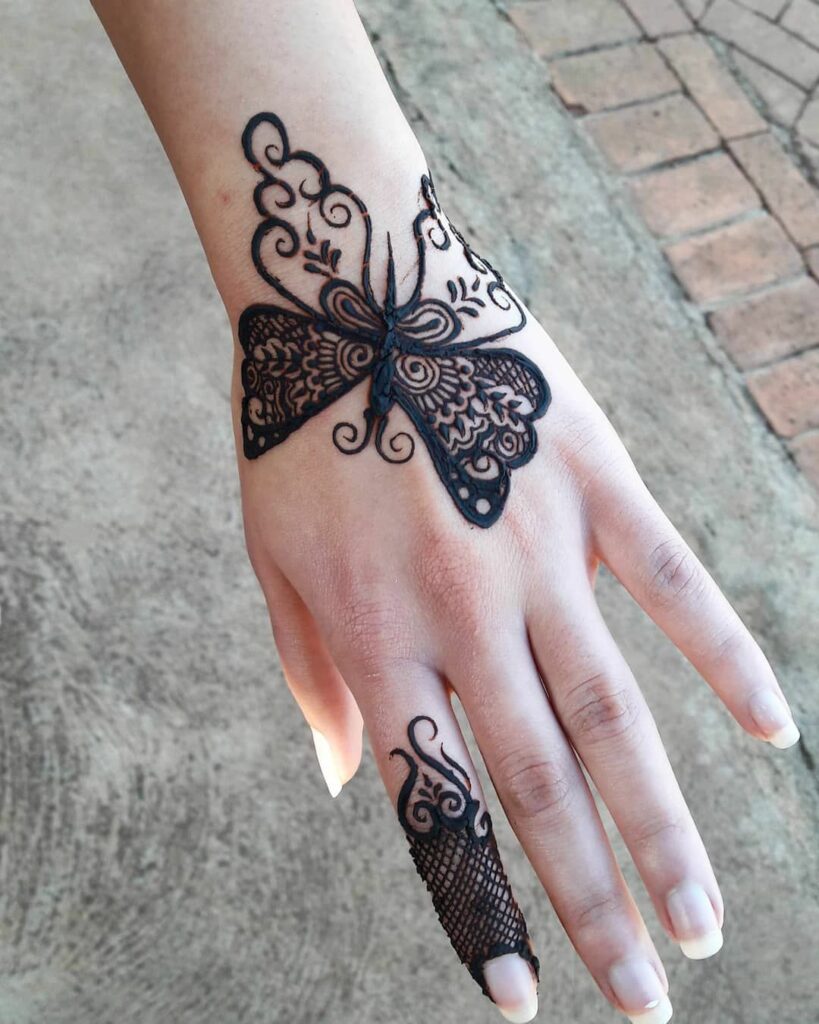 Adding an image of a butterfly into your mehndi showcases the birth of something new. This mehndi design is for all free-spirited women who wish to amplify their persona through personal style.
93. Moon pattern mehndi design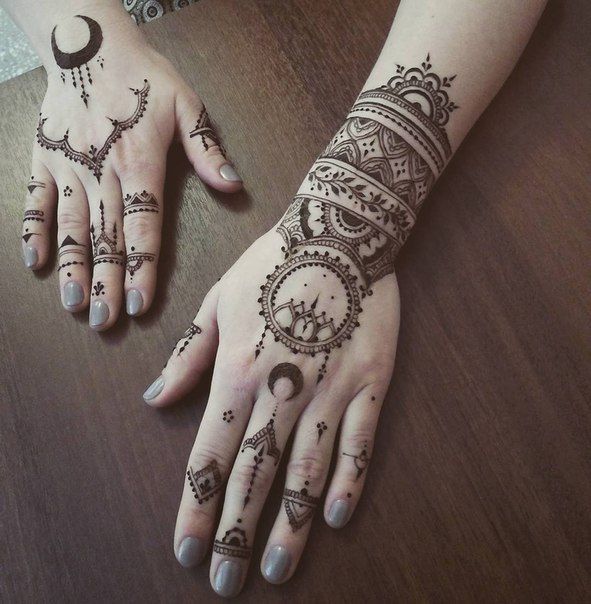 Simplest of all, this latest mehndi design takes immense inspiration from the soulful moon. This Mehendi can be clubbed with dreamy decorations like florals, weaves and stars to give away an enchanting visual.
94. Cartoon character on hand mehndi design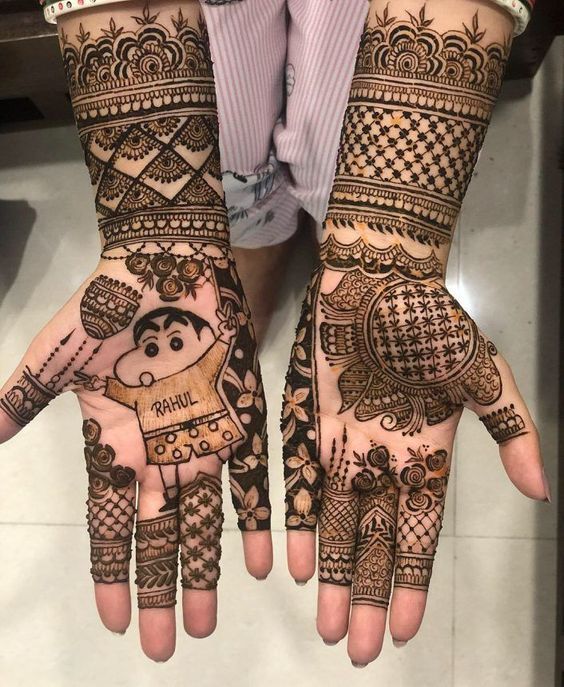 Choosing your favourite cartoon character to put down in your mehndi design is surely a very fascinating and fun idea. Pick from a large pool of your favourite characters and you're good to go.
95. Quality time with family mehndi design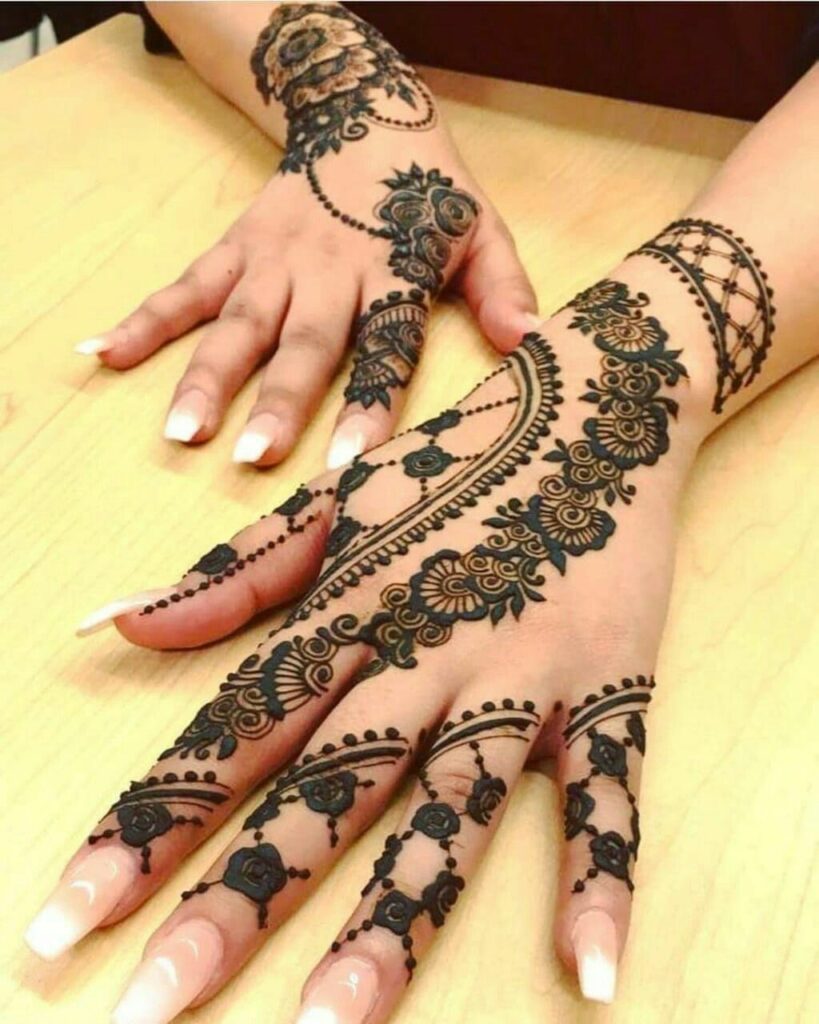 This mehndi design is unique because of family photo imprint over palms along with some of their valuable articles.
96. Mickey mouse pattern mehndi design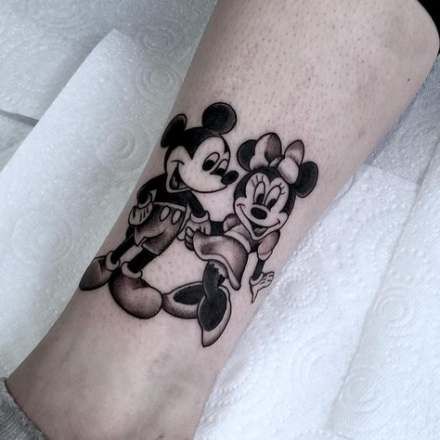 Is your little one an ardent lover of Mickey Mouse? Then this cutesy Mickey Mouse motif mehndi design is definitely the one for him/her. The outline of Mickey Mouse runs over the back of hand started from index finger till arm. Mickey Mouse pattern is followed with cute hearts all over.
97. Cute kitten on back of hand mehndi design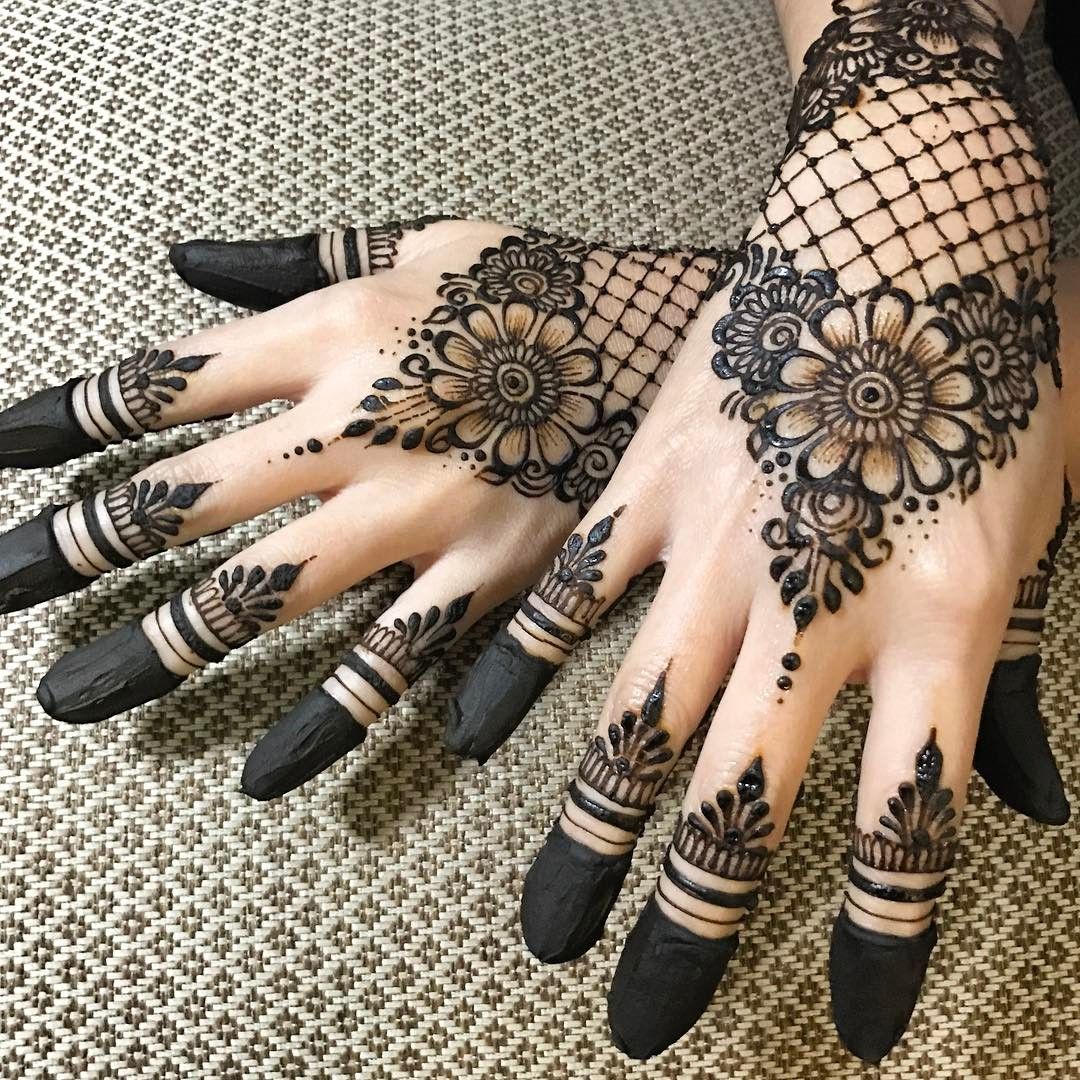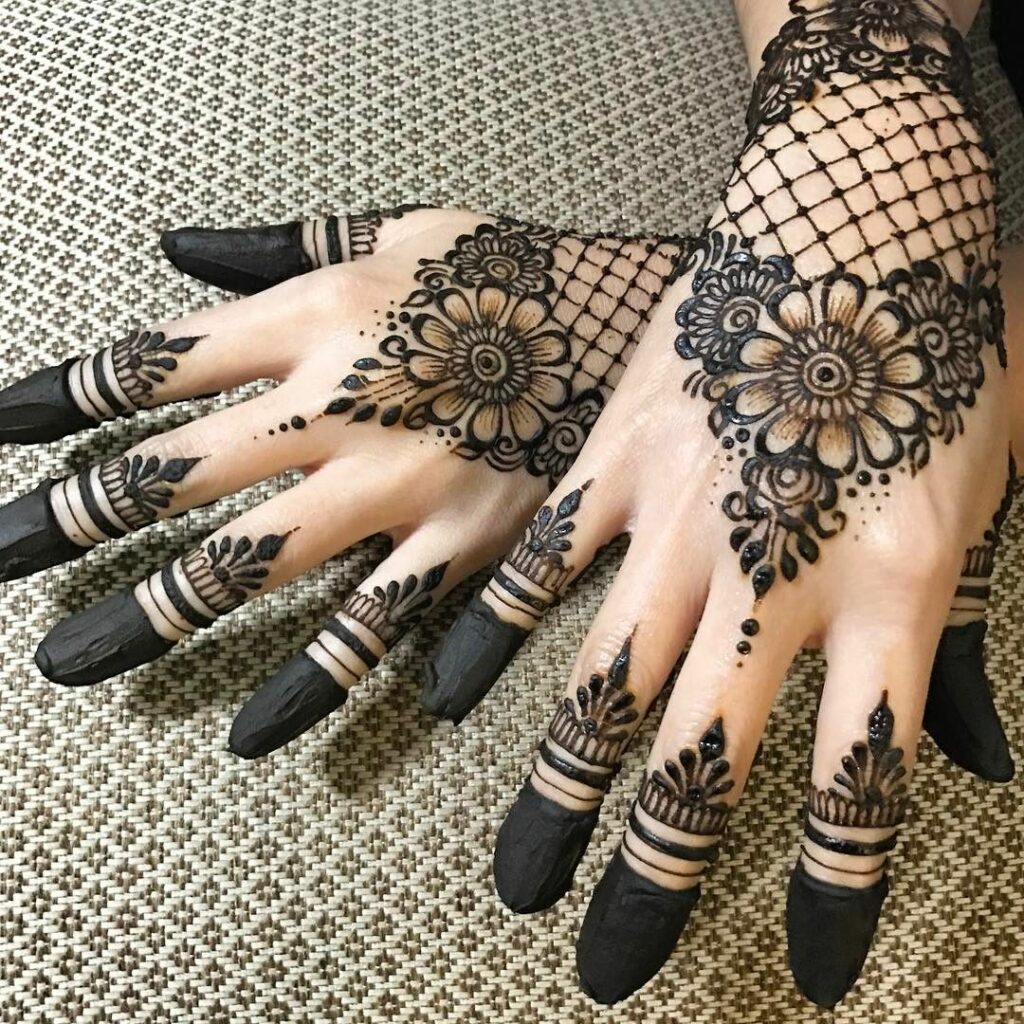 This is a beautiful and cute baby mehndi design with just a little kitten made on the back of the palm. The kitten has a big button like eyes making it look even cuter with small stripes made all over the body along with a curved tail and little ears. Instead of using the sticker and adhesive tattoos on Kids, this is a better alternative.
Hope you like these really simple and beautiful mehndi designs. For more mehndi designs tutorial check my youtube channel Beautiful You also.