Green and young coconuts have some water in their center which helps the coconuts to nourish. Some of the water remains in a liquid form while the rest of the water ripens into solid white substance which is known as coconut meat. Coconut water is a rich source of Potassium, glucose, amino acids and electrolytes, calcium and magnesium. Thus it maintains the balance of fluid and electrolyte in the body, and saves you fom dehydration mainly during exercise. Nowadays during summer Coconut water is one of the most trendy beverages. Being a rich source of anti oxidents, Drinking coconut water in enough quantity helps gives you relief from stress, injuries, reduces the risk of heart disease and also helps to prevent kidney stones.
Benefits of Coconut Water for Skin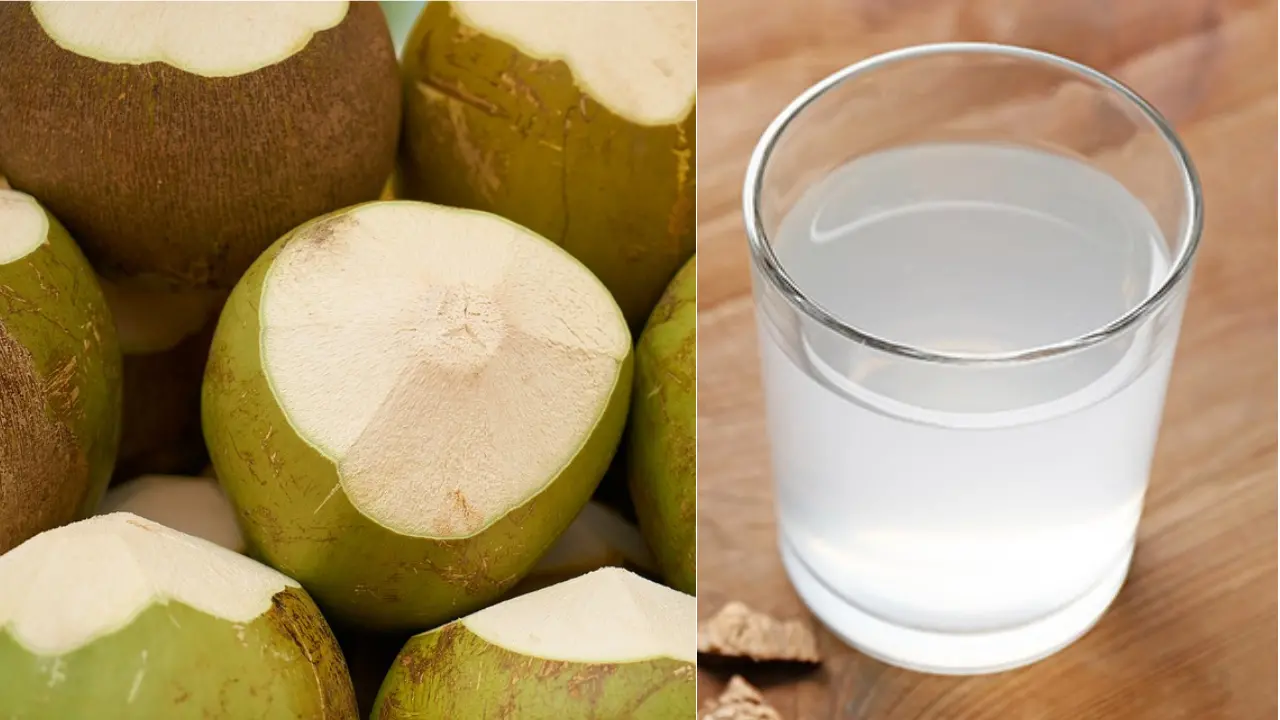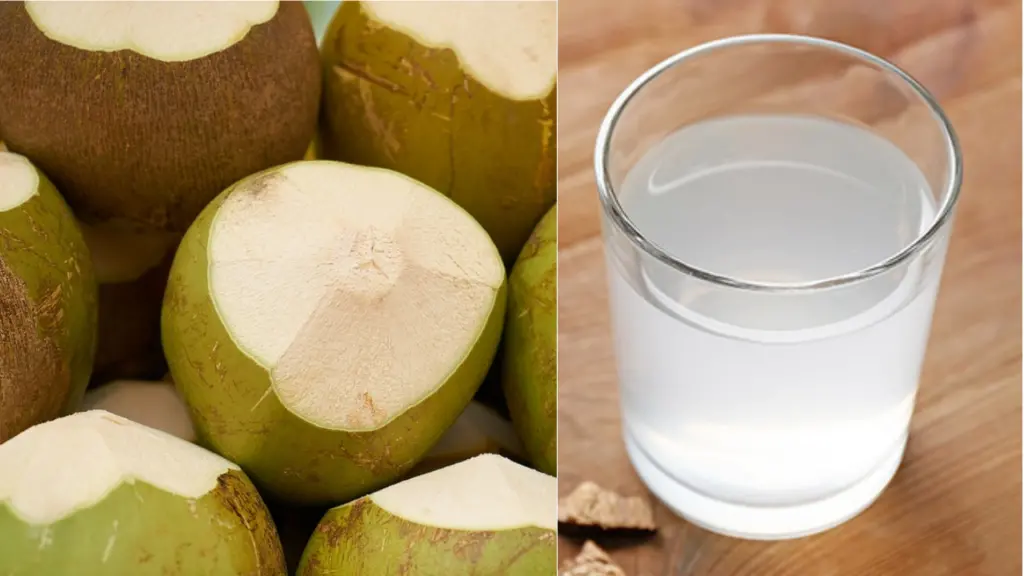 Along with health benefits, coconut water is also very beneficial for your skin Because it has vitamin C which helps the skin to reduce pigmentation and maintains skin health. Its Anti fungal, and anti bacterial property makes it a perfect remedy for skin infection, inflammation and sunburn. Coconut water can also be used to make different types of face packs to get rid of different skin issues. So just check these some of the best face packs which I am going to tell you below. These face packs are very effective and easy to make. Read also Benefits of Watermelon for Your Skin: 5 Watermelon Face Packs.
1. Coconut Water and Fuller's Earth or Multani Mitti Face Pack
Along with curing blemeshes this face pack improves the quality and texture of the skin. Fuller's earth or Multani Mitti, Being a natural skin cleanser, helps to remove excessive oil, dead cells and dirt from the skin. Also, it improves the texture of the skin, and makes skin soft. when it gets combined with coconut water the skin gets a refreshing look and all blemeshes gets disappeared. Read also Multani Mitti Benefits For Face: 7 Multani Mitti Face Packs
Take a tablespoon of Fuller's earth in a bowl
Add two tablespoon of coconut water into it
Mix it well and make a paste of it
Apply the thick layer of this paste and wait for 10 minutes until it dries out.
Tap wet hand on the face and remove the paste with cold water
Follow this process thrice a week to get rid of blemishes and uneven skin tone.
2. Coconut Water with Sandalwood Powder
Sandalwood is a well recommended substance in ayurveda for skin health. It has the capacity to remove spots, tan marks and other blemishes. It also Fights with acne-causing bacterias and reduce the sign of aging. Mixing coconut water and sandal wood together and using it as a face pack for your skin can be a very effective step for flawless and glowing skin at home. Read also Summer Skin Care: 7 Tips to Get Healthy and Glowing Skin
Take a half tablespoon of sandalwood powder and add a pinch of Turmeric powder for added benefits.
Add coconut water into it to make a paste of it.
Use Lukewarm water to clean your face with herbal soap or face wash before applying this pack.
Apply this face pack on your face or required area and wait unless it dries.
Remove the paste with cold water.
Do it 3 times in a week for faster results.
3. Coconut and Yogurt Face Pack
Yogurt has a number of good bacteria into it and being a rich source of Lactic acid, it helps to clean and tighten the pores on the skin. It also minimizes the fine lines under the eyes. Yogurt along with coconut water helps to get rid of oily skin and becomes a prefect remedy for radiant and shiny skin. Read also Summer Special: 7 Curd Face packs for Healthy Skin
Add two tablespoons of plain and flavorless yogurt in a bowl.
Add a tablespoon of coconut water into it and mix it well.
Clean your desired area (face and neck) and apply a thick layer of this paste.
Wait for 15 minutes and then use cold water to wash your face.
Follow this method twice a week to get a radiant and shiney skin fast.
4. Coconut Water and Lemon Juice
Lemon has astringent properties and having vitamin C into it, maintains the PH level of the skin and gives a refreshing look to the skin. When it gets combined with Coconut water it cures acne and any breakout of pimples. We can't ignore the acidic property of Lemon which makes it one of the most demanded substance that can be added to any face pack. Read also Remove Pimples (Acne) Overnight Naturally at Home
Add half a teaspoon of lemon juice in a bowl.
Add 2 tablespoon of coconut water.
Mix it well and use a cotton ball to apply this mixture on the skin.
Try to assure that your skin is clean before applying this mixture.
Moisturize your skin once it dried, it can be used every alternative day.
5. Coconut water and Glycerin
Glycerin can be helpful to hydrate the skin and gives the radiance to the skin when combined with coconut water, it gives you a soft, supple and well hydrated plump skin. Read also Homemade DIY Serums for Glowing And Flawless skin
Take a half teaspoon of glycerin in a bowl
Add 3 tablespoon of coconut water into it and mix it thoroughly
Apply this mixture on your face in a circular motion with the help of fingertips and massage your face and neck with this mixture for 5 to 10 minutes.
After 10 min wash with cold water.
Do it daily in summer.
6. Coconut and Gram Flour (Besan)
Besan has a property to treat skin infections, inflammation and acne. That's why Gram flour has been used since ancient time in India for all good reason in skin care treatments. Besan also helps to soothe the skin and gives the cooling effect to the Sunburn patches. Both ingredients together can be used to get rid off tan on the skin and other body parts. Read also How to get rid of sunburn: 6 Home Remedies for Sunburn
Take a bowl and pour 2 tablespoons of Besan into it
Add a pinch of turmeric powder (optional)
One tablespoon of plain yogurt and add 4 tablespoons of coconut water
Mix these thoroughly and make a paste of it
Apply this paste on the desired area (face, neck or arms ) Leave the paste on your face until it dried out.
Once Dry pat a wet towel or wet tissue and rub gently on your face and clean the face.
Use cold water to clean the face and feels the soothing effect on your skin.
How to use Coconut for a Facial
In this DIY video tutorial you will see the amazing uses of a coconut for a healthy and glowing skin at home.
Use crushed coconut meat as a scrub
Coconut water as a skin toner
Coconut water and a pinch of turmeric as a face pack for glowing skin
Other Benefits of Coconut Water
Direct use of coconut water can hydrate the skin and makes the skin clean and soft.
Coconut water can also be used to remove makeup.
Usage of coconut water stays away the infections from the skin
Daily use of coconut water can remove the mild suntan naturally
It is a natural skin toner which can make your skin cool and refreshing when used in summer.
Drinking coconut water keeps you hydrated as it is low in carbohydrates and sodium and higher amount of potassium.
Hope you like these benefits of Coconut water for your skin and health. If you know more about coconut water benefits, please share them with me. Check my YouTube channel "Beautiful You" also for more useful remedies and beauty tips. For any query or suggestion, please write me in the comment box.