If want to look beautiful then you need to have a healthy, glowing and soft skin and you can get it easily by Using Vitamin E oil. Its a fact that You may have used different types of diet and different types of skin care products for a healthy shining skin. One important term which you would have come across while searching for healthy skin, is Vitamins. Yes, Vitamins play a vital role to promote skin health and if we talk about vitamin E, it is used in so many skin care treatments for all good reasons. Vitamin E is a powerful anti-oxidant which fights from free radicals causing skin damage. It has so many skin related benefits. So here are what Vitamin E benefits for your skin.
You may like
Vitamin E benefits
Here is how Vitamin E Can be used effectively against dark circles, acne, scars, spots and marks on your skin. So just read this post till last to know all skin related benefits with Vitamin E.
Nourishes your skin
Skin nourishment is necessary for a healthy, glowing and good looking skin. Vitamin e has the properties to nourish your skin from deep inside if you apply vitamin e on your skin it keeps skin hydrated all the day.
Vitamin E benefits for skin infographics
Here is this beautiful Infographics about the Vitamin e benefits for skin, if you like it please share it.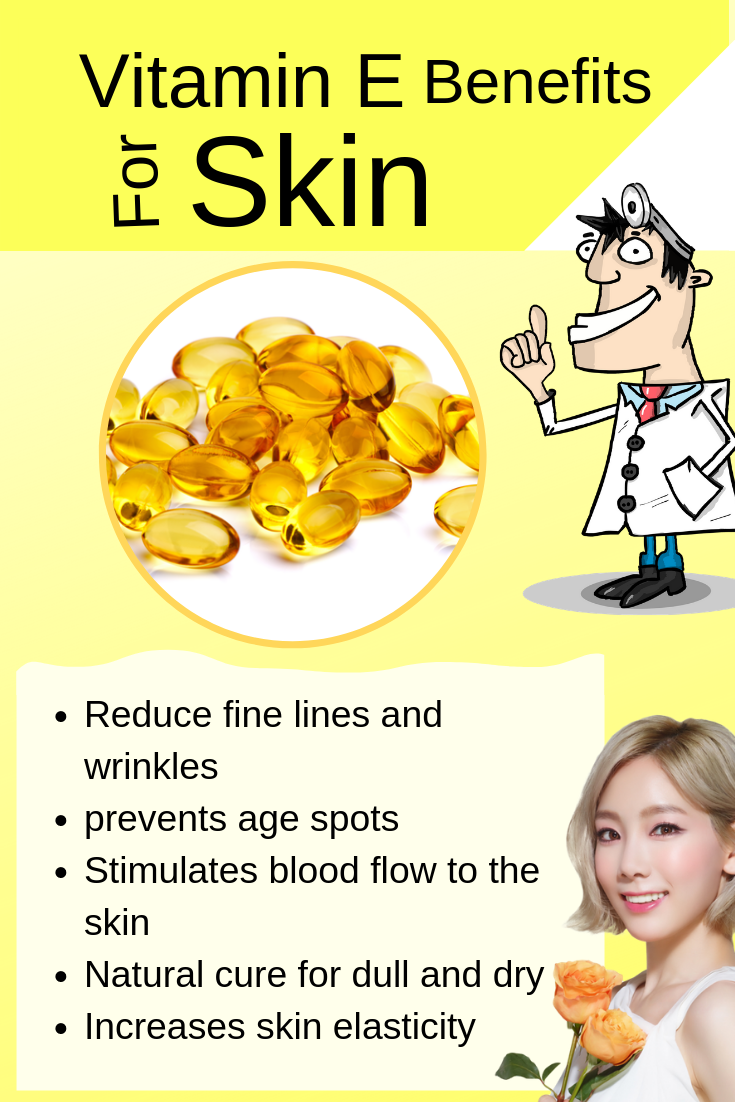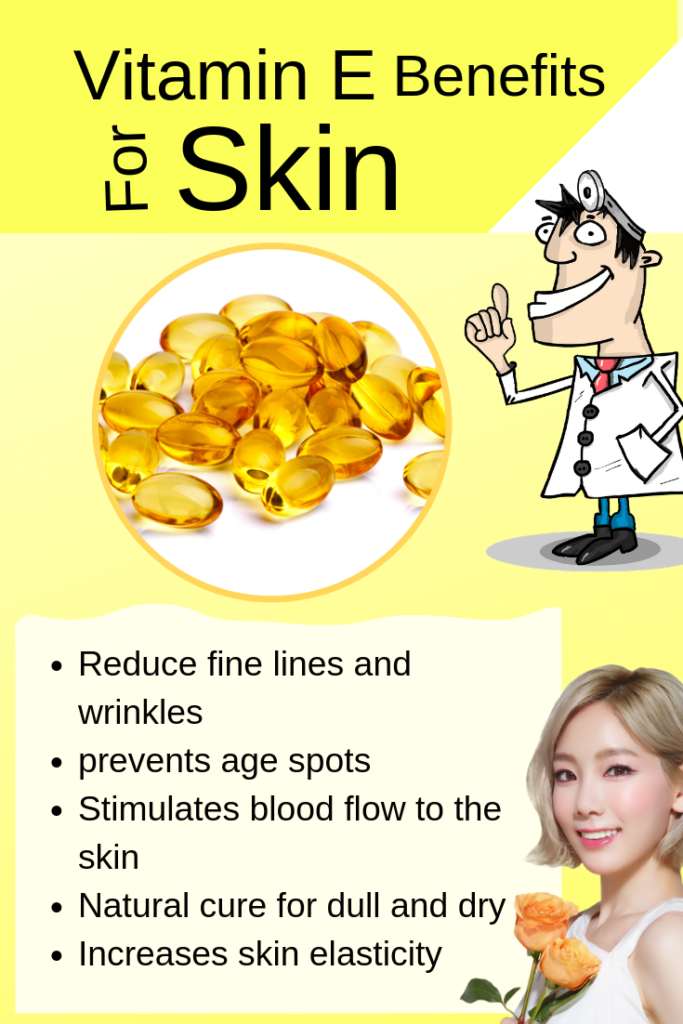 Anti-Aging and wrinkles
Our skin exposed to harmful UV rays, dirt, dust and pollution daily due to this you may develop fine lines and wrinkles on your face or skin before time. Vitamin E fights from the free radicals which damages your skin and promotes collagen health. You can avoid fine lines and aging by just simply applying vitamin E oil on your face or you can eat foods which are full of vitamin E. Read also 5 Homemade Honey Face Masks for Wrinkles and Aging
Remove stretch marks and scars
Daily application of Vitamin E oil, on your skin regenerates skin cells. It has the ability to relax your skin. Hence Vitamin E is very beneficial to remove stretch marks and scars from your skin.
Natural moisturizers
As it is heavier then water and it stays long on your skin so we can use it as a natural moisturizer. It is very effective to treat dry and rough skin. You just need to apply it on your face before bed and that's it now you will get up with a soft, supple and glowing skin in the morning. Read also Homemade Face pack For Dry Skin in Winter
Vitamin E for dark circles
You can apply simple Vitamin E oil under your eyes to get rid of dark circles or you can make it more effective by simple adding aloe Vera in it. With aloe Vera it becomes all time effective remedy for dark circles. Read also 6 effective home remedies to get rid of dark circles at home
Take 1/2 tsp of aloe Vera in a small bowl
Add 1 capsule of vitamin E oil
Mix it well and apply it under your eyes
Do gentle massage
You can use it daily until you get rid of dark circles
Vitamin E for skin whitening
Although Vitamin E alone can do magic to you skin but it can be very effective skin whitening remedy with lemon, tomatoes and honey. All that I can say about this amazing remedy is just apply it once. Read also Best home remedies for full body skin whitening
Take 1/ 2 tsp of honey
Add tomato juice ½ tsp
Now add 2-3 drop lemon juice
Crack 1 vitamin E capsule and add it.
Mix it well and apply it on your face
Do some gentle massage
Leave it for 10  min
Now wash your face with worm water
Use it 3 time in a week for faster result
DIY skin whitening video tutorial
Check this DIY video also for skin whitening and fair skin naturally. In this video there is a natural face pack made with turmeric and aloe Vera. Check my You Tube Channel Beautiful You also For more DIY beauty tips and latest mehndi designs.
Vitamin E for acne
Although there is doubt weather Vitamin E is useful for acne or not. But it is very effective to lessen marks and spots caused by acne by regenerating new skin cells. Being a natural skin cleanser it makes your skin free from dust, dirt and excessive oil. Hence uses of Vitamin E, lowers the chances of acne breakout. Finally we can say that Vitamin is very useful to treat and control the acne.
Hope you like this useful info, if you know more Vitamin E benefits please share it with me. For any query or suggestion please write me in the comment box. Please check my YouTube channel "Beautiful You" also to know more tips and tricks for a beautiful skin and a hair.
Note: before using these DIY face masks check for any reaction by applying them on the back of your hand. Consult your doctor also.