A healthy scalp puts an end to all hair problems. When the scalp remains healthy, hair follicles get strengthened enough which boosts the growth of hair. The texture of hair becomes thick and voluminous which adds a beautiful look to the hair with the usage of natural hair cleansers. In today's remedy, you will get to know about Homemade hair cleansers that can be added to shampoos to make hair soft and shiny. Read also: BENEFITS OF APPLYING RAW MILK ON FACE
1. aloe vera and shikakai homemade hair cleanser
Aloe vera is known to cleanse hair shafts effectively. It sucks excess sebum production from the scalp which controls scalp greasiness. It's gentle enough on hair and helps to preserve hair integrity. It even helps to relieve scalp greasiness and protects against UV sun rays. It promotes hair growth too. ShiKai provides shinier and softer hair. It heals scalp infections and slows down hair greying. It soothes the scalp and restrains hair loss. Great for nourishing hair follicles and helps in easy hair detangling.
How to prepare aloe vera and shikakai cleanser
In order to prepare a natural hair cleanser, take one big aloe vera leaf according to hair length and clean it to squeeze out the pulp.
Add the pulp into a blender and grind it until it turns foamy.
Remove it to a bowl then add in ShiKai powder to it according to hair lengths.
Mix both ingredients well.
Upon mixing both, the mixture foams that can be clearly visible.
How to use:
Before using this cleanser comb your hair in order to detangle it. Then divide into different sections then add start applying to hair roots. Even if the hair is lightly oiled, this cleanser will help to remove hair greasiness and leaves hair conditioned. It just works like shampoo in order to pull dirt and grease from hair. Whenever you want to cleanse your hair, this pack can be applied. For achieving good hair results use it twice a week. This cleanser makes hair shiny and beautiful. Works as an excellent hair conditioner and shampoo as well. Read also: BEST SKIN TONERS AND THEIR USES FOR A FLAWLESS SKIN.
2. hibiscus and retha homemade hair cleanser
Hibiscus leaves and flowers help to add volume to hair. It's great to treat dandruff and itchy scalp. It helps to maintain the natural hair moisture which prevents the scalp from drying up. Retha has anti-fungal properties that help to curb hair fall. It's an excellent ingredient to boost and nourish hair follicles. Great for preventing dandruff and adds shine to hair. Cloves promote hair growth and have anti-bacterial properties in them. Read also: ORANGE PEEL FACE MASK FOR SKIN WHITENING.
How to prepare hibiscus and retha cleanser
Here is another shampoo addition, which can cleanse your hair.
For preparation purposes, take a few fresh hibiscus leaves and flowers.
Crush them with help of fingers and remove stamens from them.
Add enough water till flowers and leaves are immersed.
Then keep it for a few hours.
Allow it to boil on a very low flame for 5 to 10 minutes.
Meanwhile, add in 2 teaspoons of green tea and a handful of Retha.
Add 5 to 7 cloves to the mixture of flowers.
How to use:
The water which is prepared can be stored in a bottle and used when often. To the water, you can add some shampoo while you cleanse your hair. There is no need for extra shampoo as this remedy itself is a great cleanser in itself. If your hair is heavily oiled then the need for shampoo arises. These natural cleansers can be used twice or thrice a week depending upon need. This water makes hair glossy and shiny along with strengthening hair follicles. Hair achieves a luster and softness.
3. Baking soda and apple cider vinegar Homemade hair cleanser
Baking soda works as a great hair cleanser. It helps to remove all the scalp build-ups and other dirt impurities from the scalp. On washing, it leaves hair shiny and softer. Apple cider vinegar works as another hair cleanser. It strengthens hair and improves the luster of hair too. Scalp PH is also removed to a greater extent. This combination of ingredients works as one of the best Homemade hair cleansers.
How to prepare Baking soda and apple cider vinegar hair cleanser
Take 2 to 4 tablespoons of apple cider vinegar in a jug.
Then add some water to dilute apple cider vinegar.
Mix well and add 3 tablespoons of baking soda to the water.
Rinse the mixture well till it foams slightly.
Rub it on the scalp along with lengths too.
Leave it as such for 5 to 10 minutes.
Wash off with normal plain water.
4. Egg yolk and olive oil hair homemade cleanser
Egg yolks work as an amazing hair cleanser because it's rich in proteins. Proteins present in it help to add texture and volume to hair. Eggs allow the hair to breathe easily. Since it's an oil it has amazing moisturizing properties and leaves hair softer and smoother.
How to prepare Egg yolk and olive oil hair cleanser
Take one egg yolk in a bowl.
Then add half a teaspoon of olive oil to it along with three fourth cup of warm water.
Whisk it very well till the mixture turns frothy.
Apply this mixture to wet hair and massage your hair with this mixture for a few minutes.
This homemade hair cleanser leaves hair shiny and healthy and also helps to stop hair fall as well.
5. Corn starch and herbs homemade dry cleanser
Corn starch is an amazing hair cleanser as it helps to absorb all the oils and dirt from the scalp. Hair looks as if it has been washed a few minutes ago. Read also: DIY CONDITIONER FOR HAIR HOMEMADE, MAKES HAIR SMOOTH & SHINY.
How to prepare Corn starch and herbs dry cleanser
Take one-fourth cup of corn starch in a bowl.
Then add a teaspoon of any crushed herb as such lavender.
It helps to add fragrance to the hair.
Then sprinkle this dry mixture on the hair till the hair is completely covered.
Comb your hair after application.
An old spiced bottle can be used for even the application of this dry shampoo.
This dry shampoo works as a great treatment for oily scalp.
This shampoo absorbs all dirt and oil without any water.
6. liquid Castile soap and glycerine homemade hair cleanser
Liquid Castile soaps don't contain any fragrances, harsh detergents, and chemicals it which irritate the scalp. It also helps to preserve the natural oils of the scalp which makes the scalp healthy. It also keeps hair follicles healthy. Glycerine helps to add softness to hair. This combination of ingredients works as one of the best Homemade hair cleansers.
How to prepare liquid soap and glycerine cleanser
Take half a cup of vegetable-based liquid soap in a bowl.
Then add some glycerine about one teaspoon to the soap mixture.
Add in a few drops of essential oil as well.
Mix all ingredients well and apply them to the scalp.
Leave it for 10 minutes and then wash off with normal plain water.
7. Retha and rice water home-made hair cleanser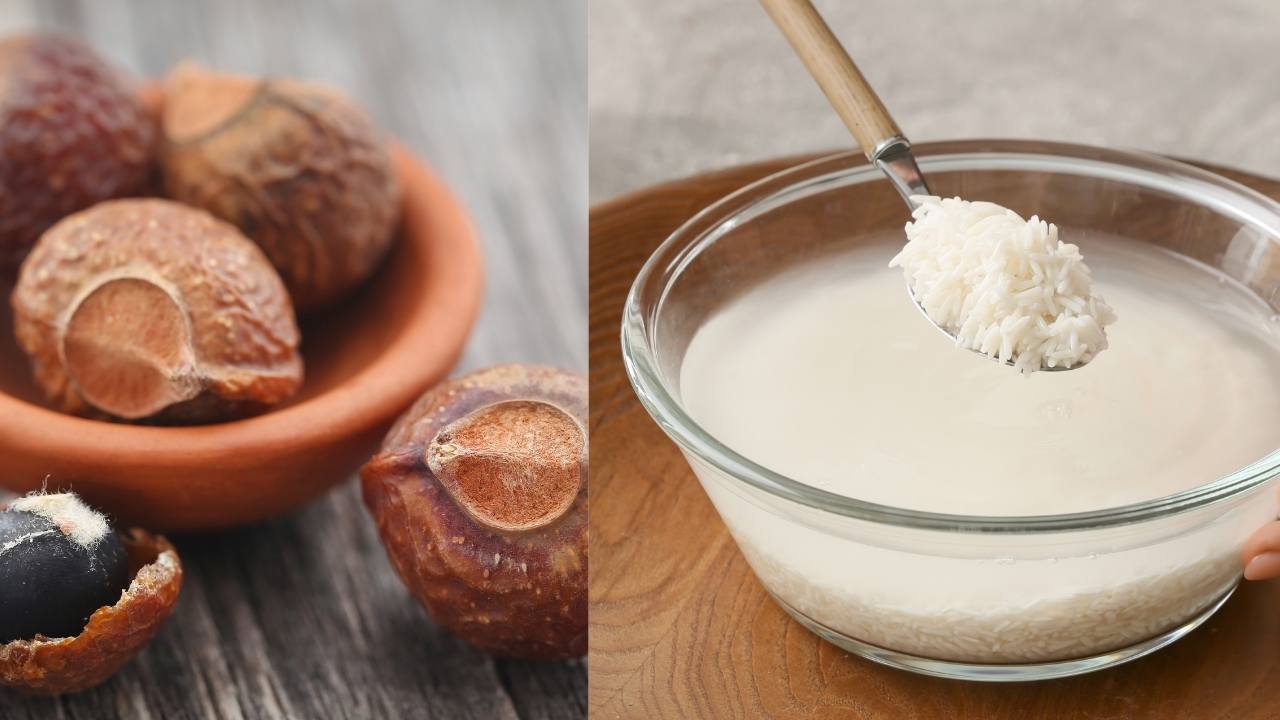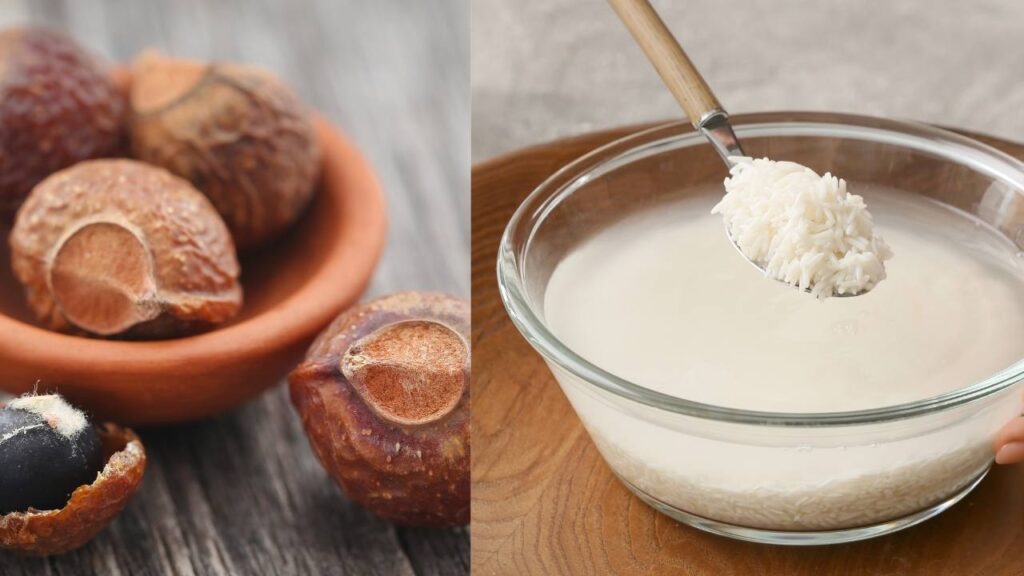 Retha is a foaming agent that is used in place of shampoos. It works as a great hair cleanser and a hair tonic which leaves hair cleaner and softer. Rice water helps to make hair strong and increases shine in them. It also helps in hair detangling which provides softer hair. This combination of ingredients works as one of the best Homemade hair cleansers.
How to prepare Retha and rice water hair cleanser
Take half a cup of rice water in a bowl.
Then add some Retha powder to it.
Squeeze the juice of a half lemon.
Rub this cleanser on the scalp and massage it to remove dirt and oil from it.
Wash off with normal plain water.