Now a day's importance of make-up can not be denied. Make has become an essential part of our life. It is true; Marriages, parties or festivals can not be attended without make up. No doubt makeup makes us more beautiful, gorgeous and smart but it takes huge amount of money and time. But I think you all can learn makeup. It is not as difficult as it looks. So In this post I am going to share with you a step by step guide of doing make at your own. So let's learn how to do make at home.
Read more….
7 Hair Care Hacks Every Girl Should Know

9 Ways to Lose Weight Without any Exercise and Dieting
How to Make Your eyes look Bigger and Beautiful
Tips To Wear Red Lipstick Perfectly
7 tips to make your nail healthy and strong
Items required to do makeup
These are the basic things you need before you start makeup. Before makeup you should clean your face for any leftover make, dust, dirt and oil.
Primer
Foundation
Concealer
Blush/bronzer
Powder
Eye shadow
Eye liner
Mascara
Lipstick/ gloss
Apply primer
This is the first and one of the most essential steps of doing makeup. You must use a good quality of primer as your makeup longevity and smoothness depend on primer. Primer should be as per your skin tone. Chose mattifying primer for oily skin and gel based primer for dry skin. Your Primer shrinks skin pores and make your skin smooth. It covers fine lines, wrinkles acne spots and scars. Primer also saves your make from sweating. You can apply primer by your hands on your whole face. So do priming properly. You can apply primer as a make-up itself but it should match your skin tone.
How to apply primer
Before primer apply some moisturizer on your face
Start from the center to out of the face
Use finger tips or sponge you are comfortable with
Avoid your eye area
Leave it for 5 min so that it can be sat
Apply foundation
Make sure the shade of foundation must match to your skin color. With the help of brush or sponge, apply foundation on your face. Blend foundation well on areas of your face where you have acne marks, scars and blemishes. Make sure you blend foundation over your ears, neck and eye lid properly. If you don't do this step it will leave your ear and neck with different color. You must check the foundation for unevenness in natural light.
Apply concealer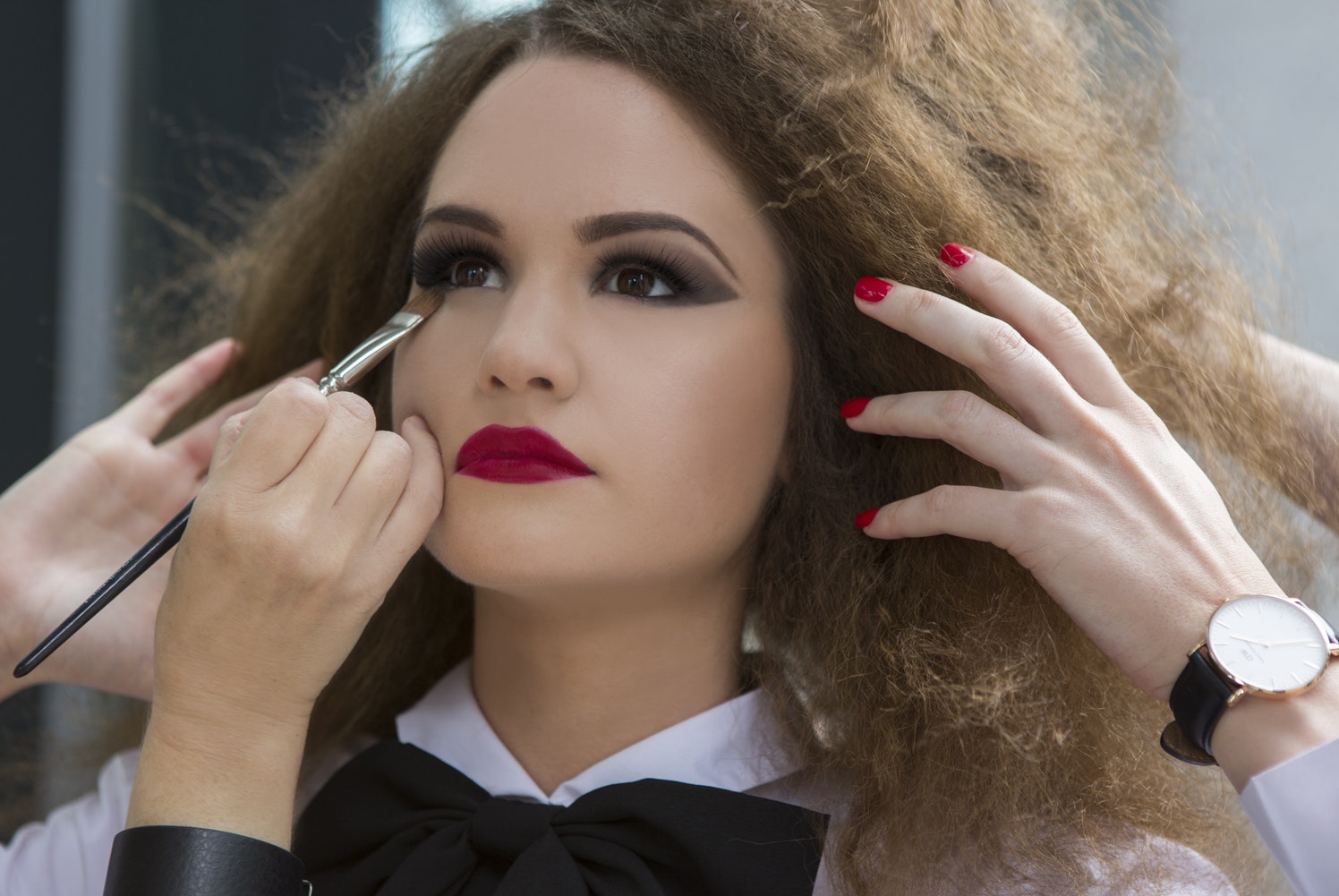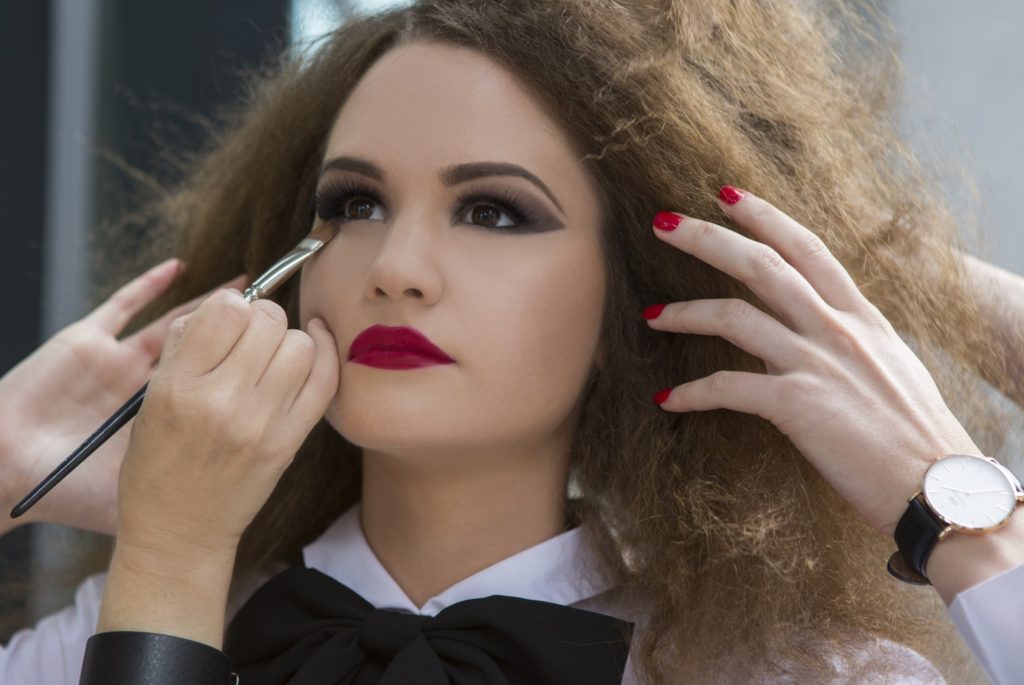 It is used to even out the uneven skin tone on your face. You must apply it under your eyes, on spots, marks and blemishes. Concealer shade must be slightly lighter than your skin tone. Apply it with the help of concealer brush and blend well on edges. First draw triangle under your eyes in a triangle shape then blend it on the edges. You can use different color of concealer for different reasons like use green color concealer for acne and red spots, pink color concealer for dark circles and yellow toned concealer for uneven skin tone. Now your make up base is ready.
How to apply concealer
First dab the concealer under your eyes in a triangle shape
Blend well on edges of triangle
Now dab the concealer on acne spot, marks, sun spots and any other blemishes
Apply concealer on the center of forehead, above and below eyebrows, lips edges and center of chin.
Now blend it well
Now set the concealer with the help of setting powder
How to do Eye make up
Lining is very important part of eye makeup. First draw line over water line and then draw line with the help of eye liner on outer corner of your lash line. Now curl your eye lashes. Apply mascara on your eye lashes. I suggest that you should apply 2 coat of mascara for more beautiful eyelashes. You can make your eyes bigger and beautiful with right eye shadow. Before applying eye shadows, apply primer on your eye lids. It will increase the longevity of eye shadows.
Making your brows
Perfect, defining and well-shaped brows make your face more beautiful. Over plucked and sparse eyebrows needs extra attention. So you need a pencil which matches your eyebrow color. Fill the brows gap with the help of pencil stroke. Use highlighter under your brows. You can apply gel also to make your brows well shaped and defined.
How to apply Apply blush
Blushes are very necessary to get a glow on your skin or face. With the help of brush apply blush on your cheeks. You can use a powder blush or cream blush as per your skin type. Use powder blush for oily skin use cream blushes for dry skin type. Use highlighter on cheeks bones, on the bridges of your nose and under your brows bone for an extra radiant glow. When you smile there is an apple on your cheek, on this area (apple of your cheek), apply blush.
Right shades of blushes as per skin tone
Pale skin- pink or tan blush
Darker skin tone- plump or red blush
Olive skin- almond or warm brown blushes
How to apply Lipstick
Beautiful lips give you an awesome look. Before doing anything to your lips you must moisturize them with lip balm for beautiful looking lips. Choose lipstick as per your skin tone. Before applying make sure your lips are exfoliated properly. There should be no flakiness on your lips. Now apply some good quality of moisturizer on your lips. Use primer before lipstick as it will stop lipstick bleeding and your lipstick last long. Now apply the color you like on your lips. Finally apply some good quality of gloss on your lips.
Latest Lipsticks Review
Just check this Video also to know the latest lipsticks. These are the best and cheap lipsticks which can be used by anyone.
Now you have learned how to do makeup easily at home. For any query or suggestion please write me in the comment box. You are most welcome. You can also check my you tube channel "Beautiful You" for latest beauty products reviews, DIY beauty tips and latest mehndi designs