Open pores on face can be a nightmare for you because it spoils you skin and also your look. Woman who has this problem of open pores, tries different types of makeup to hide pores. But it is a fact that your makeup can not help you in hiding or reducing these open pores. Although it worsen the situation and you may have more clogged and enlarged pores now. So How to Get Rid of Open Pores on Face? The answer is, just read this post till end and use natural remedies which I am going to share with you. Read also How to get rid of sunburn: 6 Home Remedies for Sunburn
What are the reasons of open pores
Before knowing, How to Get Rid of Open Pores on Face, we should know first the reason of these enlarged pores on face. There are so many reasons of enlarged skin pores on face like
First and a very common reason for open pores is oily skin. When your skin produces extra sebum, Excessive oil comes out through skin and it makes small pores enlarged.
Some of you may have thicker hair follicles especially men. This is also a valid reason of large pore on face.
You may have open pores genetically.
Lack of collagen can be a reason of reduced elasticity of your skin. It also can cause large pores on your face.
Aging is also a reason for large skin pores.
Heavy and excessive makeup can clogged skin pores and your skin pores might get larger.
Skin pores are good or bed
Our skin needs nourishment and hydration. We can also say our skin needs these pores for air circulation and skin breathing. These pores also create a way out for harmful toxins. So our skin needs pores and they are safe for us. Read also Summer Skin Care: 7 Tips to Get Healthy and Glowing Skin
But extra large open pores on face can make your skin ugly and it can spoil you overall personality especially for women. So let's know How to Get Rid of Open Pores on Face with some useful and effective home remedies.
Home remedies to get rid of open pores naturally
You can try some of the products available in the market for open pores. But I suggest you that you use these natural remedies to avoid and reduce open pores. Here are some of the best and effective natural remedies for open pores. So just chose from below which one you want to use.
1. Ice cubes for skin pores
This is one of the simple and easy steps which you can do to get rid of open pores at home naturally. Application of ice on skin tightens your skin, intern it minimizes skin pores. Read also Benefits of Ice cubes on Face/ Skin in Summer
How to do
Take some ice cubes in cotton clothe
Wait for 5 min and let the cloth soaked in water
Place this cloth on your face as a cold compress
Do it daily and it will reduce large skin pores
2. Aloe Vera for skin pores
Aloe Vera has great astringent and emollient properties, hence it can be an effective remedy for open pores. For this you need fresh Aloe Vera gel and just apply it on your face and do some gentle massage for 5 min daily. Within a week you will observe your skin pores has shrink-ed. Now you will have a glowing and tight skin naturally. Read also 7 Best Aloe Vera Face Mask For Beautiful Skin.
3. Apple cider vinegar for open pores
Apple cider vinegar is natural skin cleanser and toner. Regular application of apple cider vinegar on your skin, maintains skin PH balance and controls excessive oil. This way, it can reduces open pores on your face. So take 1 tsp of apple cider vinegar and 2 tsp of water. Mix well and apply it on your face. Leave it for 15 min and wash with normal water. Read also Beauty Benefits Of Apple Cider Vinegar You Never Knew
4. Egg white for your skin pores
Egg has natural astringent properties and it is very effective treatment for skin pores. It has albumin and protein which work as a natural skin toner. So take an egg and separate yolk from egg white. Take egg white and whisk it well. Now apply it on your face and leave it for 15 min. Do it 2 times in week for a smooth and glowing skin with no open pores. Read also Egg: The Best Weight Loss Food
5. Cucumber and lemon for skin pores
Cucumber has high water content. Regular application of cucumber on your face keeps your skin hydrated and tightens. You can add few drops of lemon with cucumber pulp to enhance skin related benefits of it. Apply it on your face and weight for 15 min. After that wash your face. You can use this remedy daily. Read also BENEFITS OF CUCUMBER FOR SKIN AND HAIR
6. Banana peel for skin pores
This is a natural and easy treatment for skin pores. Banana peel contains lutein and potassium which make banana peel a perfect remedy for open pores. So just take a banana peel and rub it on your pores for 15 min. Do it 2 times in a week for effective results. Read also Oranges for Skin Glow, Skin Tightening, Suntan and Acne
7. Multani mitti for skin pores
Multani mitti is a natural skin cleanser and draws out dirt and excessive oil from your pores. It is a natural skin exfoliating agent which removes dead skin cells also. To reduce open pores, you need Multani mitti powder (2tsp) and water. Make a paste and apply it on your face. Wash when it gets dried. Do it regularly for a fast and effective results. Read also Multani Mitti Benefits For Face: 7 Multani Mitti Face Packs.
8. Turmeric for open pores
Turmeric is an anti-bacterial substance which is best for your skin health. Turmeric has the property to draw excessive oil from skin pores and keep pore shrink-ed. You just need turmeric and make a thin paste with the help of water. Apply this paste 2 times in a week on your face. Read also Turmeric Face Pack: A Pinch Turmeric For Flawless skin tone
9. Tomato for skin pores
It is an effective and easy remedy for skin pores. As tomato contains Vitamin A and Vitamin C. These Vitamins are necessary for a flawless skin. Tomato works as an astringent for your skin thus it shrinks skin pores effectively. You can apply simple tomato juice on your face to get rid of pores. You can also make a face pack with Tomato juice and Multani mitti. This face pack shrinks your skin pores and it also gives you a soft, supple, glowing skin tone naturally. Read also Benefits of Watermelon for Your Skin: 5 Watermelon Face Packs
How to get rid of open pores on face video tutorial
This is the video from my channel "Beautiful You". Face pack which i share with you in this video, is very effective to reduce open pore. I used potato, lemon and curd for this amazing face pack. So just watch the video here..
Tips to avoid open pores on face
Before open pores become a serious problem for you, you can take necessary precautions to avoid open pores on face. I am sure if you take care of your skin, there will be no large pores on your face. So here are some tips you can use to avoid open pores.
You should clean your face twice a day with a mild skin cleanser.
Exfoliate your face twice in a week so that there will no clogged pores on your face.
You can do a proper deep pore cleansing once in a month.
Don't use heavy makeup as it can settled inside of pores and make them enlarged.
Never use hot water to wash your face.
Home remedies for open pores info-graphics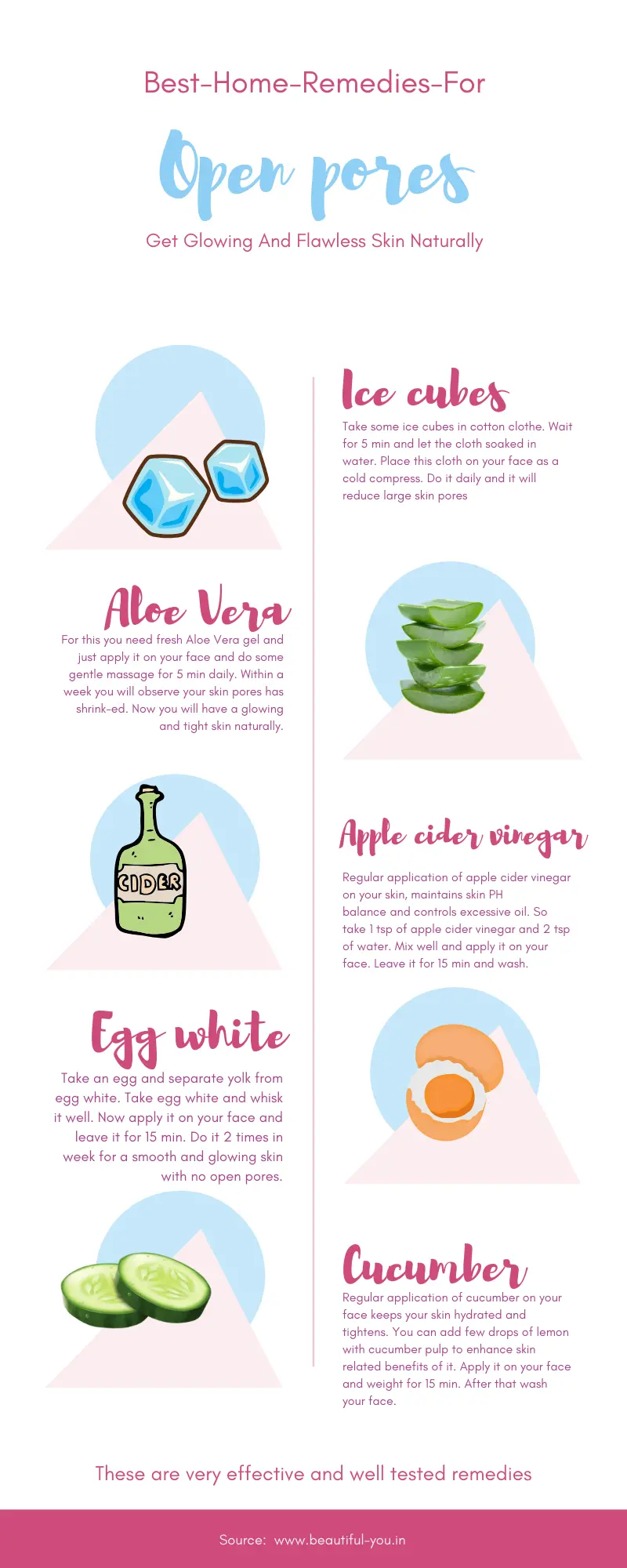 This is an awesome and very informative info-graphics which gives you 5 best home remedies for open pores. So just check and enjoy.
Remedies told in this post are very effective and gives you an awesome results. If you know more face packs or remedies on "How to Get Rid of Open Pores on Face", please share them with me. I would like to add your knowledge and suggestion in this post. Check my YouTube channel "Beautiful You" also for more useful beauty tips and home remedies.