Henna is mainly used to cover premature hair. The henna application basically works to make hair jet black, brown or burgundy. Henna can be applied in different forms based on the colour you want to obtain. It basically helps to dye hair and also makes hair strong, shiny and healthy too. In today's remedy, you will get to know hair dye home remedies without the use of Henna. Apart from imparting brown colour it acts as a natural hair conditioner and leaves hair nourished and shiny. Read also: HONEY ON FACE BENEFITS: GET HEALTHY SKIN.
tea leaves and coffee homemade hair dye
Tea leaves work as a natural hair conditioner. This concoction prevents split ends and stops hair loss. It helps to make it healthy and glossy. Tea leaves are packed with nutrients that treat dry and damaged hair very well. Coffee works excellently for boosting hair growth. It reduces excessive hair loss and treats baldness as well. The reason it stops hair fall is mainly by exfoliating the scalp. It even helps to darken hair texture and promotes softer hair.
How to prepare tea leaves and coffee hair dye
In order to prepare the remedy, add one glass of water to a saucepan.
In that add one teaspoon of tea leaves. allow it to boil till it develops colour.
Then add 2 teaspoons of coffee powder into the tea concoction.
Allow it to boil for 2 to 4 minutes and then strain off. Store the water in a glass bottle.
It has to be used while you take shower.
How to use:
After you complete your shower add the above-prepared water to your hair. Let it remain as such for 5 to 7 minutes. Try to massage the scalp after pouring water onto the hair. Massage helps for better absorption. Then you can wash it off with normal water. This tea concoction works like magical hair water. It acts as a natural hair conditioner and gives strength to hair. It makes hair shiny and strengthens hair follicles which prevents hair fall as well. There is no extra need for a conditioner after pouring this water on hair. Try using it twice a week for the best colour development. It's one of the great hair dye home remedies. Read also: VITAMIN E BENEFITS: GET HEALTHY, GLOWING AND SOFT SKIN.
coffee and bay leaf homemade hair dye
It's quite wondering to know that bay leaves have immense hair benefits. This dye reduces scalp inflammation and helps to grow back the lost hair. It treats itchy scalp and dandruff. It helps to get rid of hair lice too along with infections. Fungal infections can also be prevented with bay leaf use. Citric acid has antioxidant properties. It makes hair glossy and helps in hair lightening. It conditions hair follicles and improves scalp conditions. Maintains scalp PH also. Read also: HOMEMADE FACE PACK FOR DRY SKIN IN WINTER.
How to prepare coffee and bay leaf hair dye
Here is another great remedy for your hair. In a pan add one glass of water.
Then add in 4 to 5 bay leaves in water.
Allow it to boil on a very low flame till the water becomes concentrated with the scent of bay leaves.
When it boils enough then add 2 teaspoons of coffee to the bay leaf water.
When colour develops add half a teaspoon of citric acid.
Mix until everything is well combined.
Strain off the water and Is ready for application.
It's one of the great hair dye home remedies.
How to use:
Wash your hair with shampoo then pour the above-prepared concoction on your hair. Let it remain on the hair for 10 to 15 minutes and then wash off with normal plain water. This remedy is excellent for hiding your greys. It not only makes your hair brown but strengthens hair follicles too. It works excellent for making hair strands healthy. Hair achieves natural shine and lustre.
The above hair dyes are for general purposes only. Its recommended to do a patch test before trying any of the remedies.
How to get hair dye off the scalp
An easy way to get hair dye off the scalp is to use a cotton swab on the skin for 30 to 60 seconds. Rub the scalp in circular motions with the area that is strained.
An exfoliator soap or hair wash also works great to rinse off dye from the scalp. A pea-sized amount is enough to exfoliate the scalp from hair dye. If exfoliating soap is not available, normal soap can also be used.
Even toothpaste can be used for the strained area. Make sure toothpaste should have baking soda in it. It should be rubbed on the strained area and then washed off.
The use of cold creams will even help to remove dye from the scalp. Areas around the scalp and hairline work well with it. Read also: HOMEMADE SERUM FOR INCREASING HAIR GROWTH.
How to get black hair dye off the skin
The first thing that could be tried is the use of soap and water. When the dye is wet enough one should make sure to remove it off the skin.
Olive oil is a natural skin cleanser that works very well even for those who have sensitive skin.
Alcohol can be taken in a cotton swab and rubbed off to remove hair dye. But it won't be a good idea for those who have sensitive or dry skin as it makes the skin drier.
Toothpaste is not only used for cleaning teeth but works well on stains too. Leave it for 5 mins and then wash off.
The combination of dish wash and baking soda is even great to remove stains from hands or any other body part.
Side effects of hair dye
Hair dyes contain ammonia and peroxides. Ammonia breaks into the hair shafts and peroxide neutralizes pigment in the hair. When they are overused they make hair loses its luster and can result in hair chop over time.
Permanent hair dyes contain paraphenylenediamine which is a common allergen. People who have skin conditions such as eczema and dermatitis should refrain from the use of such dyes. It can even cause itching and redness.
This is actually not a side effect, but when hair dyes are used repeatedly and touch-ups are being done. This will make your hair damaged and can result in loss of shine.
As hair dyes have chemicals in them that directly contact the eyes it can even lead to conjunctivitis or even pink eye.
Asthma is a common allergic reaction to hair dyes. It can lead to coughing, wheezing, lung inflammation, and throat discomfort.
Do hair dye cause cancer?
Initial hair dyes used were proved to be carcinogenic as they have cancer-causing properties. After going through several alterations hair dyes are not proved to be carcinogenic. More scientific research is needed to establish a permanent link between the use of permanent hair dyes and cancer. Read also: DIY CONDITIONER FOR HAIR HOMEMADE, MAKES HAIR SMOOTH & SHINY.
How to remove red hair dye with baking soda
Red hair dye can be removed with baking soda. For this, in a jug, we need to combine two teaspoons of baking soda with one and a half cups of water. Also, add in a tablespoon of apple cider vinegar along with 5 drops of essential oil. Apply this on hair and leave it on the scalp for 10 minutes. Rinse your hair with normal hot water. As baking soda and vinegar have excellent cleansing properties. It can make your scalp dry to some extent but can greatly help to remove the red color to a greater extent.
Blue hair dyes ideas
Fashion colors are an extremely popular kind of hair dyes. Among the different colors used blue on top of the dye. There are differently shaded available for blue which can be a lot of fun to experience. Some blue hair dyes ideas are
Cool blues
Blue pixie
Ocean blues
Split
Peacock blues
Cotton candy
Bob etc
Food color for hair dye
Food coloring can be done on hair with the use of easily available home ingredients that can leave hair without any side effects as they are safe and secure hair dye home remedies. Some ideas are
Beetroot is one of the most common and safest hair colors. Mix some beetroot juice with coconut oil and leave it on the hair for 60 minutes and wash off. Hair shines with shades of burgundy and purple.
Even carrot and cinnamon can be used together to create a new shade of hair.
Tomato pulp when applied to hair gives a reddish tinge color. It should be kept on for 30 minutes and then washed off.
Hibiscus petals can even help to give desired hair color when applied to hair.
Vitamin C for removing hair dye
Ascorbic acid is a form of vitamin C that can claim to lighten or bleach hair without damaging it. It works as a natural hair lightener that is activated when it's warmed by heat or the sun. the work vitamin C can perform is it can make the shade of hair dye two to three shades lighter than its natural color. This is due to its anti pigmentary properties. Read also: HOMEMADE HAIR GROWTH OILS FOR HEALTHY SCALP.
Coffee as hair dye
Coffee is not only used as a strong beverage but it can also make the shade of hair two to three shaded darker too. For using coffee as dye mix half a cup of coffee with some water and leave it on hair as a hair conditioner. Apply this on hair that is cleaned and damp. Leave this mixture on hair for half an hour and then wash off with normal plain water. A beautiful brown shade can be seen. It's one of the great hair dye home remedies.
Peekaboo hair dye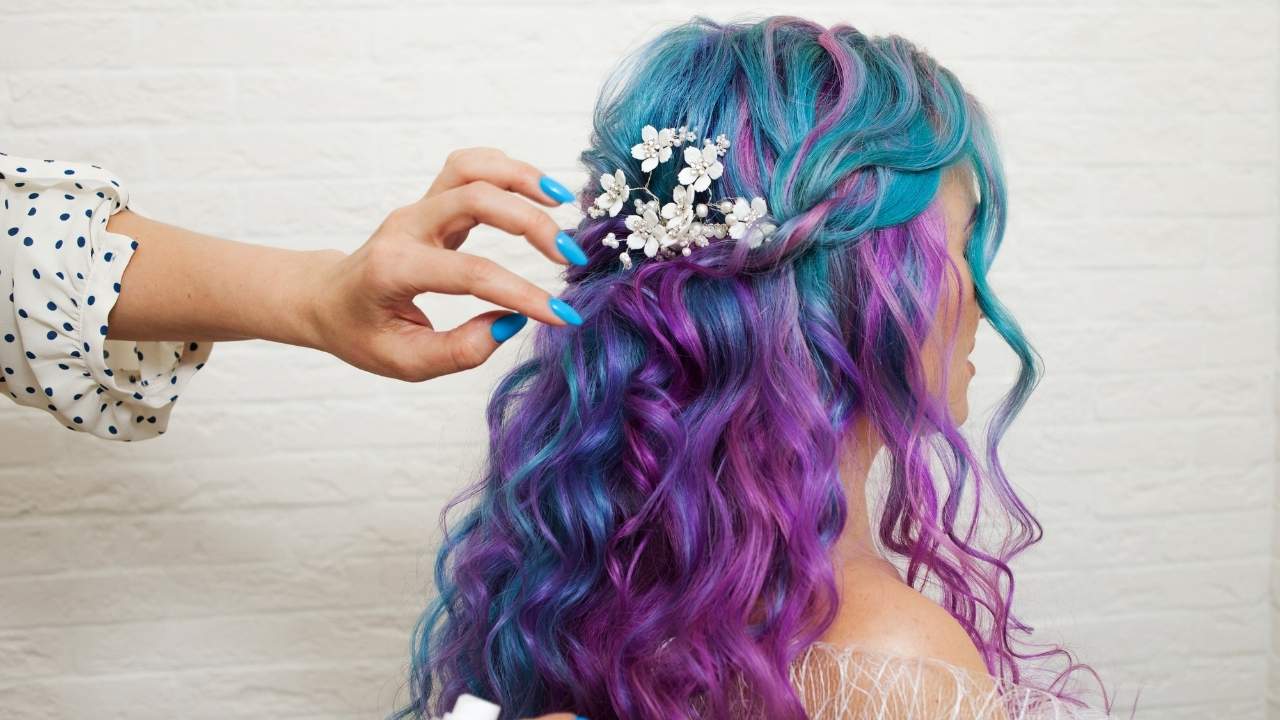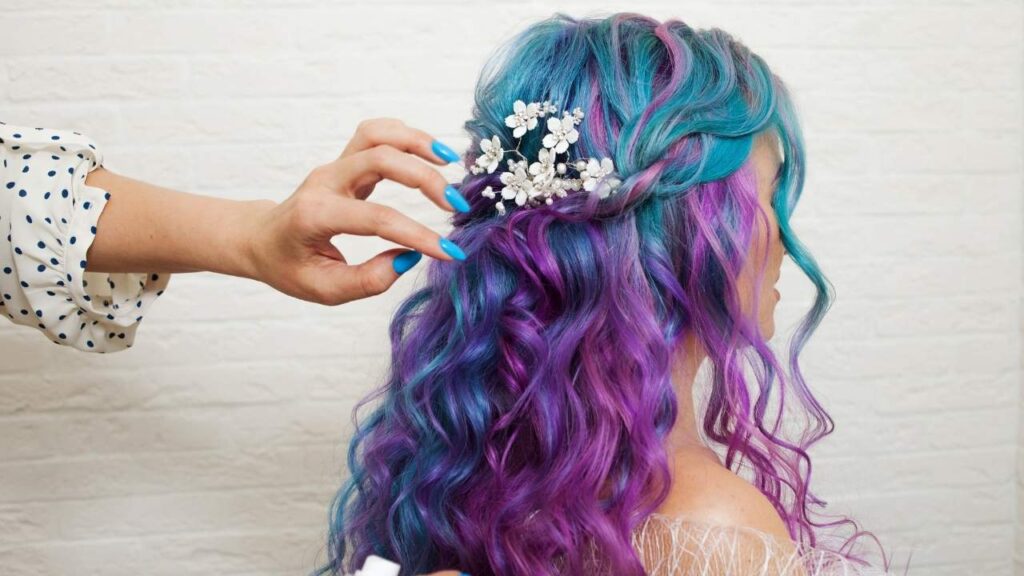 Peekaboo hair dye is one when color is applied at the bottom of the hair. when fingers are run through hair color peeks through the top layer of hair. When hair is dyed in the normal way if you want to add up spice to hair along with the maintenance of healthy normal shine then peekaboo highlights are the answer. The color chosen can be applied on bangs, sides of the hair, or even the back part of the head. It could be either natural, unnatural, or even pastel colors.
Can hair dyes be used on beards?
Hair dyes can be used on beards too as it works well on facial hair, but the thing is they will not penetrate deep into coarse hair. If sensitive skin is there then it could even be a risk of developing some sort of allergies if it's used on the skin. If any person has specific skin conditions like psoriasis or eczema it's advisable to consult a doctor before using any such dyes.
How to use henna hair dye
When henna hair dye is used on hair for color development it will take 24 hours after the application of henna. In order to prepare it Read also: 7 HAIR CARE HACKS EVERY GIRL SHOULD KNOW.
Take 30 ml of hot boiling water and add 10 grams of henna to it.
Add it to a heatproof bowl and stir continuously until the right consistency is achieved.
With help of gloves apply this henna paste on hair strands.
Leave a half-inch section on top of the hair.
Keep it as such for 2 hours and then rinse off with normal water.
Curly hair dye
Here are some tips to be followed on how to dye curly hair
Do not wash your hair right before coloring it.
Choose a semi-permanent and ammonia-free dye instead of using permanent.
Consider using a henna dye.
Do not go too dark or too light for color.
Going blonde is a process. Avoid using bleach at home unless you are a professional.
Watch the clock and do not leave it for longer time periods.
Do not overlap the hair roots. If so color development could be a problem.