Lemon and Honey is one of the well known home remedy, used to treat different types of health related problems. It has amazing health benefits when your just drink honey and lemon concoction empty stomach. It can also be used topically for skin and hair. When you apply Lemon and honey face mask on face it gives you a fresh, radiant and glowing skin instantly. And when you use honey and lemon as an hair mask, it makes scalp healthy and promotes hair growth also. So just read this post till end to know all Lemon and Honey Benefits for Health, Skin and Hair.
Lemon and Honey Health Benefits
You can make this healthy drink by aiding 2 tsp of honey and 1 tsp of lemon juice into 1 glass warm water. Just Drink this water empty stomach every day to reap all health benefits of this great remedy.
1. Relieve constipation
Consumption of lemon and honey every day in the morning stimulates the digestive system. It helps in producing intestinal mucus, hydrates the colon and hydrates the dried stool. It also helps in improving the bowel movements.
Lemon juice present in the mixture of lemon and honey helps in weight loss. Lemon is rich in fibres called Pectin which helps to stay without food for longer duration.
3. Improves digestion
Lemon helps liver to produce more bile juices that helps our digestive system to break down complex food particles into smaller components. Honey, on the other hand, has antibacterial properties that help in fighting with infections.
4. Improves the function of colon
It is believed that we tend to have a buildup of toxins on the inner lining of our stomach, which is the reason for a number of health disorders including cancer. This is a result of undigested food, intestinal cells and dead bacteria often coat the inner lining of our stomach and which makes us sick. Lemon and honey helps to eradicate the waste material from our body.
Lack of water and essential fluids in the lymphatic system can make us feel lethargic and fatigued, affects the blood pressure, stress level etc. hence affect our overall mental function. The benefit of drinking this mixture early in the morning is that it gives a boost to our lymphatic system.
6. Increase the energy levels and uplift the mood
The mixture of lemon and honey can increase the energy level. Honey is an instant energy booster and lemon activates our digestive system. Lemon is known to be a natural relaxant and can help uplift the mood too.
Honey is an important antibacterial agent that has the capability to beat a number of infections. When honey mixed with lemon both of them act as an excellent diuretic hence help in flush out water from the body.
8. Gives freedom from bad breath and improve oral health
Lemon and honey can help in getting freedom from bad breath. The lemon cleanses the mouth by killing harmful bacteria. It also helps in removing bacteria and food particles from our mouth.
It also helps in purifying the blood; hence maximize the production of new blood cells that performs the role of cleaning agents. It is also an antibacterial agent and boosts the properties of collagen.
Lemon and honey for face
Lemon and honey face masks are easy to prepare and apply. This combination is especially great for blackhead treatment, but it can also be used to simply brighten and moisturize the skin.
Ingredients
lemon juice – 1 table spoon
honey – 2 table spoon
Method to prepare and use the face mask
Take one table spoon of lemon juice.
Add two table spoon of honey into it.
Mix it until it is well combined. 
Wash your face with mild face wash.
Let your face dries naturally.
Then apply the mask evenly on your face and neck.
Leave it for half an hour or till dry.
Wash your face with luke warm water.
Repeat the remedy weekly or twice a week for best results.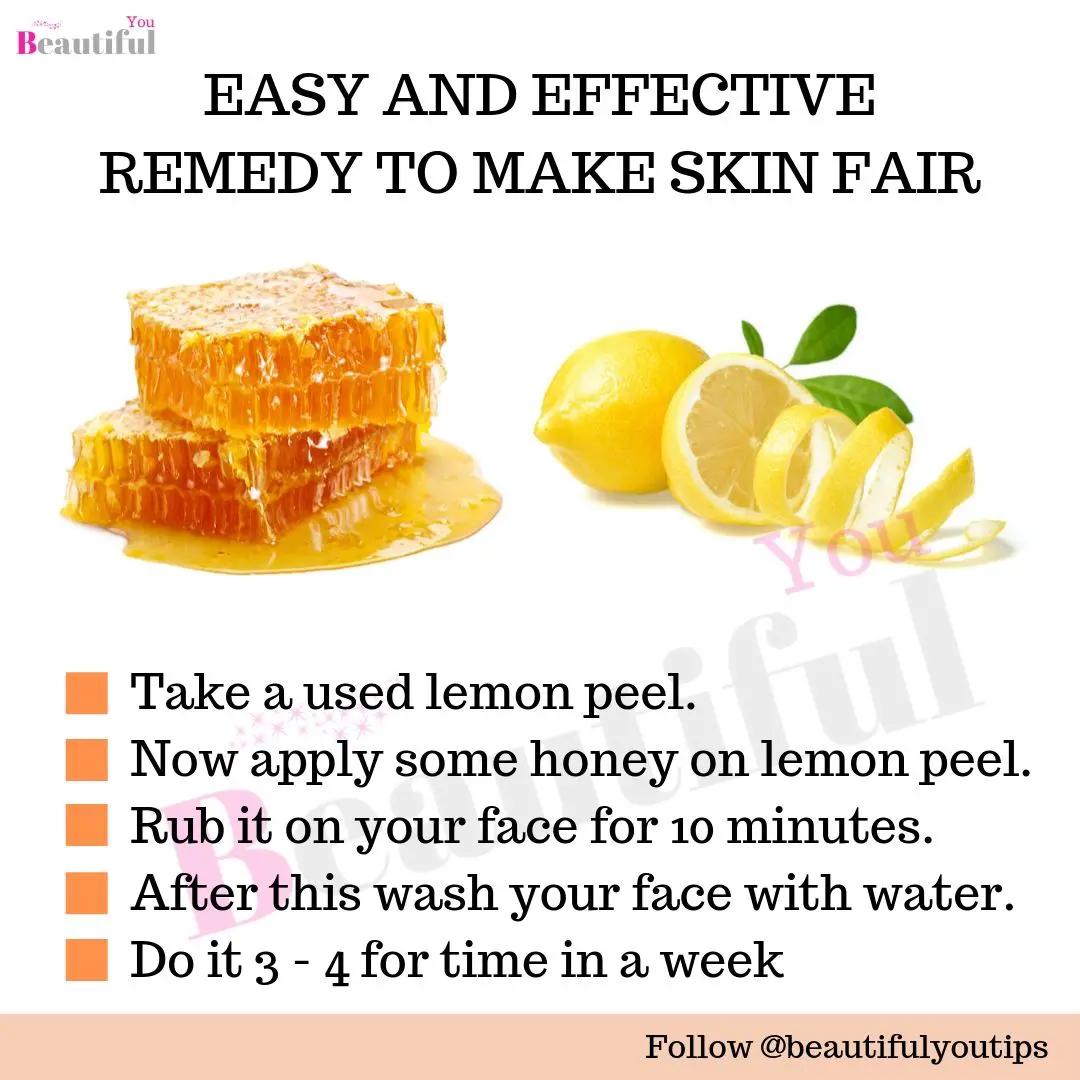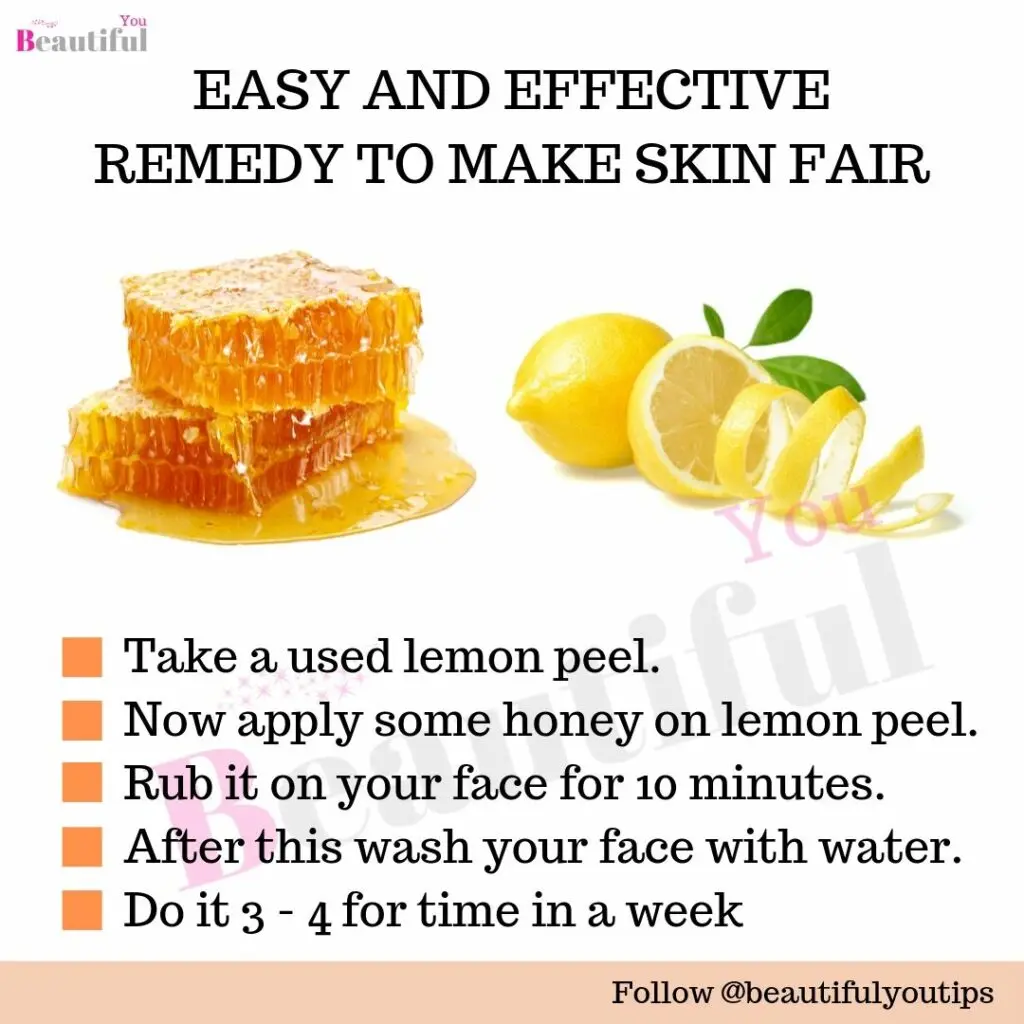 Lemon and honey serve as a very useful remedy to manage the body weight. It not only helps to reduce the weight but also reduces the risk of cardiovascular disorders. Honey and lemon are a good resource for the digestive system. They are enriched with nutrients and vitamins. Honey and lemon when consumed with warm water can do wonders. It should be taken empty stomach in the morning to gain maximum benefits. Both honey and lemon have their own individual health benefits, when combined together they not only help in Weight management but also cleanse the unnecessary fat from the body.
Ingredients
Water – 1 glass
Honey – 2 table spoons
Lemon juice – 1 table spoons
Method to prepare Lemon and Honey concoction for weight loss
Boil a glass of water and let it cool until it is warm.
Add 2 table spoons of Honey.
Stir it well till it dissolves.
Now add 1 table spoon of lemon juice in this mixture.
Again stir it well and drink up.
Green tea with lemon and honey
Green tea is enriched with a large number of health benefits. It is made from the leaves of the Camellia Sinensis plant and it is not oxidized like normal tea. The naturally occurring antioxidants in green tea can also be boosted with the addition of lemon and honey which has many vital nutrients. Green tea with lemon and honey is a wonderful drink that is low in calories and high in nutrition. Especially for those seeking for faster weight loss this drink can be a great boon.
Read also
Green tea is loaded with the numerous health advantages. It is full of antioxidants, flavonoids and other phyto nutrients which are proven to fight many diseases including Cancer. Adding fresh lemon juice and honey to green tea can highly increase its medicinal properties. It also enhances the taste of green tea. Green tea, lemon and honey together make a perfect source of Vitamin C. It is full of anti-inflammatory and anti-microbial properties which help us to stay away from medicines naturally.
Side – effects of drinking lemon and honey with hot water
It may upset the stomach.
Consuming too much of lemon can cause dangerous side effects to health including worsen the ulcers.
Drinking hot water with honey is a lethal combination. The properties of honey changes to toxic and hazardous substance when heats up.
Lemon and honey for hair
Lemon and honey are a rich source of Vitamins and Minerals. Application of lemon and honey homemade mask into hair scalp is a good cleansing agent. It removes excess oil, impurities, dirt present on the scalp. Excess oil secretion on scalp can cause bacterial inflammations, itchy scalp etc. Regular usage of lemon juice and honey over scalp can prevent dandruff. Lemon and honey hair mask gives shinier, brighter, silkier and smooth hair texture.
Lemon and honey hair mask nourishes the scalp deeply and remove dandruff and other bacterial infections. It also gives strong protection to the scalp, hence strengthen the hair roots. The use of this mixture can minimize the frequency of hair fall. Lemon and honey can provide the goodness of almost all the nutrients which are necessary for the healthy hair growth.
Ingredients
Lemon juice – 2 table spoon
Honey – 2 table spoons
Method to prepare and use the hair mask
Take two table spoons of lemon juice.
Add two table spoons of honey into it.
Mix it until it is well combined. 
Apply it in your scalp with the help of cotton ball.
Leave it for 2 to 3 hours.
Wash your hair with luke warm water.
Repeat the remedy weekly or twice a week for best results.
What does warm water with lemon and honey do?
Along with the above mentioned benefits, it is a natural home remedy for congestion and cough. It soothes sore throat , improves digestion and flushes out toxins out of the body.
Is it good to drink honey with lemon everyday?
Yes, you can drink it everyday. It will help you in lose weight and Boosts your body metabolism. Being a rich source of Vitamins and Minerals, it can be the perfect drink to have empty stomach everyday.
What is the benefits of lemon and honey on face?
It works as a natural face mask which brings natural glow on face. It cleans your face, removes dead skin cells and keep wrinkles at bay. So just apply it on face for a Beautiful You.
Hope you like this article, Please share it to your friends and family members. If you know more on this topic, please share your knowledge with me. Check my Instagram page @beautifulyoutips for more health and beauty tips.